Hamilton unveils its new waterfront Pier 7 boardwalk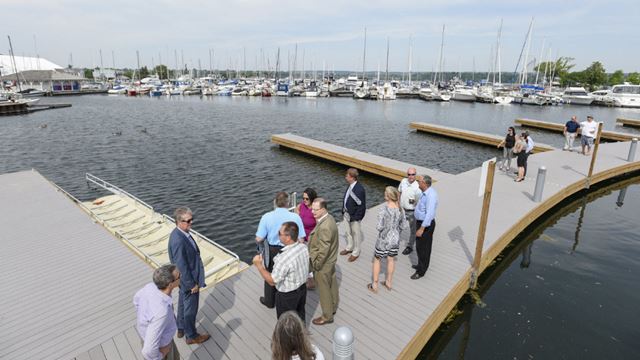 Hamilton has launched its new boardwalk at Pier 7, Phase 1of a massive redevelopment of the West Harbour waterfront.
Hamilton-born residents Catherine Hammond and Donna Stewart both live at the Guise Street Co-op which overlooks the waterfront. Both pleased with they what they saw.
"It's wonderful to see what's happening; a rejuvenation of the North End," said Hammond who also said the waterfront looked much different when she was growing up.
"We never came down here. It was a part of the city nobody wanted to visit or have a part of. It was known as the North End is a bad area. Now, people are fighting to get here and I'm glad to be part of it," she said.
"I was born in the north-end," Stewart told the Spectator at Monday's press event. "I'm enjoying this beautiful structure they've done."
The $3.8-million, 150-metre long, shoreline boardwalk features 12 docks for boaters, 14 new benches and six new lounge chairs for the public. Both the boardwalk and docking areas will be lit.
Visiting boaters can park for three hours from dawn to dusk, however, overnight docking is not allowed.
The project also includes new lighting, electrical and irrigation systems designed to support eight flower and tree beds.
"We're just getting started," said Ward 2 Councillor Jason Farr as he addressed the crowd which flocked to the area to explore the new space.
Mayor Fred Eisenberger agreed and called the project an "add on" to the development that will continue over the next decade.
"It gives residents another opportunity to enjoy the space as well as the boaters that come from far away places to visit … more business for Williams and more activity at the waterfront," he said of the area he hopes to live in once the project is completed.
Eisenberger said the city has put aside about $40 million to help support additional servicing and upgrades in the future.
Redevelopment of Pier 7 and Pier 8 will continue over the next 10 years, with much of the public spaces and infrastructure to be completed by 2018.
The area will morph into a mixed-use space including new trails and parks, a residential and commercial village, a long linear 30-metre wide promenade, all with access to the waterfront.
"From the city standpoint, it's like the front porch or the gateway to the City of Hamilton and downtown and we certainly can't be prouder," said Chris Phillips, senior adviser on the project.
Phase 1 of the project also included a new multi-million dollar floating breakwater structure. The all-steel construction is meant to protect the shoreline and a planned expansion of the marina docks for additional boats. Made off-site it was trucked in, assembled on-land and floated into place.
As part of the announcement the media was given a boat tour of the bay area. Phillips spoke about "enhancements" to Pier's 4 and 5 as part of the redevelopment project which will happen in multiple phases.
The entire project is expected to be completed by 2026. The total price tag will be about $140 million.
Article courtesy of Kelly Noseworthy, The Hamilton Spectator
Ancaster Industrial Park: New steel company to employ 50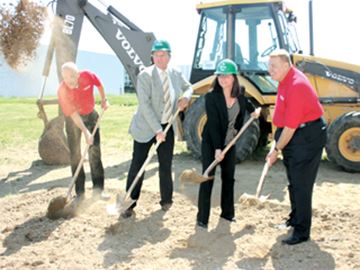 Here's a local steel industry headline that hasn't been seen in awhile: Company invests in Hamilton.
Nucor Corporation, the largest steel producer in the United States, is doing just that, and the news had local politicians gushing with praise.
The company broke ground Friday morning for an expansion to its Vulcraft Canada Inc. plant in Ancaster. The new facility will mean 50 new jobs by the end of this year.
"I'm just delighted that this is happening today. This is a new operation that's coming here because it believes in Hamilton and the people," said Hamilton West-Ancaster-Dundas MP Filomena Tassi. "This is a day to celebrate because it's steel-related.
"This is a great investment that will strengthen the Canadian economy and create jobs for Hamilton."
Nucor's Vulcraft unit makes steel joists (beams that support a floor or ceiling) and decks. It has been selling its products in Canada for years made with American steel, but Nucor president John Ferriola said it's time to start manufacturing in Canada.
"… To really have a commitment to an area and to customers, you have to be located right there," he said in an interview after the formal ceremony. "Now we're here, we're here to stay and we're here to grow."
Ferriola added the site was aided by two important local factors — highway access and a high-quality workforce.
"We have to have a workforce that works hard, has high integrity and understands the value of working as a team and the value of working safely," he added. "We focused on all those issues and found them here."
Unlike another U.S. steelmaker that came to Canada and is now plotting its exit from the country, Nucor plans to stay, said Farriola.
Since 2008, he said, Nucor has invested $6 billion in Canada and the United States.
"We did that during the worst steel cycle of my career because Nucor-Vulcraft Canada is here to stay. We don't want out," he said. "We are not afraid of investment. That's more than any company I know of anywhere. We will invest as much as we need to show a commitment to this country."
Farriola wouldn't reveal the cost of the local investment. He did say, however, as much as half of the steel to be used at the new plant will be sourced in Canada and he hopes to be producing decks by the end of this year and joists by the middle of next year.
As for volume, he would only say, "We will produce as much as our customer will buy from us."
Nucor produces 20 million tons of steel a year, covering the range of products from reinforcing bar at the low end to steel for exposed auto parts at the high end.
Neil Everson, Hamilton's director of economic development, said getting Vulcraft into the Ancaster Industrial Park was not a difficult sell.
"They had their eyes on this part of the country for quite awhile," he said. "I think all the ingredients were here. It kind of sold itself."
Nucor employs 24,000 people in the United States and 3,000 in Canada.
Article courtesy of Steve Arnold, The Hamilton Spectator
Hamilton Highlights Newsletter – May 2016
In the May 2016 edition of Hamilton Highlights…
Digital Disruption
Lions Announced for 2016 LiON'S LAIR Competition
NOSH
Tweetstock Tickets Now on Sale
Try Hamilton Event Promotes Investment on Barton/Kenilworth
Click here to read the May 2016 Hamilton Highlights newsletter.  If you are interested in signing up for the Hamilton Highlights newsletter, click here.
Entrepreneurs plan new life for abandoned Hamilton factory
A local developer is bringing a Canadian first to Hamilton.
Joe Accardi will bring a long-abandoned central Hamilton factory back to life as a shared work space, this time for industrial entrepreneurs and small businesses looking for cheaper rent and shared services, such as shipping and receiving.
It's based on an idea Accardi has proven twice in Hamilton with an office space downtown called Co-Motion and another near Gage Park called Platform 302. The new project has been dubbed CoBuild Hamilton.
Accardi's plans for the former Ball Packaging plant on Victoria Avenue North were a centrepiece of a special Monday tour of Hamilton opportunities for Toronto- and Kitchener-area investors.
Ball Packaging abandoned its Hamilton and Burlington plants more than a decade ago. The Hamilton facility once employed 1,000 people.
"We are going to be amenity-rich in here," he told the busload of potential investors. "This is a very unique building for Hamilton."
The CoBuild project is modelled on a similar effort in Denver, Colo.
The vision Accardi laid out for Monday's economic tourists sees dozens of small and emerging employers sharing 100,000 square feet of space in the first phase. Those companies will be able to share services like shipping and receiving, tools, storage space, an in-house forklift truck and driver, board rooms, and a kitchen, all for $7 per square foot.
About a quarter of the space in the first phase has already been taken.
Early tenants include a laser-cutting company and a machinist, with architects and engineers expected. There's also room for medical uses given the proximity to the new children's hospital and cardiac centre at Hamilton General Hospital.
Another building highlighted was the former curling club/skating rink/bus maintenance shed on Hatt Street in Dundas which was given new life as the Shawn and Ed Brewing Company.
Co-owner Ed Madronich said some changes were made to ensure the new use didn't conflict with its neighbours in the business core or nearby high-end condos.
"Hamilton has a boatload of buildings like this," Madronich said. "Getting the community back in here and making use of it again has been great."
One way his company has been able to blend in with its diverse neighbours was with new ideas. For example, rather than venting steam from its brewing kettles to the outside, it is condensed back into water and sent to the city sewer, saving neighbours from what some might say is an offensive odour.
Reviving dormant industrial buildings was only one of several new ideas and companies highlighted during a day-long session designed to change perceptions of Hamilton as a place to invest.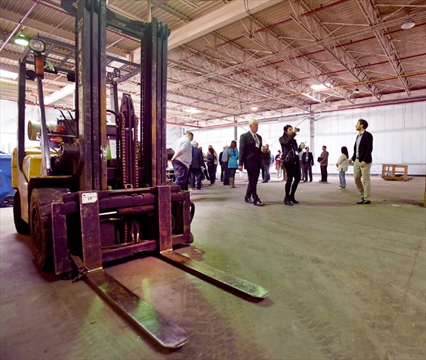 One such company was Cinnos/McMaster Computing Infrastructure Research Centre. It has designed a roll-away modular data server, allowing companies that can't, or won't, use cloud storage a space to warehouse data without having to pay for a large data centre.
Shared work spaces are only a part of a wave of disruptive change expected to sweep through industrial-commercial real estate in coming years.
It's a change Sheila Botting, of Deloitte Real Estate, said the industry is not ready for.
As one example, she noted, it may soon be possible to list houses for sale online, completing the deal using a Google format, cutting out Realtors altogether. That has the potential to do to Realtors what Expedia and similar travel booking sites did to travel agents.
More immediately, she said, new ideas about office space are doing away with the traditional ring of private offices around a central space in favour of more collegial areas for new workers who toil outside the old hierarchy.
"The cubicle farm as we've known it just isn't working anymore," she said.
Article courtesy of Steve Arnold, The Hamilton Spectator
Hamilton Highlights Newsletter – April 2016
In the April 2016 edition of Hamilton Highlights…
Red Tape Challenge
Relive Hacking Health in Hamilton
Tweetstock Back Again in Hamilton
Business is All in the Family for Mohawk College
Click here to read the April 2016 Hamilton Highlights newsletter.  If you are interested in signing up for the Hamilton Highlights newsletter, click here.
Hamilton creates new vision for waterfront re-development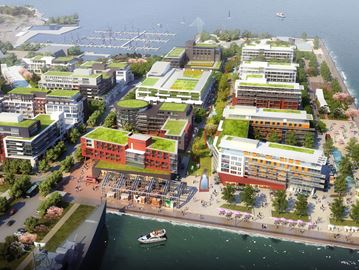 A proposed urban study on Hamilton's waterfront views piers 7 and 8 as a mix of residential, commercial and institutional developments existing alongside parks, plazas and allowing more public access to the waterfront.
The study, released by the city April 27 so it will be discussed at the monthly community meeting April 28 at the Waterfront Banquet Centre starting at 7 p.m., wants Pier 8 to become "a vibrant urban waterfront neighbourhood" to be compatible with Pier 7.
The proposed plan, which will also be discussed at the May 17 planning committee meeting, includes 1,600 residential units; 13,000-square-meters of commercial and institutional space; 30-metre wide waterfront park along the edge of Pier 8; a new "Green Street" to that connects the property from east to west; a mix of building heights; a centralized garage; a water park, plaza space, skate park and playground, all linked by a complete streets design.
"The area's re-development is an incredible opportunity for the City to provide continuous public spaces along the West Harbour," stated the 226-page document.
The document, by consultant Brook McIlroy, stated the "ultimate number of units will be determined through market forces and the detailed designed plan."
Chris Phillips, senior project planner for the city who has been overseeing the waterfront development, said the idea is to create an environment where people can "live, work and play."
Mayor Fred Eisenberger has been supportive of what he calls the "higher order development" for the future of the waterfront.
"I want to live long enough to live at Pier 8," he said.
The city has had visions of a re-developed waterfront since it acquired the lands from the Hamilton Port Authority after a legal battle with the federal government in 2000. In 2014 soon after the city acquired the lands from the HPA when the leases were shortened, Hamilton councillors agreed to invest nearly $40 million over the next four years for sewers, watermains, roads, sidewalks and street lighting. About $13.3 million will be invested directly into piers 5 to 8. City officials have stated there is a potential for the city to recoup about $7.5 million annually in taxes just from the development at Pier 8.
Affordable housing, the document states, is expected to "fit within the building envelopes."
The consultants recommend constructing the development in three phases, starting with 38,000-square- metres of mixed residential space and 4,800-square-metres of commercial space along Guise Street. Phase 2 will have 25,300-square-metres of residential space, 2,340-square-metres of commercial space, and phase 3 will involve 46,700 square metres, 600 square metres of commercial space and 6,800- square-metres of institutional space.
The proposal will still need get a zoning bylaw to implement the new design, plus a public art plan and infrastructure plan that includes energy and storm water systems.
Article courtesy of Kevin Werner, Hamilton Community News
Hamilton Highlights Newsletter – March 2016
In the March 2016 edition of Hamilton Highlights…
Welcome Back Big Blue
The World Visits Hamilton
Hamilton's Economy Gets National Attention
Hamilton's Walters Group Receives National Accolade
Applications Open for the 6th Annual LiON's Lair Competition
Click here to read the March 2016 Hamilton Highlights newsletter.  If you are interested in signing up for the Hamilton Highlights newsletter, click here.
Foodies spend the day eating their way through Hamilton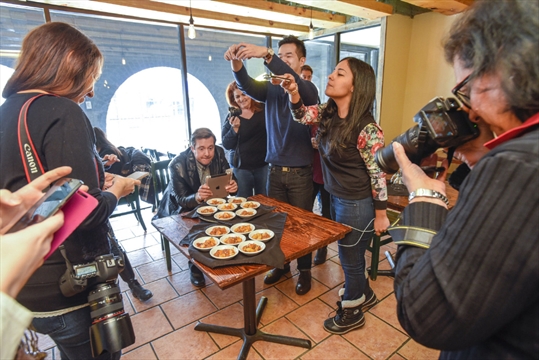 Cameras snapped. Oohh's and aahh's rose from the crowd. It was like a red carpet photo call — one where the star was a mini martini glass filled with raw fish.
In the foodie world, it's what passes for celebrity. Especially when the eatery serving it up is the first of its kind in Canada.
Pokeh Bar, which makes poke (a Hawaiian dish built around rice and fish) is a new vendor at the Hamilton Farmers' Market. It was just one of nearly a dozen stops on a Saturday afternoon food tour organized by economic development and the Hamilton offices of Trip Central.
According to Michael Marini, co-ordinator of marketing for the City of Hamilton, this was the fourth such trip to get GTA-area chefs, restaurateurs and food bloggers excited about eating in Hamilton.
It worked. On Saturday, #HamOntFT started trending on Twitter as a pack of 14, including bloggers, journalists, and Ticat Pete Dyakowski, tweeted the food tour as it moved from NaRoma, to Wild Orchid, to Aberdeen Tavern and beyond.
For Solmaz Khosrowshahian, who blogs at The Curious Creature, it was her fourth time on one of the tours, which visit new restaurants each time.
Khosrowshahian, who lives in Toronto, had spent some time in Hamilton years ago, and had heard about the city's food scene recently. When Marini contacted her for the first food tour, she jumped at the chance. Now, she tells everyone she knows about Hamilton.
"I had never really seen the real Hamilton until I saw it through food," she said.
"It's really cool to see how quickly food can change a community," she said, pointing out the foot traffic drawn by new restaurants including Auntie Boom's, The Cannon Coffee Co., and Except for Kenneth.
She's also amazed by the number of options, in terms of both places to eat and ethnic diversity. What she finds most impressive though, is the authenticity. She said Hamilton chefs have a passion for food that comes across in a way it doesn't in other cities. Here, it's raw. It's uncontrived.
Sharon Mendelaoui agreed.
"We need a market like this in Toronto," said Mendelaoui, who writes for Dream Travel Magazine.
Sure, there's the St. Lawrence Market. But, she said, it doesn't feel like family the way the Hamilton Farmers' Market does.
On top of that, Mendelaoui said she was charmed by the number of distinct villages in the city, the neighbourhoods the tour moved through as they travelled. She said she was thinking about coming back for another day, but even that didn't seem like it would be enough to cover it.
Article courtesy of Amy Kenny, The Hamilton Spectator
Hot Hamilton: Economic growth to outpace national average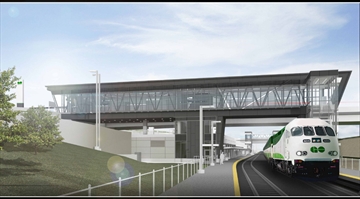 A new Conference Board of Canada study says Hamilton's economic surge will outpace the national average this year, but job growth will remain slow.
The board's latest Metropolitan Outlook Report predicts the Hamilton-Burlington- Grimsby economy will grow about 2.2 per cent this year, outpacing the national growth rate for the second consecutive year.
The growth will be driven chiefly by improvements in the manufacturing and non-residential construction sectors.
Employment, however, will grow by only 2,800 jobs this year after advancing by 3,600 positions last year.
"I would characterize the outlook for Hamilton as generally positive," said Alan Arcand, associate director of municipal studies for the Conference Board. "It's not world-beating, but it's still better than the national average.
"It really seems that some of the factors are turning in Hamilton's favour," he added. "Employment gains will be OK this year and next, but not great," he said. "Growth in jobs is going to be fairly slow this year and next."
Manufacturing growth will be led by companies such as water filtration firm Fibracast, and ArcelorMittal Dofasco — which is looking for 1,000 new employees to replace retiring baby boomers.
Predicted growth for this year will rank Hamilton as the 11th fastest growing metropolitan economy in the country.
To Mayor Fred Eisenberger, that's a good position.
"It's almost in the Top 10 and shows our growth has been consistent over the last few years," he said. "The uptick on the manufacturing side is especially good news because that's assessment we need to take the pressure off our residential taxpayers."
He also liked the prediction that they city's unemployment rate will come in below the national average.
"I think this all affirms the good vibes that people are feeling about Hamilton," he said.
Frank McKeown, executive director of the Burlington Economic Development Corporation, said the study's conclusions match the city's projections.
"This is consistent with our observations for growth that will higher than the national average," he said. "Almost everyone I talk to is looking at a growth environment."
The Conference Board report says even with U.S. Steel moving a quarter of the potential production of its Hamilton plant to the United States, manufacturing output is forecast to grow by 2.4 per cent this year as the lower loonie makes Canadian exports more affordable and American demand rises as the economy south of the border improves.
Adding to that is a refocusing of Canada's economy from western oil and other natural resources back to industry in Ontario.
The other major growth engine for Hamilton, the report concludes, will be non-residential construction, including a new general purpose and engineering centre at McMaster University and the second phase of the James Street North GO station.
Services output growth will remain steady at 2.1 per cent for a third consecutive year.
Article courtesy of Steve Arnold, The Hamilton Spectator
Hamilton Highlights Newsletter – February 2016
In the February 2016 edition of Hamilton Highlights…
Success in the City – Get Your Tickets
Hamilton Makes National News (Three Times in One Week)
ELEV8 Pitch Night to Showcase Local Startup Talent
Embrace UX Conference Coming to Hamilton
Click here to read the February 2016 Hamilton Highlights newsletter.  If you are interested in signing up for the Hamilton Highlights newsletter, click here.