New Hamilton brewery combines roll 'n' roll and beer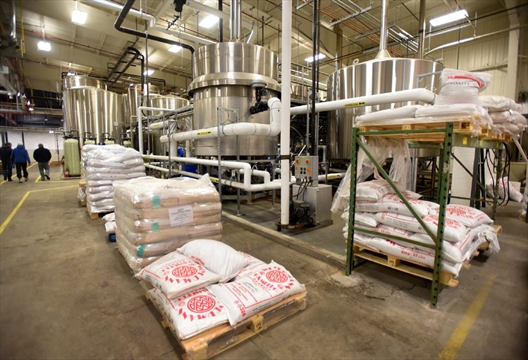 Beer and rock 'n' roll. They are a natural match, both chemically and commercially.
Neil Young knew that when he satirically wrote "This Note's For You," Jim Morrison of The Doors knew it when he sang "Roadhouse Blues" ("I woke up this morning and I got myself a be-yah"), Steve Winwood knew it when he reworked the old English folksong "John Barleycorn Must Die" for his band Traffic, and … well, I'm sure you can come up with plenty of other examples (John Lee Hooker, anyone?).
The folks at Hamilton's Collective Arts Brewing have figured out this connection as well. As a matter of fact, they're opening their new craft brewery on Burlington Street East to the public on Saturday with a frothy helping of beer and rock 'n' roll.
It's called the Bash in the Brewery. Twitter hashtag: #BEERISTHENEWSTEEL.
From noon to 4 p.m., a free open house will feature guided tours and tasting stations ($2 for half pours and $4 for full pours), as well as live music by Sarah Burton, Bravestation and the Knads resonating among the beer vats and bottling machines.
At 7 p.m., the real party gets underway, moving into the brewery's 10,000 square-foot event space where three live bands — Hamilton's WTCHS, Ottawa's Hollerado and Toronto's Zeus — will perform from a stage specially built for the occasion, complete with a light show that will bounce off the beer tanks towering behind it.
"This is a rock show in a brewery," says Dane Pedersen, events manager for Collective Arts Brewing. "We're not going to hide the fact that there's a brewery."
The Bash will be the start of something new on Burlington Street — a hip craft brewery with its own event for concerts and parties. It can fit 1,000 people, probably more.
A parking lot and a large outdoor patio area are in their final stages of completion (if the parking lot isn't ready Saturday, try the Eastwood Park lot west of the brewery at Ferguson).
"We've already had our first wedding booked for next summer," says Matt Johnston, a Hamilton native who co-founded the brewery with Bob Russell a couple of years ago in Toronto before moving it to their hometown. "We just want to add to the life of the city. Eventually we want this space used all the time. Hamilton needs more mid-sized event spaces."
From its inception, Collective Arts wanted its brand to be affiliated with music and the arts. The bottled versions of its products feature labels designed by musical acts, mostly independents, and artists from around the world. So far the brewery has promoted 334 acts, mostly Canadian. As well, each label contains an app that, when held up to a drinker's smartphone, will direct it to an artist's website.
The recent hiring of Pedersen as "events manager," demonstrates the brewery's interest in the city's cultural scene. Pedersen, who also run's the brewery's small retail outlet, is the former owner of the Loose Canon Gallery on James Street North and was one of the key players in organizing the early Art Crawls. In more recent years, Pedersen has been co-coordinator of Supercrawl and a member of its board of directors.
"My job is to promote connections with events that are happening within the city," Pedersen says.
Collective Arts and its partner, the Burlington-based Nickel Brook brewery, took over the old Lakeport site after Labatt shut it down in 2010, taking with it all the plant's equipment and leaving 143 people unemployed.
Johnston said Collective Arts and Nickel Brook have invested more than $5 million in the plant which currently employs more than 40 people. Much of the brewery's equipment was purchased and shipped here from a now-defunct Sleeman plant in Dartmouth, N.S.
Collective Arts Brewmaster Ryan Morrow estimates the plant, which began operations this summer, is currently producing 20,000 litres of beer a day for area pubs and liquor stores. They hope to push that to 10 million litres a year.
"We haven't really hit our full stride," says Morrow. "We're getting there gradually."
Collective Arts' best known labels are Rhyme & Reason Extra Pale Ale and Saint of Circumstance Blonde Ale which are available in provincial liquor stores. Those brands and others can also be purchased directly from the brewery store fresh in "growler" (1.69 litre) and "squealer" (one litre) refillable bottles.
The Burlington Street brewery site, between Ferguson and Wellington, is owned by the Hamilton Port Authority, but has a long history of beer, starting with the original Peller brewery in the mid-40s, followed by labels that included Henninger, Amstel, President's Choice, Laker, Steeler and Lakeport.
Article courtesy of Graham Rockingham, The Hamilton Spectator
Hamilton Highlights Newsletter – October 2015
In the October 2015 edition of Hamilton Highlights…
Multi-Million Dollar Grain Terminal
Innovation Night will showcase pitches by local entrepreneurs
Sniper Skin Takes Lion's Lair
iON Hamilton
Click here to read the October 2015 Hamilton Highlights newsletter.  If you are interested in signing up for the Hamilton Highlights newsletter, click here.
Young Hamilton entrepreneurs to see boost through program expansion
More young Hamilton entrepreneurs will be able to receive help launching their small businesses through the expansion of a provincial program that provides training, mentorship and startup funding to youth.
The province is providing th
e city with $350,000 in additional funding for Starter Company — a key part of its youth jobs strategy — announced at the one-year celebration of the program's Hamilton launch on Thursday.
"With such high youth unemployment, a lot of youth do try to start businesses," said Rob Belchior, business development officer at the Small Business Enterprise Centre, noting Ontario's youth unemployment rate hovers around 15 per cent. "But like anybody else starting a business, it's really hard."
With the new funding, up to 70 Hamilton youth aged 18 to 29 whose full-time business are less than a year old or who want to get one started can apply for a $5,000 grant. They can also receive mentorship from local business leaders and advice through the Small Business Enterprise Centre.
To date, approximately $135,000 has been given to Hamilton entrepreneurs through the program.
Young entrepreneurs can apply for funding through the SBEC until March 31, 2017. Recipients must be able to contribute at least 25 per cent of the grant amount, according to the province's website.
So far, 28 grants have been handed out to young Hamilton business owners, whose companies range from bubble soccer rentals — the soccer players wear large, plastic bubbles — to commercial cleaning operations, to a public relations agency.
Training and business skills development — around business planning, marketing, financial forecasting, legal issues and taxation — has also been offered to 112 aspiring young business owners to help them get started.
"If we can help as many businesses as possible to succeed, they create a job for themselves, and a lot of them actually end up hiring people as they grow," Belchior said.
Ballroom dancing studio owner Sarah Bethune used the Starter Company program when launching her business, Stepping Out Dance Company, which opened last October.
Her first year has been a "dream come true," she said at Thursday's celebration.
Before launching her business, networking and public speaking were two of her biggest challenges, she said.
"With the help of Starter Company and the Small Business Enterprise Centre, I was able to find my confidence, learn new skills and conquer my fears."
Across Ontario, more than 2,000 young entrepreneurs have used the Starter Company program since it launched in the fall of 2013.
Article courtesy of Natalie Paddon, The Hamilton Spectator
ACI Air Cargo Inc. Named as Operator of Hamilton International's Common-Use Air Cargo Centre
Hamilton, ON – (October 6, 2015)
Today John C. Munro Hamilton International Airport announced ACI Air Cargo Inc. (ACI) will operate the common-use half of its $12 million Air Cargo Centre.
"We're very excited to announce ACI as operator of Hamilton International Airport's Cargo Centre," said Frank Scremin, President and CEO, John C. Munro Hamilton International Airport. "We believe this strategic partnership with ACI will further enhance Hamilton International's dominant position in the Canadian air cargo market; we look forward to working together to grow air cargo activity and services at Hamilton."
ACI Air Cargo Inc. will be responsible for all cargo handling services within the common use section of the Air Cargo Centre including bonded, e-commerce and temperature controlled air cargo handling, cross docking and end of runway cargo services which allows companies to move critical items in time-sensitive situations.
"We are pleased to be selected as operator for the Cargo Centre and eager to utilize this first-class facility and ideal location to offer unique logistics solutions to the express air cargo industry," said Robert Thorndyke, President, ACI Air Cargo Inc. "We believe the combined strengths of Hamilton International Airport and ACI will result in enhanced and increased air cargo options for the marketplace."
Hamilton International Airport's Air Cargo Centre was funded through a joint partnership between the federal and Ontario governments, and TradePort International Corporation, with support from Hamilton's municipal government.
In March 2014, Cargojet Airways was announced as anchor tenant for the Air Cargo Centre, occupying approximately half of the 77,000 square foot Facility.  ACI will operate the second half of the Facility under a common-use model.
###
About Air Cargo Inc.
ACI Air Cargo Inc. is a third party logistics provider specializing in air freight.  ACI Air Cargo Inc. operates dual bonded facilities at both Toronto Pearson International Airport and Montreal-Pierre Elliott Trudeau International Airport, moving thousands of tonnes of goods between some of the busiest ports in Canada and the United States.
www.aircargoinc.ca
About John C. Munro Hamilton International Airport
John C. Munro Hamilton International Airport is a growing passenger airport and the largest overnight express freight Airport in Canada. Its strategic location and uncongested 24/7 operations make it an attractive option for both passenger and cargo carriers looking to serve the Southern Ontario market. The Airport's tie to Vantage Airport Group – an industry leading investor, developer and manager of airport assets – allows Hamilton International to incorporate best-in-class practices from around the world into its operations.
www.flyhamilton.ca
Media Contact
Lauren Yaksich
Director, Marketing & Communications
media@flyhamilton.ca
Hamilton Highlights Newsletter – September 2015
In the September 2015 edition of Hamilton Highlights…
Interact Summit in Hamilton
Synapse is Back
Looking for the Top 40 Under 40
Manufacturing Month
ProColumbia ICT Business Matching Forum
Click here to read the September 2015 Hamilton Highlights newsletter.  If you are interested in signing up for the Hamilton Highlights newsletter, click here.
Site Selection Publishes Annual Canadian Rankings
Site Selection
6625 The Corners Parkway, Suite 200, Peachtree Corners, GA 30092  USA
PRESS RELEASE
Date: September 1, 2015
Contact: Adam Bruns
T: 770-325-3491 E-mail: adam.bruns@siteselection.com Website: http://siteselection.com/
Site Selection Publishes Annual Canadian Rankings
Atlanta, September 1, 2015: Québec is the most competitive province in a competitive nation, followed by Alberta, and a tie between Ontario and British Columbia. And metro areas from Greater Toronto and Montréal to Hamilton, Vancouver and Winnipeg head Site Selection's annual list of top Canadian economic development groups (see full list below).
Those are the conclusions reached as Site Selection publishes its seventh annual Canada's Best Locations awards and rankings, based on April 2014-March 2015 corporate end-user facility investment and job creation data derived from the publication's proprietary New Plant Database and the magazine's own research. The rankings include:
The Canadian Competitiveness Award, awarded to the leading province based on data derived from qualifying new corporate facilities and expansions;
Top Canadian Groups, recognizing local economic development groups based on project data, regional partnership, proactive and innovative programming, and quality data and Web tools and resources, and including an Honorable Mention category.
The Canadian Competitiveness Award goes to Invest Québec. "Just as the province's most famous export, Cirque du Soleil, is pitching its tents all over the world, FDI trends show plenty of companies from those same countries pitching their tents in Quebec," says Adam Bruns, managing editor of Site Selection. "From open immigration policies to infrastructure investment to proactive outreach abroad," says Bruns, "Invest Quebec and the other provincial and regional economic development organizations among the top performers we salute this year exhibit a sense of creativity and collaboration that resonates with the creative and digital hubs that many of their communities are fostering."
The Canada's Best Locations 2015 report, entitled "Wonderlands," includes a Canadian economic development directory, and appears in the September 2015 edition of Site Selection, available at siteselection.com.
"We make sure Canada is covered in every issue of Site Selection, from provincial and Canada-U.S. border updates to coverage of new projects in our industry reports," says Mark Arend, editor in chief of Site Selection. "The annual Canada's Best Locations feature sheds additional light on Canada's many location options for corporate site selectors. We salute the provinces and communities that made this year's rankings."
The entire Canada's Best Locations article appears in the September 2015 edition of Site Selection and online at www.siteselection.com. Also featured in the issue are Site Selection's annual ranking of Top US Utilities in Economic Development, and reports on global infrastructure, logistics, and rural economic development. The issue also contains international, regional and state spotlights; industry reports; and several of the magazine's popular Investment Profiles.
Site Selection magazine, published by Conway Inc., delivers expansion planning information to 48,000 executives of fast-growing firms. The senior publication in the development field, Site Selection is also available via Site Selection Online. The publication also publishes or co-publishes e-newsletters, including The Site Selection Dispatch and its Online Insider series, Life Sciences Report, Aerospace Report and Energy Report; The Global FDI Report; TrustBelt.com and the OnSITE Travel blog.
Headquartered in Atlanta, Ga., Conway since 1954 has been a trusted advisor to corporations, government economic development and investment promotion agencies around the world. Conway owns and manages London-based Conway Events, organizer of worldwide FDI events; Berlin-based FDI advisory firm Terrain Consulting; and New York-based Conway PR & Marketing, a leading PR and lead-generation firm. In February 2015 Conway formed an exclusive partnership with Silverlode Consulting Corp. as Conway's corporate location advisory partner in the United States. Conway also manages the Industrial Asset Management Council and the Global FDI Association. Conway in 2013 launched a Custom Publishing Division that has published economic development guides for territories including Texas, California, Kentucky, Oklahoma, Wyoming, Iowa, Mississippi, Pennsylvania and Wisconsin. Conway employs over 80 people in 10 offices in seven countries.
Canadian Competitiveness Rankings
1. Invest Québec
2. Alberta Ministry of Innovation and Advanced Education
T3. Ontario Ministry of Economic Development, Employment and Infrastructure
T3. British Columbia Ministry of Jobs, Tourism & Skills Training
Top Canadian Economic Development Groups 2015 (in alphabetical order)
Calgary Economic Development
City of Charlottetown (PEI)
Edmonton Economic Development Corp.
City of Hamilton Economic Development (Ont.)
Montréal International
Québec International
Regina Regional Opportunities Commission
Invest Toronto
Vancouver Economic Commission
Economic Development Winnipeg
Top Canadian Economic Development Groups 2015 Honorable Mention
City of Brampton Economic Development Office (Ont.)
Canada's Technology Triangle (Cambridge-Kitchener-Waterloo, Ont.)
Greater Halifax Partnership (NS)
Lloydminster Economic Development (Sask.)
London Economic Development Corp. (Ont.)
City of Mississauga Economic Development Office (Ont.)
City of Oshawa Economic Development (Ont.)
Enterprise Saint John (NB)
Saskatoon Regional Economic Development Authority (Sask.)
WindsorEssex Economic Development Corp. (Ont.)
Hamilton Highlights Newsletter – August 2015
In the August 2015 edition of Hamilton Highlights…
New Multi-Million Dollar Cargo Centre Officially Open
LiON's Lair Participants Getting Closer
Digital Canaries Helping to Make Hamilton a Film Hotspot
How to Improve Canada's Competitive Edge
Click here to read the August 2015 Hamilton Highlights newsletter.  If you are interested in signing up for the Hamilton Highlights newsletter, click here.
Hamilton Highlights Newsletter – July 2015
In the July 2015 edition of Hamilton Highlights…
Americas Investment Playbook – Recap
Fibracast Announces New Investment
Workforce Planning Hamilton – Help Them Assist Your Company!
Click here to read the July 2015 Hamilton Highlights newsletter.  If you are interested in signing up for the Hamilton Highlights newsletter, click here.
New $12-million air cargo terminal opens in Hamilton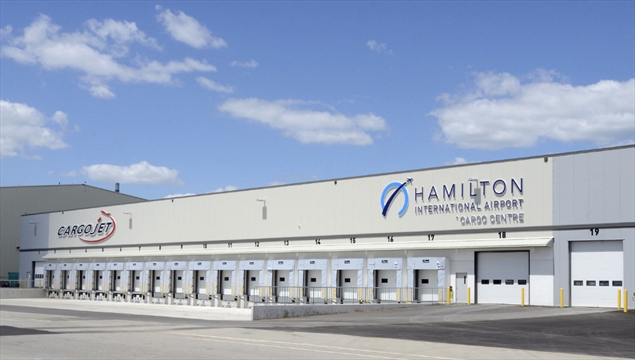 Hamilton airport's new cargo terminal is wheels up.
The $12-million facility was officially opened Thursday, even though its main tenant has been operating from it for a month.
Airport president Frank Scremin said the new terminals, with a cooler, secured customs area and 16 truck bays, will open Mount Hope airport to tons of cargo it hasn't been able to handle before.
"This will open access to the overnight express business in Hamilton to a lot of cargo operators," Scremin said. "This facility is going to be accessible for them."
Scremin explained that while Hamilton is already the busiest cargo airport in Canada, its growth has been held back by the lack of something like the new Air Cargo Logistics Centre.
He explained that with few warehouses in Hamilton, shippers lacked space to store their freight while they consolidated cargos or got customs clearances. Time-sensitive freight, like flowers, pharmaceuticals and food, couldn't go through Hamilton at all without a cooler.
Now, with 5,000 square feet of climate-controlled space, fruit from South America, flowers from Europe, seafood from the Martimes and medication from everywhere can pass through Hamilton.
"We are going to be a lot more aggressive about going after the perishables business now," Scremin said.
Half of the new terminal has been taken over by CargoJet, the Mississauga-based company that has become Canada's largest air freight hauler.
Gord Johnston, the company's vice-president for sales, said the new terminal will make John C. Munro Hamilton International Airport a destination for many new airlines, bringing in freight his aircraft can then move around the country.
"I know other airlines are going to be attracted here now," he said.
Cost of the facility was split between the federal and provincial governments and TradePort International Corp., the company that operates the airport under a long-term lease with Hamilton.
With a federal election looming, government MPs were quick to praise the Harper Conservatives for backing an important infrastructure project.
"Canada's prosperity depends on a network of strong public infrastructure," said Public Works Minister Diane Finley. "We remain focused on creating the right environment to encourage economic growth."
Finley said the new facility will result in 400 jobs, both in its own operations and among companies using it.
Ontario Education Minister and Guelph MPP Liz Sandals said her government supported the project because it will boost the area's economy.
"We're supporting this because we want to grow our economy and create jobs right here in Hamilton," she said. "We're supporting this because we know how important infrastructure projects like this are.
Even Opposition MPs supported the project. Wayne Marston, the NDP member for Hamilton East-Stoney Creek praised it as a source of jobs for the future.
Ron Foxcroft, chair of TradePort's board, said the city needs more such projects that cut across party lines for the good of the city.
"More than anything this airport is an example of partnerships working," he said. "It shows we can break down the party lines for the benefit of the city."
Article courtesy of Steve Arnold, The Hamilton Spectator
Pan Am Games were a fantastic showcase for Hamilton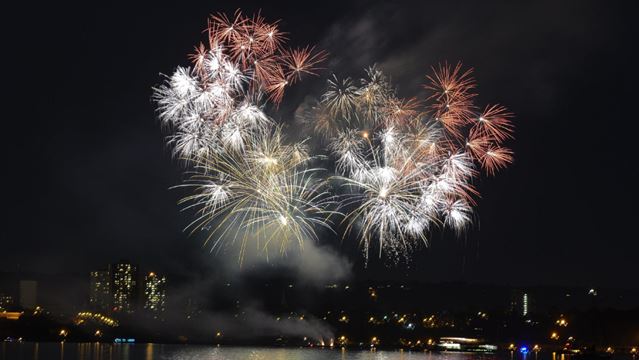 The end of Pan Am in Hamilton, at least, met the pre-Games hype.
A capacity crowd roared during a hard-fought 1-0 gold medal soccer win at the city's $145-million stadium. The highway drive to Hamilton was doable, if not enjoyable. Hamilton native and basketball gold medallist Kia Nurse was flag-bearer for a Canadian Pan Am team that pulled in a record 217 medals.
And thousands of people were expected to flood the waterfront at Pier 4 Park for a fireworks display synchronized to music from a live orchestra Sunday evening.
"I thought, overall, it was just a fantastic showcase for Hamilton," said Mayor Fred Eisenberger.
It wasn't always so Pan-tastic.
Over two weeks, the QEW occasionally morphed into a commuter trap. Some games drew only a few thousand fans — not unexpected, but striking in a 22,500-seat stadium.
Pan Am shuttles for soccer spectators were so efficient, many out-of-towners saw little of Hamilton other than the stadium and GO Station. Stadium rules didn't allow fans out between games, hurting businesses at city-sponsored satellite events.
Anecdotally, it appears attendance at everything from stadium soccer to the downtown beer tent improved gradually between July 10 and 26 — but we don't really know.
Other than the medal count, hard Pan Am numbers are hard to come by, even for the stadium and GO Train. For now, it's about impressions:
The stadium
Take it from a guy who spends a lot of time in soccer venues: Hamilton's stadium is "awesome," said Nicolás Romay, who covered Pan Am soccer for Mexico's Claro Sports. "All the facilities we needed, they are here. The people, I thought, first-rate."
Romay said he enjoyed being able to see so much of Hamilton — the escarpment, the waterfront — from his perch atop the stadium. That was nice, since he and most international media types didn't stay here — they were bused in daily from Toronto.
Stadium food remains a work in progress. Some spectators waited 30 minutes for grub during the first soccer weekend despite game attendance of less than 5,000. Crowds grew over time, but wait times were up and down. To be fair, the not-quite-complete stadium still doesn't have working beer taps. Over to you, city and Hamilton Tiger-Cats.
The traffic
Hamilton set up 68 cameras on major streets leading to the stadium and prepared to make remote signal adjustments on the fly but for the most part, changes weren't needed. The province's much-maligned Pan Am HOV plan, which guaranteed athlete and official movement in three-rider minimum carpool lanes, got mixed reviews from commuters.
But when collisions bunched up on the QEW Saturday, soccer fans lost — even when their team won. Wayne Thomas spent most of the bronze medal men's final on the highway. He made it to Hamilton's stadium late with the score knotted at 1-1 but was then denied entry due to what appeared to be a mixup.
Venue manager Kelly Smith said the gates remained open into extra time, but Thomas said he was twice prevented from entering, forcing him to peer through the gate to see his team, Brazil, pull ahead 2-1 near the end of regular time.
He eventually got the green light, just before the game ended.
"You know, this is the first time I've ever specifically come to Hamilton," he said with a laugh. "I should probably at least go in and see the stadium."
The festivals
Specific Pan Am venue rules that forbade re-entry were tough to swallow at the stadium, where most tickets were for two matches spread over several hours. The rules hurt food trucks and vendors at Gore Park and Ottawa Street events expecting soccer fan spillover.
"Shuttle shot visitors thru the city to be locked in the stadium and shuttled out at the end. So much for showcasing #HamOnt," Tweeted food truck operator Gorilla Cheese.
Flyer handouts at both the stadium and GO Station helped, suggested Tim Potocic, lead organizer on the waterfront Pan Am weekend finale, peering at numerous soccer jerseys in the crowd Sunday.
"Personally, I think locally we did everything we could, everything that was under our control, to encourage people to come out and enjoy really first-rate cultural and entertainment events."
North-ender Mike Kleinhuis, who kept the soccer fun rolling Sunday by kicking the ball around with his son at Pier 4 Park, gave local organizers high marks for "focusing on local talent," pointing to Terra Lightfoot and Alfie Smith at the waterfront as examples. "These are people we love, people we're proud of, so I thought it was great for the city."
The business case
Perhaps stadium soccer in a residential neighbourhood with shuttles ready to whisk fans away postgame was never going to be a bonanza for local bars and restaurants.
A trickle of fans tried exploring Barton and King streets after medal games on the weekend, however.
"We were not going to leave until we found a place to have a drink," said Fenton Alphonse, who with a friend ended up at the Prince Edward Tavern on Barton, more notable for diehard CFL than footie fans.
"It did take us a while," admitted the Mississauga resident and first-time Hamilton visitor. "It was this or Tim Hortons, and, you know, they only serve coffee."
Impromptu flag and T-shirt sales were brisk and while spontaneous bacon-on-a-stick sales were kiboshed quickly, everyone and his uncle had a parking space for sale.
Eisenberger said the biggest business coup was the city's courting of international executives. Those visitors toured the core, the waterfront and available real estate.
A bilateral trade forum with Niagara served up an announcement of a new "centre of excellence for sports analytics," and the mayor said he hopes more relationships will develop over time.
"We're one of very few communities that actually made such an economic development effort, and it is paying off," he said.
Article courtesy of Matthew Van Dongen, The Hamilton Spectator.