New building will support 'active learning' at McMaster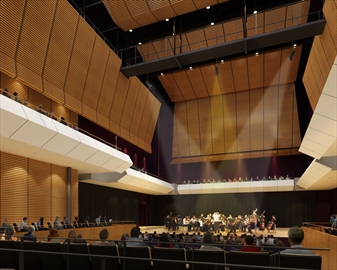 It's been a long time coming. Try 30 years.
As of September 2015, the humanities and social sciences faculty at McMaster University will be home to L.R. Wilson Hall, an active learning hub where technology will mesh with physical space and function as an "active learning" centre.
Social sciences dean Charlotte Yates says she's seen an increase in graduate students by several hundred during her time at the helm and the humanities department desperately needed additional space.
"This is the biggest thing to ever happen to my faculty in 30 years. It's a complete game changer and I couldn't be more thrilled," she said, adding construction is already under way. "We've been working in a very tight space and teaching spaces are maxed out."
Inside the 150,000-square-foot, five-storey building, students will have access to a new 350-seat concert hall, 150-seat multipurpose black box theatre and 400-seat lecture hall. The structure will include a research centre and data lab, a centre for health and aging, an indigenous studies program that will occupy 20,000 square feet, and transgender washrooms on every floor.
It took years of lobbying to the provincial government to make the building a reality. In 2010, as vice-president (education) of the McMaster Students Union, Joe Finkle launched a successful letter-writing campaign, mailing 483 individual letters penned by liberal arts students to local MPP Ted McMeekin.
It paid off. The province announced funding two years ago to the tune of $45 million for McMaster's groundbreaking facility. An additional $10 million was donated by Lynton "Red" Wilson — the retiring chancellor of the university for whom the hall was named — making his contribution the single largest donation.
Maureen O'Shaughnessy, principal and educational facility planner at CS&P Architects, the award-winning firm from Toronto responsible for designing the flagship humanities facility, says instead of the standard classroom setup of chalkboards and desks, there will be "active learning" environments.
"Technology has changed the way we work with each other globally. Now, learning is more like how we do everyday things in life. It's engaging digital learners," she said. "Learning has become more collaborative."
Researchers at Steelcase, a firm that has spent a decade investigating how to build inspiring learning spaces for schools, say the classroom is being reinvented. In new spaces designed to support interactions between students and professors, sofas will replace desks and digital screens will make chalkboards obsolete.
O'Shaughnessy has worked with other universities including Ryerson and University of Guelph. An ongoing project in Windsor has her moving parts of the university to a downtown heritage building. She says building unique learning environments where students work on solving real life issues is where education architecture is headed.
"We are seeing that students stay focused with many different learning spaces and as we move forward, letting students take more control of their learning is much more reflective of real life," she said. "That's where the direction of learning is going,"
OMB ruling clears aerotropolis plan for takeoff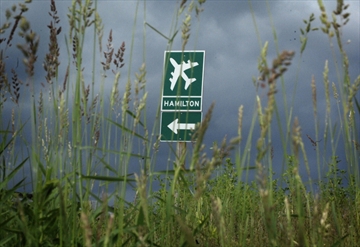 The city has scored a decisive victory in its battle to reclassify hundreds of hectares of farmland around the airport for development — the largest urban boundary expansion in Hamilton's history.
The Ontario Municipal Board has agreed with the city's argument that 555 hectares of developable employment land is required for the so-called aerotropolis, dismissing appeals from Environment Hamilton and Hamiltonians for Progressive Development in a decision dated July 3.
The "absolute" victory brings the city "95% of the way to our goal" of making the airport expansion growth district a reality, said city airport development director Guy Paparella, even though the boundaries of the would-be employment lands must still be decided.
The city's plan was opposed by Environment Hamilton and Hamiltonians for Progressive Development. They argued it was not needed, was too large, swallowed up valuable agricultural land and was not good planning.
Don McLean, a board member with Environment Hamilton, and Michael Desnoyers, a co-chair of Hamiltonians for Progressive Development, were disappointed in the decision by OMB vice-chair Jyoti Zuidema. Their lawyer Eric Gillespie is looking at the decision to see if there are any avenues of appeal, but McLean was doubtful that would happen.
They were critical of Zuidema for finding the work by the Civic League to find other employable lands in Hamilton as opposed to property around the airport to be wanting. The league went through tax rolls and determined there were vacant employable lands in the city's industrial core. Zuidema found the information, without addressing specifics such as location and potential environment constraints, was neither helpful or persuasive.
"I'm not sure I agree with that," said Desnoyers. "It basically says citizens groups are crazy to do this."
McLean was upset the vice-chair determined that it was too late for the citizens to impact the decision and that aerotropolis was on the move in 2005.
"There's no recognition that this was volunteers, raising a lot of money, to try and have some impact on the city's decision making process," he said. "We did not get listened to, I think."
The city says the hundreds of hectares of converted farmland will generate jobs and $50 million a year in taxes if aerotropolis develops fully as planned by 2031. Paparella said, however, the boundaries remain up in the air because the city agreed to shrink the total amount of developable employment land to 555 hectares from 662. The latest phase of the OMB hearing was held January.
City planners will pitch "new lines on the map" to council this fall.
Those updated boundaries, in turn, will be subject to a third phase of OMB scrutiny and may even spur new appeals from landowners which could push a final resolution into next year. Some of the appellants at the recent OMB hearing were interested in seeing their properties in the district opened to residential as opposed to business development, and McLean expects that to crop up in Phase 3.
The city can't afford to wait for new development lands for industry, said Councillor Lloyd Ferguson, whose ward encompasses part of the proposed urban boundary expansion.
"We're gobbling up our shovel-ready employment lands at a furious rate," he said, pointing to steadily increasing statistics on building permits and industrial investment over the past several years.
"No one likes to see agricultural lands go out of production, but we have an obligation to taxpayers to get new jobs, new assessment."
Ferguson emphasized taxpayers won't be on the hook for massive or premature servicing of the rural area. "We'll be servicing as needed, as development dictates," he said.
Councillor Brad Clark said the OMB process has addressed his main concerns with the plan: phased development and the potential for residential development.
"The fact that they've ruled out the potential for residential development is phenomenal," he said. "This (expansion) is about one thing: jobs."
Councillor Sam Merulla said the city is already pushing brownfield redevelopment in the industrial core, but added the airport lands are a "critical piece of the economic puzzle" for Hamilton.
"We need to do this if we want to continue being one of the best places to invest and create jobs — instead of relying on thousands of residents commuting to Toronto," he said.