Boilers a family business for five generations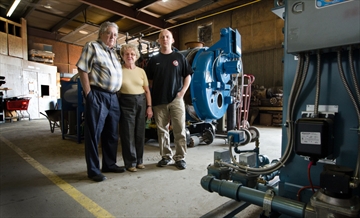 Hamilton Boiler Works might sound like something out of the city's history but at 100 years old, it's a bustling family business employing its fifth generation.
Many think boilers are out-of-date, says company president and owner Jim Beale, but the vessels are still used in lot of industrial and institutional settings, including manufacturing, food processing, greenhouses, ships, hospitals and schools.
They generate heat and produce pressurized steam to power machinery. He says the new boilers are more fuel-efficient, safer and cleaner than ever before.
HBW has installed new boilers recently at Niagara College, a brewery and a plating company.
At one time, the units were built in Hamilton but that hasn't been the case since some time in the 1940s. They are now shipped here from California.
"It didn't work well to be both building and servicing," said Beale. "We chose to concentrate more on service. The guys would start building a boiler and then they'd get called off for servicing and it took too long for the customer. They could have got it quicker somewhere else."
There are now four divisions in Hamilton Boiler Works: sales and installation of new boilers, a service department, an inventory of parts and portable boiler rooms for rent.
The growth is in rentals. That division accounts for 30 per cent of sales. HBW has 40 units now and is refurbishing a boiler pulled from a factory to build No. 41. They look something like small rail cars and are transported all over to pitch in when permanent boilers break down or when an extra boost of power is necessary.
HBW boilers have been used to heat the Ontario legislature, and one of its portable units ran 24 hours a day, seven days a week from April to October to thaw the ground during the building of a dam in Kapuskasing.
Portable boilers are called in to canning factories to step up production in the peak periods of fruit harvesting.
The units even helped out during the ice storm in Quebec.
The company's lot is full with the red units now (each worth $50,000 to $100,000) but come winter, the portable boilers are scarce.
HBW employs 14, some workers for 40 years.
"We are a family here," said office manager Joanne Lastella. It's certainly true in her case. Her sister, Alex Hotrum, is the general manager and the siblings each have more than two decades at HBW. Beale's wife, Marg, a retired nurse, comes in every Wednesday to sign cheques and do some marketing.
"We work as a team," said Lastella. "Jim and Marg are very giving people … They've got to be one of the best bosses to work for."
Lastella's voice breaks as she recalls times when the HBW fleet trucks have followed the hearse of a deceased employee or their family.
"When one of us hurts, we all hurt."
The boiler business skipped the fourth generation of the Beale clan. Jim and Marg's three daughters, Kathryn Vogel, Suzanne Beale and Lori Jardine, went off to do other things. But the fifth generation has stepped in. Beale's grandson, Steven Vogel, handles sales.
Years ago, the work was hot, dirty and unhealthy. Boilermakers were a tough breed, Beale says.
"Boilermakers used to be dead by 60. They worked with asbestos and coal and they drank heavily and smoked heavily."
Now 80 and with 65 years at the company started by his grandfather under his belt, Beale still comes to work four days a week. He started out working with servicing crews and loved being on the road.
"One day, you're in a candy factory; the next day, you're at a pickle factory; the next day, you're on a barge in the bay. Every day is different."
Though he gave up a tool belt for an office chair years ago, Beale can't be convinced to enjoy retirement.
"I wouldn't want to leave this," he says in the small office he inhabits in a low-slung, simple building in an industrial area of Stoney Creek.
"It's an interesting place to work," said Beale. "It's too exciting all the time. There's lots of changes and things going on. There's new technology and new products."
What's the biggest change?
"We sold the horse," Beale answers with a big laugh. That horse used to take his grandfather, also James Beale, on service calls. He immigrated to Canada from England in 1908 and launched HBW in 1913.
Jim Beale took over the business from an uncle in the late 1960s.
The company's 100th birthday will be celebrated with a by-invite catered event Sept. 18. The Beales expect about 150 customers, suppliers, past employees and others will be on hand.
There will be plenty of stories to tell. Like the day in the early 1960s, when Jim Beale was supposed to go along on a tug that was to tow a dismantled ship across Hamilton Harbour to the steel company to be scrapped. He got busy in the office and didn't make it.
The tug tipped over and everyone on board drowned, including an HBW employee.
Or the time a steamship inspector who needed to sign off on a new boiler on a ship got angry when no one could offer him a glass of whiskey.
"We wrote an official report that said the ship wasn't prepared," recalls Beale. "He came back the next day. We had a case of whiskey by then."
Article courtesy of Meredith MacLeod, The Hamilton Spectator.
New state-of-the-art plant gearing up for 2014 opening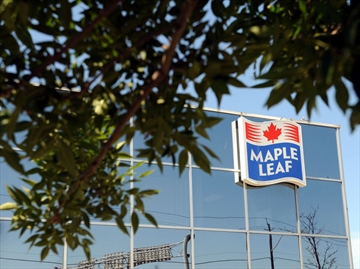 Maple Leaf is marching ahead with its plan to get a small army of workers in place for its new multimillion-dollar meat processing plant at the Red Hill Business Park expected to be fully operational by 2014.
When the project was announced in the fall of 2011, Maple Leaf indicated it would need about 670 workers. The move was part of a national restructuring effort to consolidate its operations. It would close three plants — one in Kitchener, one in Toronto and another on Brockley Drive in Stoney Creek with about 175 workers — and build a new facility in Hamilton.
At the time, the move was estimated to eliminate about 1,550 jobs across the country, mostly in southern Ontario as Maple Leaf sought to improve efficiencies and modernize.
Workers at the Brockley Drive plant are members of UFCW Local 175 — another 30 are salaried staff. Employees' salaries range from $15 to $22 an hour.
Luc Lacelle, union spokesperson, said the Local 175 members will be moving directly over to the new plant once it's operational — something the union solidified in its last collective agreement.
Dave Bauer, a spokesperson for the company, said the goal for the company is to fill as many positions as possible in Hamilton with internal candidates, including from Kitchener or Toronto.
However, the new plant also represents state-of-the-art technology in food production, something that will require staff with matching cutting-edge skills, so Maple Leaf has started a hiring spree in Hamilton, looking for electricians, millwrights and other skilled workers as well as managers and operators.
"It's going really well," said Bauer.
"There's a very positive vibe in Hamilton. We're excited to be participating in the local economy."
The first wave of workers will start at the plant in November and will gradually move in over the next few months as the plant goes online.
Bauer said the Canada Bread plant down the road has hired about 300 full-time staff and 30 to 50 seasonal staff, bringing Maple Leaf's total workforce in Hamilton at the end of 2014 to about 1,000 workers.
Maple Leaf is also closing its two distribution centres, one in Kitchener, where it had 90 staff and one in Burlington, where it had 30 staff. It built a new distribution centre in Puslinch that would require about 90 people.
Bauer said that plant will be managed by DB Schenker in an agreement with Maple Leaf. He said while the company did hire former Maple Leaf employees, he was unsure how many made the transition.
Article courtesy of Lisa Marr, The Hamilton Spectator
The Hamilton Spectator
A Hamilton gadget that keeps Apple earbuds on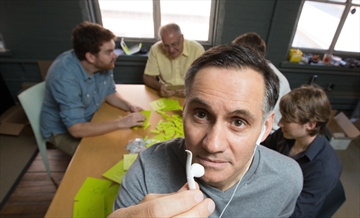 Three-person Hamilton business OHM introduces $10 clips and makes hundreds of sales — without advertising.
A small Canadian industrial design firm has come up with a solution for ill-fitting Apple EarPods. Consumers have long lamented that the earbuds supplied with their iPhones and iPods are prone to falling out, particularly during activities like running and cycling.Many replace them with bulkier, over-ear headphones, but Hamilton-based OHM has devised Sprngclip, adjustable, plastic snap-ons that hold EarPods in place.
The three-person firm introduced the $10 clips online this month, with no advertising — they reached out to gadget and design blogs — and has already sold hundreds.
"It's not viral like if you had some celebrities endorse it, but so far, it's very surprising for us," said OHM co-founder Steve Orzel, who has been up past midnight printing labels and stuffing envelopes with partners Graham Hills and Kirk Mosna.
"We had actually talked to a fulfilment house to help us with this, but it's such a small-ticket item and there was no reason to think it would do well, so we weren't able to get their attention.
"If this thing keeps going the way it is, I think it will not be a problem to call them back and say, 'Can you take it over now because we've got some sizeable orders.' We're getting interest in resellers as well."
It's a satisfying launch into mass merchandising for OHM, which operates largely as product design consultants for electronics, recreations, housewares and wearables. Their portfolio includes award-winning work for Fox40 whistles.
They'd previously initiated a stylish line of kitchenware called Modenn, but stumbled over the capital required to assemble enough inventory to fill orders. Another challenge was coming up with a well-designed product that could be marked up enough to make it profitable.
"We're attracted to the Fox40 model: take a minimum amount of material, something that's in the pennies, and figure out a way to make it worth $7 to people," Orzel said.
"What made (Sprngclip) so attractive is that we could buy inventory for the tens of thousands of dollars, rather than the hundreds of thousands of dollars. It allowed us to do something we could finance ourselves."
The clips evolved from a make-work project for Dundas high school student Dave Mackie, who interned at OHM last summer.
"He was the reason we started the project," Orzel said. "He struggled with it and lucky enough for him, Kirk didn't have any real big jobs, so he spent a lot of time with him and, between the two of them, they came up with this idea."
After Mackie's tenure, the partners kept plugging away on the clips, in between jobs. But last fall, about the time they'd come up with a good prototype for the estimated 500 million Apple earphones in use, Apple introduced a new model.
OHM forged ahead, making an addendum to their patent and shelling out a modest sum for a first run of 10,000 China-manufactured clips.
"We did not take on investors; we would like to have," Orzel said. "Some of our friends that are in the moulding business; they wanted like $75,000 for the tooling, and that's fair, but that's just not the kind of money we had.
"If they were going to take a partnership role, they would have swamped us; it would have been like 85-per-cent shareholders. We couldn't do that, so we had to figure out a way to do it ourselves.
"We're very risk averse. In terms of startups, it's not like what you see on the Dragons' Den where everybody's mortgaged their homes, or anything like that. As a rule, we never borrow money and that's why we're so small. We do everything with the money we have. We have gone to the bank to borrow, when we need new hardware or software, but it's minimal, like car-loan scale."
They figure to break even on Sprngclip in a few months.
"It's going in the right direction, but it's still a gamble," Orzel said. "However, it's probably the best promotion we've ever had. We toil away and we count on our clients for coming back. That's sort of a double-edge sword: when we get clients, they stick with us, so we don't have to do much sales, but we don't grow."
Article courtesy of Ashante Infantry, Torstar News
Hamilton again tops in corporate construction
Hamilton has topped the country in corporate construction projects for the second year in a row.
The city logged 35 corporate projects between April 2012 and March 2013, which edged out Quebec City with 34 and handily outdistanced Toronto and Edmonton, which tied for third at 22.
The rankings were produced by Site Selection magazine in its Canada's Best to Invest report. The Atlanta, Ga. publication is aimed at about 44,000 corporate site selectors.
Hamilton also topped the rankings in 2011-2012 and was in second place behind Toronto in 2010-2011.
"I think this shows the whole community is pulling in the same direction," said Neil Everson, the city's director of economic development.
"They're all over the city, which is great, and they are across different industries, which is the diversity we've been pushing for the last 15 to 20 years."
A rough tally of investment comes in at more than $250 million, but Everson cautions that not every company attached a dollar figure to its project.
According to the Conference Board of Canada, Hamilton's economic diversification index is 0.94 out of a possible 1, which is the best in Canada.
The city's submission to Site Selection says Hamilton gained approximately 1,070 jobs over the year.
The number of projects grew significantly across most cities on the list over the June 2011-May 2012 period last studied. Hamilton had 20 projects during that time.
The city's Hamilton Calling program, which interviews and surveys city employers, found close to 65 per cent of 345 visited plan to expand in terms of job, facilities or investment in the next three years. Close to 95 per cent saw an increase in sales over the previous year and almost 70 per cent plan to introduce new products or services in the next two years.
To be eligible for inclusion in the Site Selection tally, projects must be at least a $1-million investment, result in 50 new jobs or be more than 20,000 square feet in area. Data is collected through building permits and from company representatives. It is independently verified by Site Selection staff.
Everson says the data will be vital to the city's marketing push as a corporate destination aimed at the GTA.
"So when people say, 'Why should I look at Hamilton?' There's a reason: because everyone else is."
The city's economic development department was also named among the 10 best in Canada. Rankings aren't assigned to that list.
The report appears in Site Selection's September edition which will be posted Thursday.
Article courtesy of Meredith MacLeod, The Hamilton Spectator.