VIDEO: Hamilton gets its mojo back

They didn't want sleek skyline shots or earnest promo videos featuring people talking hometown pride.
The makers of a new city economic development video wanted it to stand out.
So they brought in beat poet Tomy Bewick, the organizer of Hamilton Poetry Slam, to riff on the city. Sitting in a hard hat and overalls in the middle of a concrete floor, he speaks in the first person as the city. Black and white shots of sparks fly as city landmarks play.
Without ever uttering the word Hamilton, the poet rejects past labels put on the city.
"I have grown hardened; back bone sturdy, forged from the fires of desire to dream. I am a manufacturing giant, producing one-third of all steel in this country. But I am not the steel city. I am more than metal sparks and steam."
Bewick calls Hamilton a city of visionaries and incubators that is leading the nation in investment and Ontario's fastest growing economy.
"What will they call me next? Canada's comeback city?
"You can call me whatever you want. I was, I am and will forever be the ambitious city."
The video was unveiled at the Hamilton Chamber of Commerce city manager's breakfast Tuesday morning.
"It's an art piece that gets people's attention," said Mike Marini, coordinator of marketing for the city's economic development department.
He acted as executive producer, while Michael Pett of Colourblind Productions was producer and Christoph Benfey of Low Key Studio was the director.
"We really wanted to break the mold with this and do something different," said Benfry.
The video features original music by Sasha Szlafarski and a sculpture by blacksmith artist Mark Korczynski that will find a temporary home in City Hall.
Article courtesy of Meredith MacLeod, The Hamilton Spectator
Union Gas opens Stoney Creek facility
A green roof and a solar wall are just two of the energy-efficient technologies in the new Union Gas office and training facility officially opened in Stoney Creek on Tuesday.
The building, constructed on a 3.3-hectare parcel of land and estimated to have cost $30 million, is located along the Glover and South Service roads.
The new facility will be Union Gas's regional base for Hamilton and Halton, housing about 80 employees. Company spokesman Andrea Stass said the site will also be used a training site for employees from across Ontario.
Stass said a number of native plants are being grown above the cafeteria on the green roof, which will provide shade in the summer.
The solar wall is along the back of the building facing the escarpment.
"It contains large dark blue panels with small holes that collect the heat, which is then used to preheat air for the building, reducing heating costs," she explained.
The two-storey, 54,000-square-foot facility was designed to use 45 per cent less energy than a conventional building of the same size, Stass said.
The city provided Union Gas with a $629,751.94 Environmental Remediation and Site Enhancement redevelopment grant to help cover the costs of cleaning up the land.
Article courtesy of The Hamilton Spectator
Core strength: Downtown Hamilton development on the rise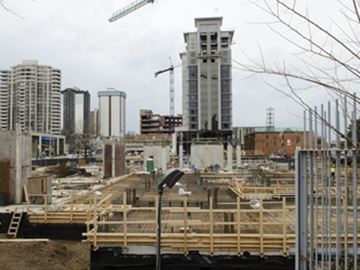 The downtown landscape is undergoing a transformation — and the cranes at the corner of Main and Bay are among the more visible signs of economic growth.
Overall, the city has enjoyed a construction boom since 2010, when building permits topped $1 billion. This year will closely follow those strong permit figures with a year-to-date value of about $670 million (in August).
Twenty-five of the most significant downtown projects this year alone represent a massive expenditure with a total construction value of at least $300 million (many projects are incomplete) — a shift Glen Norton, the city's manager of urban renewal, says is proof there is new life in the city's core.
Norton said bit by bit the city's incentive programs for developers are finding traction: four applications for the Gore building improvement grant program, five for its downtown property improvement grant, nine for façade grants and more for its multi-residential and other assorted loan and grant programs.
"People have to realize if they live in this city, this is the heart," Norton said. "Sure we get 80,000 to 100,000 for Supercrawl, but they have to come back."
Article courtesy of Lisa Marr, The Hamilton Spectator
Dragons fired up over company's success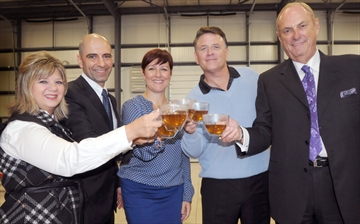 Millionaire investor Jim Treliving knows a good deal and the Dragon's Den veteran says his investment in a Hamilton couple's tea company was the best he's made during his eight years on the show.
Treliving and fellow Dragon David Chilton were on hand Friday to cut the red ribbon on the new headquarters of Steeped Tea, in the Ancaster business park.
CBC camera crews were on hand to film an update segment for the show, as guests sipped toffee caramel black tea and French toast oolong.
Though the Dragons are fiery on TV, Chilton and Treliving were positively cuddly as they praised Steeped Tea founders Tonia and Hatem Jahshan.
"This has been an incredible success," said Chilton, author of the Wealthy Barber, who joined the show in its seventh season.
"I wish they were all this good. The growth rate they've seen is borderline bizarre, they are making good decisions and they are as hard-working a couple as I've seen."
Chilton was immediately impressed with the couple and their direct sales business model when they pitched in April 2012, asking for $250,000 to expand into the United States.
But he expected to see some red flags as he scoped out their numbers. He found none, even after secretly enlisting his daughter to sign up as a sales consultant.
"I wanted to see how they trained their consultants, how quickly they responded to her questions.
"I also wanted product samples," said Chilton, who was reassured when those around him loved the tea.
Treliving, a former RCMP officer who built a fortune through the Boston Pizza chain, says he makes his investment decisions based on the people behind the business. He says the Jahshans had both passion and a solid grasp of their business opportunities.
"My investment was easy to make. They understood where they were going. They just needed help to get to that level."
Expansion to the U.S. is difficult, says Treliving. The market is different, consumers are different, the landscape is more litigious.
"A lot of Canadian companies have gone down there and had to come back in 10 years."
Steeped Tea started in the Jahshans' Mountain basement seven years ago after they tasted loose leaf tea on a trip to Nova Scotia. Tonia had sales experience and was immediately taken with the idea of selling through home parties, similar to Tupperware or the Pampered Chef.
Sales grew quickly as the ranks of consultants grew from a handful to hundreds and then thousands. Hatem, an engineer who holds an MBA, manages the numbers and logistics, while Tonia looks after personnel, recruiting consultants and coming up with new tea blends.
The company landed 27th in Canada on Profit magazine's list of the fastest growing companies earlier this year, with revenue growth of 1,877 per cent over five years.
Steeped Tea now employs 42 and sends its 65 (and growing) blends of tea to 3,000 sales consultants across Canada, from their newly-christened 20,000 square feet of warehouse space.
The company was in a nearby 8,000-square-foot space for just 18 months, before outgrowing it.
Over the years, the inventory has grown from loose tea to tea pots, cups, infusers, a line of baking mixes, jams and chutneys, even soaps.
When the Jahshans, parents to three young children, walked in to face the Dragons, their company was already in the midst of 300 per cent growth. Hatem says they were primarily looking for the advice that would guide a southern expansion.
Since the Dragons came on board, the growth rate has more than doubled.
"I was a tad skeptical about going to the U.S. and so was Jim," said Chilton. "But I was wrong. They figured it all out."
Steeped Tea launched in the U.S. in April and has about 200 consultants there now. Tonia says there will easily be 5,000 a year from now.
Hamilton is a great place to locate for a company growing into the U.S., said Treliving.
"Why wouldn't you want to be in Hamilton? It's a great city and a great location."
Though he didn't name names, he pointed out that coffee giant Tim Hortons got its start in Hamilton, too.
"If we can do as well as that, we'll be happy," said Treliving, before Tonia piped in with: "We will."
Article courtesy of Meredith MacLeod, The Hamilton Spectator
Russel completes upgrade of Stoney Creek plant
STONEY CREEK A $7-million upgrade to a local steel plant has been completed.
Russel Metals Inc. announced recently it has finished the installation of a new roller at its B&T Steel division here, completing an upgrade that started in November.
The new hydraulic roller leveller is designed to process three-quarters of an inch thick coiled steel up to 72 inches wide on the company's heavy-gauge production line.
In a news release, the company said the upgrade would allow it "to provide superior quality products with industry leading flatness."
The latest installation is the second half of a project the company announced last November. The first phase involved installation of a stretcher leveller to its light gauge line.
Russel bills itself as one of the largest metals distribution companies in North America. It does business in the metals service centres, energy products and steel distribution sectors under several names including Russel Metals, A.J. Forsyth, Alberta Industrial Metals, Apex Distribution, B&T Steel, Baldwin International, Comco Pipe and Supply, Fedmet Tubulars and others.
In August, the company reported second quarter profits of $20 million, down from $23 million in the same quarter last year. Revenues in the metals service centre segment slipped 13 per cent to $378 million in the second quarter due to a combination of lower demand and prices.
The Hamilton Spectator