Ancaster industrial park looks to expand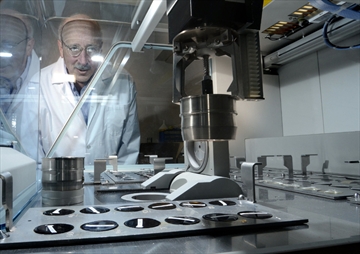 Ancaster's business park is heading into its next chapter.
The 230-hectare park on Wilson Street between Shaver and Trinity roads is all but completely developed. The city owns no more land in the park.
"That park has been an overwhelming success," said Ancaster Councillor Lloyd Ferguson.
A landowner east of the existing park is anxious to develop for more industrial and commercial uses but a farmer in between is not interested in selling, says Ferguson.
So the city has purchased property to the west of the park and will extend Cormorant Drive out to Trinity Road to give another access to the park.
RELATED: Industrial parks reaching capacity
"That will make a big difference there. There's a safety issue right now in having only one entrance. The traffic really backs up along Wilson in the morning with employees turning in," said Ferguson.
Guy Paparella, the city's director of growth management, says there is always strong demand for space in Ancaster's park.
"It has a highly strong mix of uses in there. Proximity to the 403 and the link to the airport have been strong factors there."
Forty-nine of 146 parcels of land are medium industrial uses, according to city data. The next biggest portions are light industrial at 20 and warehousing at 13.
RELATED: Finding growth in a full market
Eric Hoffman's Activation Labs was among the first tenants when it took up residence there 25 years ago. Ancaster is now the company's global headquarters, heading up 30 labs in 13 countries and a total workforce of about 1,000.
The company is now in the process of consolidating its operations from four separate buildings in the park into one 200,000-square-foot building to house more than 200 employees. That's about 2.5 times bigger than Activation Labs' current footprint.
The company, which does testing for mineral exploration, metallurgy, environmental analysis, pharmaceutical and biotechnology companies, was lured to Ancaster from Brantford in its early years because Hoffman and his family live in Dundas.
"It may have made more sense to locate in Mississauga or Oakville but I didn't want to commute," said Hoffman. "We've found advantages here. It's a lower cost of living for our employees and it's easier to get highly skilled employees with Mac being so nearby."
The cost to buy land is also reasonable, says Hoffman, who bought 3.2 hectares for expansion.
"We are always getting approached by U.S. cities that are willing to give us land and tax concessions but we are staying put."
Article courtesy of Meredith MacLeod, The Hamilton Spectator
Hamilton industrial parks: Finding growth in a full market

In the late '90s one of Norm Schleehahn's duties at the city included trying to promote and support growth in Stoney Creek.
Land in its industrial park was going for $50,000 to $80,000 an acre.
Now Schleehahn's job has expanded as manager of business development and so has the price of land in Stoney Creek's industrial park — anywhere from $350,000 to $400,000 on the coveted strips along the QEW.
"There's not a lot of vacant land on the QEW and there's a 1.5 per cent vacancy rate out here," said Schleehahn. "That's just a function of supply and demand. There isn't much land anywhere as a matter of fact. That's a good thing and a bad thing. Good because it means growth, but bad because it means how do you help new companies come here and help the current ones grow more?"
Stoney Creek's Business Park spans 678 hectares and is bounded by Grays Road, Barton Street, the QEW and Fifty Road. Aside from the odd piece of public land, it is largely privately owned and developed.
The park has seen many recent changes including a new office building on Arvin Avenue which now houses Staalduinen Floral which outgrew its old space in Stoney Creek and the addition of Liburdi Engineering, which moved to a building in Stoney Creek when it had a fire strike its Flamborough plant in 2010.
It rebuilt in Flamborough, but retained its Stoney Creek office, too, said Schleehahn.
There is also expected growth near the park's border at Fifty Road and the QEW — a controversial approval of rezoning by city council to allow for the construction of a Wal-Mart store and other retail buildings. Controversial because the land was originally intended as employment lands and there were concerns about its impact on property values.
But as far as Johnny DeFaveri, president of DeFaveri Group which has several industrial land holdings in the area, the development is not entirely bad.
"No industrial company would want that spot," he said. "If you don't like development in general, then you won't like this. But there's a new school going up across the tracks, new homes nearby slated to be built, I see it as a good thing."
DeFaveri owns land just off Lewis Road where he is building two new office buildings and they are already full.
"I do see (Stoney Creek industrial park) is on the upswing. It's not all doom and gloom. You aren't getting the margins you used to. You just have to adjust accordingly."
Article courtesy of Lisa Marr, The Hamilton Spectator
Hamilton Highlights Newsletter – December 2013
In the December, 2013 edition of Hamilton Highlights…
Brownie Awards for Hamilton

EasyHome Makes a New Investment in Hamilton's Downtown Core

Sneak Peak ate the City of Hamilton's top Sport Investment

Career Fair in January for Hamilton Post-Secondary Students

Click here to read the December 2013 Hamilton Highlights newsletter.  If you are interested in signing up for the Hamilton Highlights newsletter, click here.