Hamilton Highlights Newsletter – March 2014
In the March, 2014 edition of Hamilton Highlights…
Ontario's Certified Site Program Launched

National Business Improvement Area (BIA) Conference in Hamilton this April

Former Siemens Plant Rises Again

Hamilton Welcomes the Globe and Mail

Click here to read the March 2014 Hamilton Highlights newsletter.  If you are interested in signing up for the Hamilton Highlights newsletter, click here.
City hopes to cash in on provincial economic development program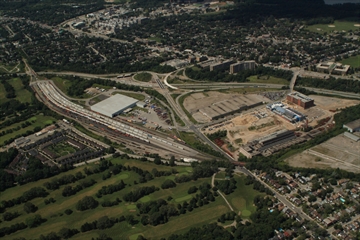 Hamilton will be jumping into the fray to promote key industrial sites as part of a new provincial economic development program.
Gabe De Roche, spokesperson for Eric Hoskins, minister of economic trade, development and employment, said the province launched the Investment Ready: Certified Site program last December in response to competition from several states south of the border.
"One of the ways we can compete is finding ways to identify sites which are shovel-ready," he said.
The idea is to create an inventory of sites throughout the province that have key features, such as a minimum of 10 acres, existing public road access, proper zoning, servicing and utilities and no major constraints on developing the property.
Owners of potential sites must work with the local municipality to apply for inclusion on the list.
In addition, the province is offering a $25,000 incentive to owners of qualified sites as a rebate for up to 50 per cent of costs associated with making the property investment ready. Each municipality can submit two sites for the incentive, but Jennifer Patterson, senior business development consultant for the city's economic development team, said the number of sites to be submitted for inclusion in the province's program could be more than that.
"It's a good tool," said Patterson. "It puts us on a level playing field (with the American states). We want to be in the game along with everyone else."
Mark Stewart, marketing and leasing manager for McMaster Innovation Park, attended the workshop Wednesday.
He said, for MIP, the biggest advantage of the provincial initiative is the cost savings the program will bring to marketing the park's 15 hectares to potential investors. He said he often attends trade shows to attract research-intensive or high-tech firms, and the costs associated with advertising in brochures or travel can be quite high.
The next application deadline for the program is April 15, and Stewart said he intends to apply to be included in the list of potential sites for investment.
"The program looks like it could be a great benefit to land owners as they can leverage the (foreign direct investment) work the province does. If MIP is included in the listings, then we know that as the listing is promoted at events and in advertisements worldwide, MIP is also promoted."
Patterson said the city hopes to partner with agents or owners of at least one, if not more, sites by the deadline.
The provincial program can be accessed at www.ontario.ca/certifiedsite.
Article courtesy of Lisa Marr, The Hamilton Spectator
Two local companies receive energy awards
Two Hamilton-area companies were among five recognized by Horizon Utilities for energy conservation initiatives.
Graybar Canada in Hamilton and Agri-Plastics in Stoney Creek were presented Wednesday with Energy Savings Champions Awards by Horizon president and CEO Max Cananzi during a luncheon.
Graybar was presented with an award for contractor participation and Agri-Plastics won the energy savings award.
Graybar, located on Morley Street, is a wholesale distributor for items from various manufacturers of automation and electrical products. It is based in Halifax and operates more than 30 locations across Canada.
Agri-Plastics is located on Arvin Avenue and builds hutches and housing units for calves. It is owned by a third-generation dairy family and its headquarters is in Grassie in West Lincoln.
The annual award also recognized Mark's (formerly Mark's Work Wearhouse) for demand reduction and Wilson Blanchard and Johnson Controls for most innovative project. All three businesses are located in St. Catharines.
Article courtesy of The Hamilton Spectator.
Memorable moments from Young Entrepreneurs Night in Hamilton
On March 6, 2014, Report on Small Business partnered with Hamilton Hive to host a networking event for young professionals in the region.
Graphic designers, visual artists, tech entrepreneurs, filmmakers and food-and-drink retailers arrived on the 21st floor of 100 King Street West in Hamilton's downtown core.
To read full article go to Globe and Mail
Hamilton Airport Lands New Tenant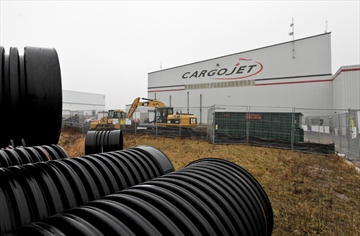 A major tenant has taken space in the new cargo warehouse at Hamilton airport.
Cargojet will take over roughly half of the 77,000 square feet of space in the new $12-million facility.
"This is a very important development for us," said Frank Scremin, president of John C. Munro Hamilton International Airport. "This really reinforces their commitment to Hamilton as the hub of their operations."
The new Air Cargo Logistics Facility is being financed jointly by the federal and provincial governments and TradePort International Corporation. TradePort operates Hamilton airport under a long-term agreement with the city.
The governments committed $8 million to the project in January. TradePort is contributing $4 million. The new warehouse will feature specially refrigerated areas for drugs and other perishables as well as multiple truck docks and space for shippers to assemble cargo from different areas or break up skids of goods for shipment to numerous final destinations. It is a major development because it will open new business Hamilton airport could not compete for in the past.
Cargojet CEO Ajay Virmani said his company needs the extra office and warehouse space as its business doubles following its recent win of a new contract with Canada Post and Purolator.
"This initiative will allow Cargojet to enhance efficiencies when handling our customers' products in a safe, secure and temperature controlled environment," he said in a news release.
"We look forward to strengthening our relationship with the Hamilton International Airport as we … potentially double the size of our business."
In February, Cargojet announced it had been awarded a seven-year deal with the Canada Post Group of Companies to handle cargo. The deal, which includes three 36-month extensions, is potentially worth $1 billion. It will see Cargojet handle all the cargo operations of Purolator and Canada Post.
Cargojet moves more than 500,000 pounds of cargo each business night. Hamilton airport, with the ability to operate 24 hours a day, is a major cargo hub for the country.
Construction of the facility is expected to start in the spring. The idea of such a warehouse has been circling the airport for the last six years while funding deals and early plans were arranged.
While TradePort sold city council in 1996 on the idea of turning Hamilton airport into a passenger destination, that dream has never been realized. More than 1 million passengers used the Mount Hope airfield in the early years of TradePort's management when WestJet Airlines made Hamilton its eastern hub. Those numbers went into a steep dive after WestJet moved its operations to Toronto. The airport handled 351,500 passengers in 2012, up 5.7 per cent from 2011.
Cargo has always been Hamilton airport's strength, even though volumes have been depressed recently due to the lingering effects of recession. It is home to the regional cargo operations of courier companies such as UPS, DHL and Purolator in addition to Cargojet.
The airport's annual report for 2012 — the 2013 version is expected later this month — shows cargo volumes of just under 400 million kilograms, down 7.4 per cent from 430 million kilograms in 2011.
Article courtesy of Steve Arnold, The Hamilton Spectator
Once empty former Siemens plant in Hamilton now buzzing again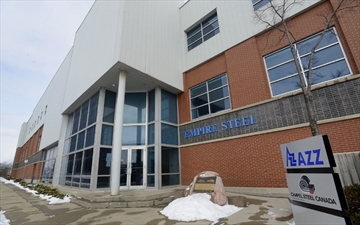 There were five reasons to celebrate the new uses of the former Siemens building on Milton Avenue Wednesday morning: Empire Steel, Chapel Steel, AZZ, Alstrom and Triple Crown Enterprises.
Because five new advanced manufacturing/industrial businesses — even when they're smaller — is better than one big one, said Norm Schleehan, manager of the city's economic development office.
"It's much easier to manage — either having them get established or close down. This is sustainable."
Sherif Khalifa, president of Empire Steel, which owns the building, said it's more than just having four tenants share the space, it's about the pleasant surprise of discovering how much they can support each other.
"We may have five companies here but we really have developed this one big unit," he said.
Ron Golden, plant manager of AZZ, an industrial controls enclosure manufacturer, said the Texas-based company was lured to Ontario initially to better serve clients here, particularly in the power generation sector, but the building's assets — location, overhead cranes, rail line and power — motivated them to relocated the plant from St. Catharines.
"There was just nothing else like this anywhere," he said.
AZZ was attracted to the space because one of its main businesses is building small houses for control systems — all the wiring and controls — needed to operate a solar panel field or wind turbine system that often are operated in open, rural spaces. AZZ will often build for contractors then assist with installation.
In an ironic twist, on Wednesday the company had a large unit ready to ship to Siemens Electric.
Golden said the great thing about the space and the city is the possibility to grow and be in close contact with customers and businesses.
"We have 30 staff now but we're only at 20 per cent capacity. We are getting ready to ramp up," he said.
Syd Hamber at Colliers International, said overhead cranes and rail service on the doorstep are increasingly in demand.
"Rail is coming back and coming back big. If I had 10 more spaces like this, maybe at 100,000 square feet each, we'd have no problem getting rid of them," said Hamber. "People have been saying the industrial sector is dead, they have no idea. It's alive and well."
In fact, the model Empire Steel has carved out for itself — filling up a giant industrial building and subleasing the rest of the space to like-minded companies — may provide a model for the future.
Khalifa said the company is hoping to build a 70,000-square-foot new industrial building at the foot of Milton Avenue this year and eventually fill the office building around the corner on Myler Street across from the main building.
There are about 100 people working out of the former Siemens plant, which once employed about 550.
"This magnificent building has had a tremendous impact on the city," he said. "Now Empire Steel's tenants have added value to (Empire), the community and to the city of Hamilton."
Article courtesy of Lisa Grace Marr, The Hamilton Spectator
Horizon offering brownfield cash for developments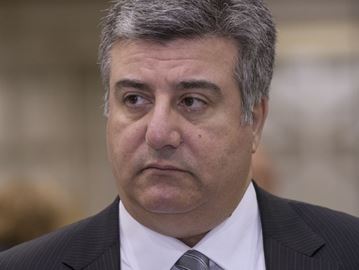 STONEY CREEK Horizon Utilities is offering incentives of up to $250,000 to buyers of old industrial properties in an innovative program it says is the first of its kind in the country.
Max Cananzi, president and CEO of Horizon Utilities, said the move benefits the utility because it may help find new, large industrial customers where the infrastructure already exists.
"This is a smart growth-inspired policy," said Cananzi. "This is sustainability in action. There are many social and economic benefits to infill development. It's also good for utilities to get more use out of its existing asset base of lines and that takes pressure off rates."
And for the city, it will help to make the development of brownfields and other industrial properties more attractive.
Neil Everson, the city's director of economic development, said until now, the city has worked on its own to stimulate redevelopment of older buildings. It has programs such as ERASE, which provides grants and tax breaks to property owners or buyers for cleaning up and returning brownfields to productive use. So far, the city has handed out 32 grants.
He said the Horizon program from "a purely selfish perspective" excites him because it's one more reason for companies to locate in infill spaces in Hamilton.
"This a definite way to capitalize on what we already have (in building inventory). For a developer, anything that can speed up the process of getting going is valuable and that's all based on infrastructure."
Everson said the announcement also comes at a time when his department has been charged by council with revising the city's brownfield strategies and develop a secondary plan for developing the bayfront lands.
"I believe brownfield development just got a bit easier."
The Horizon program works like this: Until now a buyer of an existing industrial building was required to pay a system "enhancement" cost. Those costs are now waived.
For example, if a customer requires up to 2,800 KW of power, an old rate of $250,000 in enhancement costs is now zero. However, the customer is required to estimate electricity requirements and make a refundable deposit based on that estimate.
The cost reduction is greatest where Horizon already has distribution lines to the building at the street and capacity at the nearest transformer station. There also must be no direct or expansion costs to the utility beyond reconnecting the lines and installing new meters.
Horizon's announcement took place at the echoing empty former Tiercon building on South Service Road in Stoney Creek — an ideal backdrop. The building is less than 10 years old and is equipped with 14,000 amps of power and a $26-million price tag.
Doug Finlay, the Nai Park Capital broker hired to sell the building, said the incentive is a definite plus when it comes to marketing such spaces.
"It's a lot of money, no matter who the buyer is. Horizon and the city, for that matter, are very economic-development minded," he said. "This makes this building truly plug and play."
In addition to the financial incentives, Horizon Utilities has also taken the extraordinary step of creating what it calls its smart growth database of about 150 properties in Hamilton of at least 5,000 square feet. The database includes information regarding existing infrastructure to the building, the capacity of the closest transformer as well as all of the building's electrical equipment assets and the electrical requirements of that equipment.
It has created a separate database in St. Catharines where it also has customers.
Cananzi said the utility plans to share the database with the city's economic development office as well as real estate brokers and developers.
The utility was hailed by city and provincial officials as an example of best practices in private-public partnerships.
"The challenge for an older city like Hamilton is how to rebuild its industrial tax base," said Glen Murray, provincial minister of infrastructure and trade.
Article courtesy of Lisa Marr, The Hamilton Spectator