Hot growth for Stoney Creek manufacturer
STONEY CREEK Hockey parents throughout Hamilton have a Stoney Creek company to thank for the circulation in their fingers and toes while watching games from the stands.
Superior Radiant Products sells its overhead gas-fired infrared heaters to a wide variety of users: big-box stores, factories, driving ranges, barns and greenhouses, residential garages and restaurant patios, to name a few.
Its systems are found in the baggage-handling area at Pearson airport, retailers including Lowe's and Home Depot, local factories and warehouses and "just about every hockey rink in Hamilton," says company president Kevin Merritt.
Superior dates back to 1995 when Merritt and some partners decided to launch their own company after their Grimsby employer closed its doors to move to Buffalo.
"We decided we knew the business well and we could do something better."
The company, which employs more than 40 people in Stoney Creek and about 60 worldwide, is planning aggressive growth over the next few years. Superior plans to capture more market share in the United States and China.
Merritt says Superior's systems are far more efficient than trying to heat big spaces with forced air.
"The difference is like when you're standing in the sun and it's warm and then when you stand in the shade, it's cool, even though the air temperature is the same."
Merritt explained that his heating products don't heat air but objects: floors, walls, equipment and people. Infrared heaters are very effective in poultry barns in which the goal is to heat only the floor where the chickens reside. The heaters are also used in aircraft hangars where planes are de-iced and to thaw trains and their tracks.
"We go after niche sectors," said Merritt. "We also go after markets in different countries. That, and the breadth of our product lines, gives us two points of diversification that helps us to weather storms in recessions."
The company opened operating divisions in Qingdao, China in 2009 and in Atlanta, Georgia in 2012.
The Chinese manufacturing boom has been a big market for Superior, boosted by environmental laws pushing natural gas heating over coal.
A more recent area of growth has been in building high-end patio units for homes, restaurants and hotels to help stretch the always-too-short outdoor season as far as possible.
The diversification strategy has worked. After starting out in a 6,000-square-foot shop, Superior continually outgrew its space.
Fortunately, a great building became available in the former Levi Strauss sewing plant that went silent in 2004.
Superior can make very good use of the plant's 50,000 square feet, says Merritt, and some former employees of the jeans maker are now making heating equipment. The building, on Barton Street east of Dewitt, is a showcase for Superior's products, featuring heating zones and sophisticated controls.
"Infrared heat goes where you want to put it and we can show that here."
Article courtesy of Meredith MacLeod, The Hamilton Spectator
Hamilton Highlights Newsletter – August 2014
In the August 2014 edition of Hamilton Highlights…
Superior Radiant Products Expands

iF September Lunch n' Learn
New Barton Village BIA Business Pays it Forward
Click here to read the August 2014 Hamilton Highlights newsletter.  If you are interested in signing up for the Hamilton Highlights newsletter, click here.
Dundas company investing $11.5m in 3D printing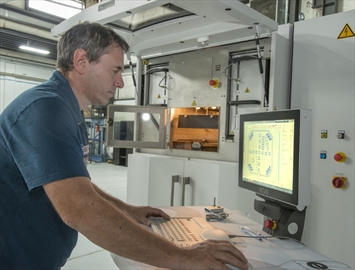 A newly arrived Dundas company is gearing up to become the first in Canada to print metal and plastic parts for use in everything from jet and car engines to satellites to medical devices.
Burloak Technologies has just moved from the eastern edge of Burlington to its new home in the industrial section of Dundas. There, it is in the process of assembling $2.5 million worth of additive manufacturing machines, commonly known as 3D printers.
When the five-year investment is complete, Burloak expects to have spent about $11.5 million on equipment.
There has been plenty of hype around 3D printing, especially on the vision of every home of the future equipped with a 3D printer spitting out new vacuum parts, jewellery, toys and clothes. Some say it will herald a new Industrial Revolution and disrupt entire industries.
Burloak co-founder and chief operating officer Peter Adams says much of the ballyhoo is overblown. He believes 3D printing will fundamentally change manufacturing, but it can never replace traditional techniques such as machining and casting.
"There are many parts that will be better produced without 3D technology. The relative speed of 3D printing is slow. But for intricate, complicated parts, printing takes a fraction of the time."
He expects manufacturing at Burloak will start as soon as next week and that the operation will be fully operational by the end of October. He anticipates the payroll will grow from its current nine to about 50 within a couple of years.
The company will own the first direct metal laser system for manufacturing in Canada, says Adams. There are only a few owned by colleges and universities or producing prototypes, he says.
"Canada seems to be way behind the curve on this."
That translates into what he sees as a big opportunity. Adams, who is a majority shareholder in the nine-year-old company, brought in CEO Jim Glover a couple of years ago to develop a strategic plan for what Adams sees as rapid growth.
The metal printers haven't arrived yet from Germany. But a machine that uses powdered plastic to print parts is on the floor. It's about the size of a commercial refrigerator and costs $500,000.
Within an oxygen-free chamber, a computer guided laser reading design drawings deposits hair-thin layers of powdered plastic the way a paint brush layers paint.
The plastic is heated to just below its melting point so that the newly deposited powder fuses a strong bond with the existing layers. The process is quite similar with a metal printer.
It can take several hours to print parts and the machine can print hundreds of the same part or dozens of different ones at a time.
Adams says one of the great benefits of 3D printing is that very little of the raw material is wasted compared to machining or casting. The new technology is also highly accurate and produces components as a unit that once had to be welded together from dozens of parts. That cuts down on time and labour and makes the parts lighter and more durable.
Most importantly, the process can produce parts not possible through traditional machining or casting.
"Basically, anything that can be designed can now be made," said Adams.
For example, curved holes can't be drilled but they can easily be printed, he said.
General Electric has invested hundreds of millions in the technology. Its LEAP jet engine now in production will include 3D-printed parts; and Airbus in Europe has set a goal to print a complete aircraft by 2030. Adams doubts that's doable, but says the pursuit will stretch the technology as far as it can go.
"I could definitely see something like a wing being 3D printed."
There is already a concept car entirely printed, and ongoing research into printing human tissue from cells.
Burloak was founded in 2005 as Burloak Engineered Solution, and had been focused on design and engineering services for large manufacturers. But the company was "pressured" by clients to explore producing parts directly.
Burloak rebranded as Burloak Technologies and created operating divisions called Burloak Advanced Manufacturing Inc. and Burloak Engineered Solutions Inc.
Burloak chose to relocate to Dundas to be close to Mohawk College and McMaster Innovation Park.
Mohawk's new Additive Manufacturing Resource Centre (AMRC) uses previous versions of the same printers being installed at Burloak.
"We will need highly skilled labour with experience with these machines. It's hard to draw on a ready pool of talent because this is so new," said Adams.
Robert Gerritsen, a mechanical engineering professor at Mohawk and co-ordinator of AMRC, says the college is just the second post-secondary institution in Canada to own a metal 3D printer. He says demand is huge for the technology among industry.
"I could spend 100 hours a week keeping ahead of all the inquiries and interest."
He said having Burloak in Mohawk's back yard is a great fit for both sides.
"We hope the centre is a magnet that grows and attracts more companies to our community because they will look for talent here. We have the best-equipped lab in the country."
Article courtesy of Meredith McLeod, The Hamilton Spectator
Condo projects to transform Hamilton skyline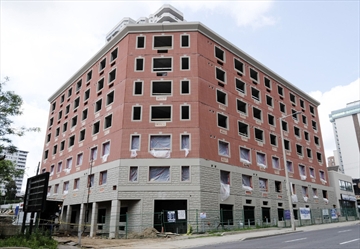 A slew of upcoming condo projects in the lower city promises to transform Hamilton's skyline.
More than 20 multiple residential developments — some rising 20 storeys and more — are in the works throughout the core.
These townhouses, condos and apartment developments are all part of a wider trend across the entire city.
Glen Norton, the city's manager of urban renewal, says the condo boom is common in downtowns across North America because of shifting demographics. More and more, people want to mesh creative arts with old industrial sites and live in urban, walkable communities.
And the future GO station on James North is propelling the trend — especially within the growing creative arts sector.
"We seem to be having the experience typical of many old cities. It's a North American trend," says Norton.
"The young people want to live in an area of activity, they want to walk to work and be part of that scene. Then there are empty-nesters who want the same things."
Jason Thorne, the city's new senior manager of planning and economic development, confirms the city's trend toward high density building — and key new projects unveiled for the core are evidence of that.
Drew Hauser is a local architect working on the Tivoli Theatre condos — the restoration of the former vaudeville theatre, which includes a 22-storey condo tower — and on The Connolly, a mixed-use condo project that calls for a 30-storey condo tower in the former James Street Baptist Church.
While they promise to be transformative, Hauser argues they aren't out of the norm.
"Those heights are in the downtown already," he says, pointing to the 43-storey Landmark on Main Street East and the Olympia, perched on the escarpment, that tops it.
From Jan. 1, 2011 to Jan. 30, 2014, in Wards 1 to 5 (in the lower city), there were 370 permits issued for apartments (this category includes condos) worth $145 million in construction costs. In comparison, there were 1,888 permits issued for single unit homes worth a total of $44 million.
The numbers don't tell the entire story, though.
New projects are popping up weekly, such as one by the Vrancor Group which was just at the city to discuss plans for a 12-storey, mixed-use building at 220 Cannon St. And there are some downtown projects that haven't even made it to the city's building department yet. Among them, the Artizen project by the Highrise Group beside the Lister Block.
Meanwhile, developers for The Connolly and The Tivoli have met with city officials and are beginning the process of getting site plan approvals.
Thorne says the trend to urban density has led to a need for the city to review its Downtown Secondary Plan so it can offer clear guidelines on where developers can be successful with plans for low-level, mid-level and high-level buildings.
"I think (the city skyline) is going to change," he says. "Anytime you get tall buildings you redefine the skyline. That's really important to the image of a city. What kind of skyline is it? How do they land on the street?"
Thorne knows there are challenges to drafting a new downtown planning policy that can accommodate the needs of the marketplace while respecting the heritage nature of various neighbourhoods. But he says it's an "exciting" time for Hamilton.
"What makes Hamilton unique is that this is happening in a historic space in an established city. Burlington, Mississauga, Vaughan, they don't have the 150 years of social fabric to work with," says Thorne. "That means we have to approach this carefully."
Hauser says each project should be approved based on merit — not just on zoning.
"There is a value to the real estate that will change the urban landscape very positively," he says. "It's that balance for sustainable development, not just financial but social and environmental as well."
For developer Jeff Paikin, height isn't the only issue the city needs to address. Paikin, who has been working on several projects in the core — among them, City Square on Robinson Street — is frustrated by the city's downtown improvement zone, which was enlarged in June to within about a block and a half of the property.
The bylaw sets out various exemptions to encourage residential development inexisting buildings, heritage sites, and industrial lots in a specific area of the lower city.
For Paikin, it results in about $20,000 extra in development and park fees per unit, he says. And this has halted plans to start on Phase 3 — about 160 units — of City Square.
"I have been talking to city council but until the election is over, I don't expect this to be resolved soon," he says. "I've got developer friends from Toronto who have come here but they look at the zone and they can't do anything. It doesn't make sense (financially). The end goal is to create residential (projects) in the downtown area and this does not do that. "
But there are developers willing to take a risk.
For example, Ron Van Kleef bought a slice of property "nobody wanted" in 1997 in an old neighbourhood tucked next to the escarpment. Even though the entrepreneur had never embarked on a residential development project, he had a gut feeling that Hamilton's time would come.
The one-time bowling alley at 467 Charlton had closed. He cleaned it up, rented it out and waited. Then four years ago, he started to pull together plans for a condo development, consulting with the city and forming staff to lead the project.
He heads to the city's planning committee this month for rezoning permission and is confident of approval. "I'm a Hamilton guy. I bought this because I thought one day I could do something with it," he says.
The 62-unit building is in the same neighbourhood as the Stinson School, which Harry Stinson recently converted.
Stinson is converting some grand old homes across the street and a few months ago bought the old Gibson School on Barton Street East.
"I looked at it three years ago and didn't see the hope. Now I do," says Stinson.
It reminds him of his candy factory loft project on Queen Street West in Toronto in 1993.
"The usual suspects in Toronto asked me 'Why would you go to that godawful area?'" he says. "Two years later, there they were, lining up sales offices up and down the street. It was a dramatic transformation. There is the same change coming for Barton "
Stinson is convinced there is a shortage in the supply of urban-style multi-residential buildings.
"Hamilton is a big city. Right now on the market there are less than 2,000 (multi-residential) units available," he says.
And for the 20 or so projects lined up for the lower city, there are only about 1,600 units with the possibility of a few hundred more. That still only equates to about 3,000 to 4,000 people.
But it's a start. It's also an interesting mix of new buildings along with restorations of old and architecturally interesting buildings such as the Royal Connaught, being resurrected by Rudy Spallaci and Tony Valeri.
Then there's Shawn Maher, who picked a Young Street lowrise apartment building that was so derelict the mail carrier wouldn't deliver to the single remaining tenant.
"It was such a bad area," he remembers.
He gutted the building, added a few flourishes and made more than a few bucks a couple of years ago when he sold it to a good landlord, a Toronto investor.
He then turned his attention next door, to a mouldy old variety store and nasty buildings. He bought them, tore them down. He was inspired by the brownstones circling Central Park in New York.
"Everyone told me 'You won't sell Manhattan apartments in downtown Hamilton,'" he says. "Then they said you won't get $200,000 for those."
But he followed his heart — 'I'm a Hamilton boy through and through' — and they sold. For well over $200,000..
Now he's on to the Beasley neighbourhood where he's building a similar concept of a six-unit townhouse.
"Five years from now you won't be able to touch that neighbourhood," says Maher of Beasley.
John Mokrycke, an architect involved in several downtown projects, including 366 Bay Street North and Acclamation Lofts on James North, says there is incredible momentum and interest among developers — and, more importantly, buyers.
He thinks the new James Street North GO station has a lot to do with it.
"Toronto is becoming very difficult to live in," he says. "Hamilton is a stable, real city. It's quiet, relaxed and there are good neighbourhoods. People are anxious to come to a place with these qualities.
Article courtesy of Lisa Marr, The Hamilton Spectator