City staff tout success of Pan Am Playbook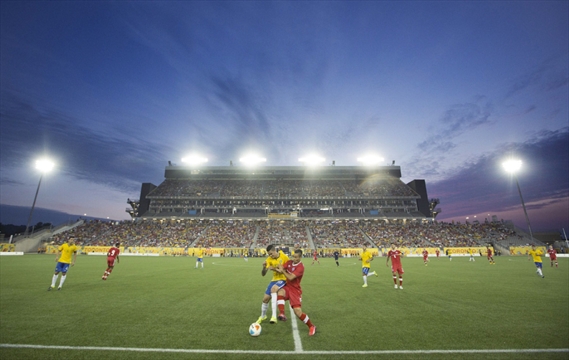 A new Hamilton-Niagara economic development playbook is being credited with turning last summer's Pan Am Games into a bonanza of new investment for the area.
In a report going to the city's general issues committee Wednesday, city staff praise the new Pan Am Investment Playbook for helping to draw five investments and a major sports conference to the Hamilton-Niagara region.
Jennifer Patterson, of the planning and economic development department, said in her report the Playbook was created as a way of ensuring the Pan Am Games were more than a short-term extravaganza.
"The Pan Am Games will create an influx of visitors, athletes and media which, in turn, will drive an increase in spending and an injection of capital into the local economy," she wrote. "Recognizing that these impacts will be relatively short-lived. … The Pan Am Playbook initiative was developed to carry on following the games. Our partnership will continue to promote the corridor as an all-encompassing advantage for countries looking to grow into the Canadian, or even North American market."
To do that, the Playbook prescribed a series of tours, meetings and social events that exposed decision makers from the target countries to the potential of Hamilton and Niagara. Events included tours of the McMaster Innovation Park, Mohawk College, Niagara's wine country, advanced manufacturing facilities and clean technology plants, among others.
An international investment forum was also held in Hamilton.
Patterson explained the Playbook targeted specific Latin American markets for future investment and trade opportunities. These included Mexico, Brazil, Colombia and Chile as well as the United States.
"The July 2015 Pan Am Games … provided significant economic development opportunities to the Hamilton-Niagara Region, from both a short-term and long-term perspective," Patterson wrote. "The Hamilton Niagara Region was pitched as a corridor to highlight the consumption potential, diversity of industry sectors, and geographical advantages pertaining to proximity to United States and the Greater Toronto Area."
The result was a series of "investment-focused events … designed so that the benefits would continue to self-perpetuate with minimal resource expenditure into the future, and that they developed a template format so as to be easily replicated for similar future events."
The events drew about 160 people from Canada, the U.S. and the target markets.
Investments announced during the games include:
•Anaergia announced plans for a 90,000 square foot, $30 million, facility in Hamilton's Red Hill Business Park to manufacture water purification membranes;
•a Sport Analytics Centre of Excellence in the region. The centre was described as an ecosystem including grants, funds and investment, industry champions, sport broadcasting; regional innovation centres and research and development. The centre will be a joint project between the Canada International Trade Services Inc., City of Hamilton, Region of Niagara, Fox 40, Project-1, and McMaster University.
•Waterloo-based Nanolytix will move its operations to the Hamilton-Niagara Corridor;
•Project-1 and SoccerFit will move here from Brazil.
Finally, a major sports analytics knowledge symposium was promised for the region sometime in 2016.
Article courtesy of Steve Arnold, The Hamilton Spectator
City tops $1B mark in construction permits four years in a row
Construction in Hamilton has topped $1 billion for the fourth straight year.
In a news release Wednesday afternoon, the city's chief building official Ed VanderWindt said the milestone was passed this month.
To the end of October the city reported sales of building permits for construction valued at more than $978.8 million. Another $21.2 million was added Nov. 9, bringing the annual total to just over $1 billion.
This is the fifth time in the past six years the city has topped the $1-billion permit mark — and there's still just over seven weeks left in the year.
Mayor Fred Eisenberger said the blistering pace of local building is a testament to the city's economic development strategy.
"A lot of it is due to business expansion and that is exactly our strategy to grow business in our community," he said. "This is exactly what we want to see."
The year-to-date numbers are still heavily weighted toward residential construction — 84.4 per cent. In fact industrial, commercial and institutional building is down more than 51 per cent for the year. Despite that, almost $230 million worth of industrial-commercial permits were sold.
Civic leaders want more commercial and industrial building to ensure people can work as well as live here and because that kind of assessment produces more tax revenue than it consumes in services.
"That's not a problem we're going to solve in the next two or three years," Eisenberger said. "Right now we'll take what we can get since we're moving in the right direction."
Neil Everson, director of Hamilton's economic development department, said city council has set a clear direction to chase more business-related building, but the pace is being held back by a lack of employment land.
Some of that will be solved as business development around Hamilton airport increases and as U.S. Steel land becomes available as the former Stelco restructures under creditor protection.
Suzanne Mammel, executive officer of the Hamilton-Halton Home Builders' Association, said her members are building houses as fast as they can because demand is sizzling.
"The frank reality is that we're in a 'drive until you can afford it' scenario," she said. "People from Toronto just keep driving this way looking for the single-family home they can afford."
While those home-seekers draw down the inventory of available new and resale homes, available land for building in Hamilton is slowly dwindling as builders creep closer to the city's urban boundary.
Mammel and Everson both expect the demand for homes downtown and in the east end will accelerate as the new GO stations are completed.
Keanin Loomis, president of the Hamilton Chamber of Commerce, sees the building boom as the payoff for years of selling the city and its attractions.
"The city is really hitting its stride in terms of economic development after years of actively spreading the gospel of Hamilton," he said.
He is largely untroubled by the imbalance between residential and industrial-commercial building because more residents translates to more potential trade for local businesses.
"It's all positive, it doesn't matter where it's coming from because it means people want to live here," he said. "You won't hear our members complaining about having more customers living in the city."
Joe Mancinelli, of the Laborers' International Union of North America, said the pace of building has his union members at full employment and facing a pressing need for more skilled workers to meet intense demand.
"New houses are being built everywhere and they're selling like hotcakes," he said. "I don't see any slowdown in that coming."
Article courtesy of Steve Arnold, The Hamilton Spectator
New Hamilton brewery combines roll 'n' roll and beer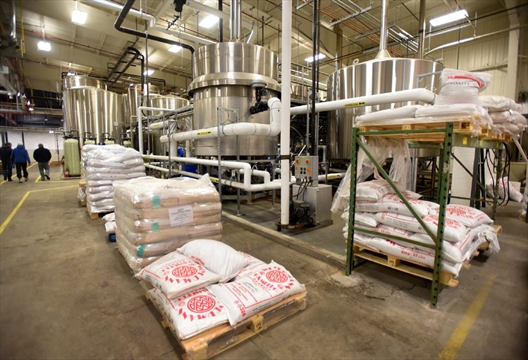 Beer and rock 'n' roll. They are a natural match, both chemically and commercially.
Neil Young knew that when he satirically wrote "This Note's For You," Jim Morrison of The Doors knew it when he sang "Roadhouse Blues" ("I woke up this morning and I got myself a be-yah"), Steve Winwood knew it when he reworked the old English folksong "John Barleycorn Must Die" for his band Traffic, and … well, I'm sure you can come up with plenty of other examples (John Lee Hooker, anyone?).
The folks at Hamilton's Collective Arts Brewing have figured out this connection as well. As a matter of fact, they're opening their new craft brewery on Burlington Street East to the public on Saturday with a frothy helping of beer and rock 'n' roll.
It's called the Bash in the Brewery. Twitter hashtag: #BEERISTHENEWSTEEL.
From noon to 4 p.m., a free open house will feature guided tours and tasting stations ($2 for half pours and $4 for full pours), as well as live music by Sarah Burton, Bravestation and the Knads resonating among the beer vats and bottling machines.
At 7 p.m., the real party gets underway, moving into the brewery's 10,000 square-foot event space where three live bands — Hamilton's WTCHS, Ottawa's Hollerado and Toronto's Zeus — will perform from a stage specially built for the occasion, complete with a light show that will bounce off the beer tanks towering behind it.
"This is a rock show in a brewery," says Dane Pedersen, events manager for Collective Arts Brewing. "We're not going to hide the fact that there's a brewery."
The Bash will be the start of something new on Burlington Street — a hip craft brewery with its own event for concerts and parties. It can fit 1,000 people, probably more.
A parking lot and a large outdoor patio area are in their final stages of completion (if the parking lot isn't ready Saturday, try the Eastwood Park lot west of the brewery at Ferguson).
"We've already had our first wedding booked for next summer," says Matt Johnston, a Hamilton native who co-founded the brewery with Bob Russell a couple of years ago in Toronto before moving it to their hometown. "We just want to add to the life of the city. Eventually we want this space used all the time. Hamilton needs more mid-sized event spaces."
From its inception, Collective Arts wanted its brand to be affiliated with music and the arts. The bottled versions of its products feature labels designed by musical acts, mostly independents, and artists from around the world. So far the brewery has promoted 334 acts, mostly Canadian. As well, each label contains an app that, when held up to a drinker's smartphone, will direct it to an artist's website.
The recent hiring of Pedersen as "events manager," demonstrates the brewery's interest in the city's cultural scene. Pedersen, who also run's the brewery's small retail outlet, is the former owner of the Loose Canon Gallery on James Street North and was one of the key players in organizing the early Art Crawls. In more recent years, Pedersen has been co-coordinator of Supercrawl and a member of its board of directors.
"My job is to promote connections with events that are happening within the city," Pedersen says.
Collective Arts and its partner, the Burlington-based Nickel Brook brewery, took over the old Lakeport site after Labatt shut it down in 2010, taking with it all the plant's equipment and leaving 143 people unemployed.
Johnston said Collective Arts and Nickel Brook have invested more than $5 million in the plant which currently employs more than 40 people. Much of the brewery's equipment was purchased and shipped here from a now-defunct Sleeman plant in Dartmouth, N.S.
Collective Arts Brewmaster Ryan Morrow estimates the plant, which began operations this summer, is currently producing 20,000 litres of beer a day for area pubs and liquor stores. They hope to push that to 10 million litres a year.
"We haven't really hit our full stride," says Morrow. "We're getting there gradually."
Collective Arts' best known labels are Rhyme & Reason Extra Pale Ale and Saint of Circumstance Blonde Ale which are available in provincial liquor stores. Those brands and others can also be purchased directly from the brewery store fresh in "growler" (1.69 litre) and "squealer" (one litre) refillable bottles.
The Burlington Street brewery site, between Ferguson and Wellington, is owned by the Hamilton Port Authority, but has a long history of beer, starting with the original Peller brewery in the mid-40s, followed by labels that included Henninger, Amstel, President's Choice, Laker, Steeler and Lakeport.
Article courtesy of Graham Rockingham, The Hamilton Spectator