Foodies spend the day eating their way through Hamilton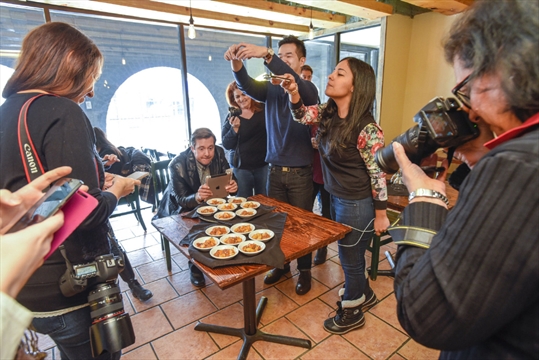 Cameras snapped. Oohh's and aahh's rose from the crowd. It was like a red carpet photo call — one where the star was a mini martini glass filled with raw fish.
In the foodie world, it's what passes for celebrity. Especially when the eatery serving it up is the first of its kind in Canada.
Pokeh Bar, which makes poke (a Hawaiian dish built around rice and fish) is a new vendor at the Hamilton Farmers' Market. It was just one of nearly a dozen stops on a Saturday afternoon food tour organized by economic development and the Hamilton offices of Trip Central.
According to Michael Marini, co-ordinator of marketing for the City of Hamilton, this was the fourth such trip to get GTA-area chefs, restaurateurs and food bloggers excited about eating in Hamilton.
It worked. On Saturday, #HamOntFT started trending on Twitter as a pack of 14, including bloggers, journalists, and Ticat Pete Dyakowski, tweeted the food tour as it moved from NaRoma, to Wild Orchid, to Aberdeen Tavern and beyond.
For Solmaz Khosrowshahian, who blogs at The Curious Creature, it was her fourth time on one of the tours, which visit new restaurants each time.
Khosrowshahian, who lives in Toronto, had spent some time in Hamilton years ago, and had heard about the city's food scene recently. When Marini contacted her for the first food tour, she jumped at the chance. Now, she tells everyone she knows about Hamilton.
"I had never really seen the real Hamilton until I saw it through food," she said.
"It's really cool to see how quickly food can change a community," she said, pointing out the foot traffic drawn by new restaurants including Auntie Boom's, The Cannon Coffee Co., and Except for Kenneth.
She's also amazed by the number of options, in terms of both places to eat and ethnic diversity. What she finds most impressive though, is the authenticity. She said Hamilton chefs have a passion for food that comes across in a way it doesn't in other cities. Here, it's raw. It's uncontrived.
Sharon Mendelaoui agreed.
"We need a market like this in Toronto," said Mendelaoui, who writes for Dream Travel Magazine.
Sure, there's the St. Lawrence Market. But, she said, it doesn't feel like family the way the Hamilton Farmers' Market does.
On top of that, Mendelaoui said she was charmed by the number of distinct villages in the city, the neighbourhoods the tour moved through as they travelled. She said she was thinking about coming back for another day, but even that didn't seem like it would be enough to cover it.
Article courtesy of Amy Kenny, The Hamilton Spectator
Hot Hamilton: Economic growth to outpace national average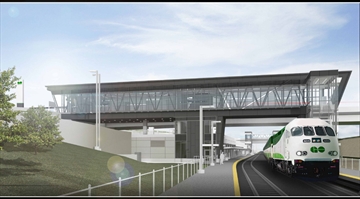 A new Conference Board of Canada study says Hamilton's economic surge will outpace the national average this year, but job growth will remain slow.
The board's latest Metropolitan Outlook Report predicts the Hamilton-Burlington- Grimsby economy will grow about 2.2 per cent this year, outpacing the national growth rate for the second consecutive year.
The growth will be driven chiefly by improvements in the manufacturing and non-residential construction sectors.
Employment, however, will grow by only 2,800 jobs this year after advancing by 3,600 positions last year.
"I would characterize the outlook for Hamilton as generally positive," said Alan Arcand, associate director of municipal studies for the Conference Board. "It's not world-beating, but it's still better than the national average.
"It really seems that some of the factors are turning in Hamilton's favour," he added. "Employment gains will be OK this year and next, but not great," he said. "Growth in jobs is going to be fairly slow this year and next."
Manufacturing growth will be led by companies such as water filtration firm Fibracast, and ArcelorMittal Dofasco — which is looking for 1,000 new employees to replace retiring baby boomers.
Predicted growth for this year will rank Hamilton as the 11th fastest growing metropolitan economy in the country.
To Mayor Fred Eisenberger, that's a good position.
"It's almost in the Top 10 and shows our growth has been consistent over the last few years," he said. "The uptick on the manufacturing side is especially good news because that's assessment we need to take the pressure off our residential taxpayers."
He also liked the prediction that they city's unemployment rate will come in below the national average.
"I think this all affirms the good vibes that people are feeling about Hamilton," he said.
Frank McKeown, executive director of the Burlington Economic Development Corporation, said the study's conclusions match the city's projections.
"This is consistent with our observations for growth that will higher than the national average," he said. "Almost everyone I talk to is looking at a growth environment."
The Conference Board report says even with U.S. Steel moving a quarter of the potential production of its Hamilton plant to the United States, manufacturing output is forecast to grow by 2.4 per cent this year as the lower loonie makes Canadian exports more affordable and American demand rises as the economy south of the border improves.
Adding to that is a refocusing of Canada's economy from western oil and other natural resources back to industry in Ontario.
The other major growth engine for Hamilton, the report concludes, will be non-residential construction, including a new general purpose and engineering centre at McMaster University and the second phase of the James Street North GO station.
Services output growth will remain steady at 2.1 per cent for a third consecutive year.
Article courtesy of Steve Arnold, The Hamilton Spectator