Ancaster Industrial Park: New steel company to employ 50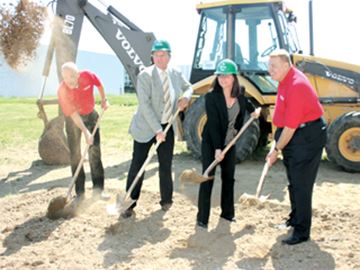 Here's a local steel industry headline that hasn't been seen in awhile: Company invests in Hamilton.
Nucor Corporation, the largest steel producer in the United States, is doing just that, and the news had local politicians gushing with praise.
The company broke ground Friday morning for an expansion to its Vulcraft Canada Inc. plant in Ancaster. The new facility will mean 50 new jobs by the end of this year.
"I'm just delighted that this is happening today. This is a new operation that's coming here because it believes in Hamilton and the people," said Hamilton West-Ancaster-Dundas MP Filomena Tassi. "This is a day to celebrate because it's steel-related.
"This is a great investment that will strengthen the Canadian economy and create jobs for Hamilton."
Nucor's Vulcraft unit makes steel joists (beams that support a floor or ceiling) and decks. It has been selling its products in Canada for years made with American steel, but Nucor president John Ferriola said it's time to start manufacturing in Canada.
"… To really have a commitment to an area and to customers, you have to be located right there," he said in an interview after the formal ceremony. "Now we're here, we're here to stay and we're here to grow."
Ferriola added the site was aided by two important local factors — highway access and a high-quality workforce.
"We have to have a workforce that works hard, has high integrity and understands the value of working as a team and the value of working safely," he added. "We focused on all those issues and found them here."
Unlike another U.S. steelmaker that came to Canada and is now plotting its exit from the country, Nucor plans to stay, said Farriola.
Since 2008, he said, Nucor has invested $6 billion in Canada and the United States.
"We did that during the worst steel cycle of my career because Nucor-Vulcraft Canada is here to stay. We don't want out," he said. "We are not afraid of investment. That's more than any company I know of anywhere. We will invest as much as we need to show a commitment to this country."
Farriola wouldn't reveal the cost of the local investment. He did say, however, as much as half of the steel to be used at the new plant will be sourced in Canada and he hopes to be producing decks by the end of this year and joists by the middle of next year.
As for volume, he would only say, "We will produce as much as our customer will buy from us."
Nucor produces 20 million tons of steel a year, covering the range of products from reinforcing bar at the low end to steel for exposed auto parts at the high end.
Neil Everson, Hamilton's director of economic development, said getting Vulcraft into the Ancaster Industrial Park was not a difficult sell.
"They had their eyes on this part of the country for quite awhile," he said. "I think all the ingredients were here. It kind of sold itself."
Nucor employs 24,000 people in the United States and 3,000 in Canada.
Article courtesy of Steve Arnold, The Hamilton Spectator