Boilers a family business for five generations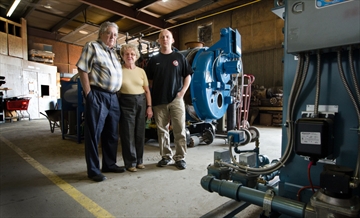 Hamilton Boiler Works might sound like something out of the city's history but at 100 years old, it's a bustling family business employing its fifth generation.
Many think boilers are out-of-date, says company president and owner Jim Beale, but the vessels are still used in lot of industrial and institutional settings, including manufacturing, food processing, greenhouses, ships, hospitals and schools.
They generate heat and produce pressurized steam to power machinery. He says the new boilers are more fuel-efficient, safer and cleaner than ever before.
HBW has installed new boilers recently at Niagara College, a brewery and a plating company.
At one time, the units were built in Hamilton but that hasn't been the case since some time in the 1940s. They are now shipped here from California.
"It didn't work well to be both building and servicing," said Beale. "We chose to concentrate more on service. The guys would start building a boiler and then they'd get called off for servicing and it took too long for the customer. They could have got it quicker somewhere else."
There are now four divisions in Hamilton Boiler Works: sales and installation of new boilers, a service department, an inventory of parts and portable boiler rooms for rent.
The growth is in rentals. That division accounts for 30 per cent of sales. HBW has 40 units now and is refurbishing a boiler pulled from a factory to build No. 41. They look something like small rail cars and are transported all over to pitch in when permanent boilers break down or when an extra boost of power is necessary.
HBW boilers have been used to heat the Ontario legislature, and one of its portable units ran 24 hours a day, seven days a week from April to October to thaw the ground during the building of a dam in Kapuskasing.
Portable boilers are called in to canning factories to step up production in the peak periods of fruit harvesting.
The units even helped out during the ice storm in Quebec.
The company's lot is full with the red units now (each worth $50,000 to $100,000) but come winter, the portable boilers are scarce.
HBW employs 14, some workers for 40 years.
"We are a family here," said office manager Joanne Lastella. It's certainly true in her case. Her sister, Alex Hotrum, is the general manager and the siblings each have more than two decades at HBW. Beale's wife, Marg, a retired nurse, comes in every Wednesday to sign cheques and do some marketing.
"We work as a team," said Lastella. "Jim and Marg are very giving people … They've got to be one of the best bosses to work for."
Lastella's voice breaks as she recalls times when the HBW fleet trucks have followed the hearse of a deceased employee or their family.
"When one of us hurts, we all hurt."
The boiler business skipped the fourth generation of the Beale clan. Jim and Marg's three daughters, Kathryn Vogel, Suzanne Beale and Lori Jardine, went off to do other things. But the fifth generation has stepped in. Beale's grandson, Steven Vogel, handles sales.
Years ago, the work was hot, dirty and unhealthy. Boilermakers were a tough breed, Beale says.
"Boilermakers used to be dead by 60. They worked with asbestos and coal and they drank heavily and smoked heavily."
Now 80 and with 65 years at the company started by his grandfather under his belt, Beale still comes to work four days a week. He started out working with servicing crews and loved being on the road.
"One day, you're in a candy factory; the next day, you're at a pickle factory; the next day, you're on a barge in the bay. Every day is different."
Though he gave up a tool belt for an office chair years ago, Beale can't be convinced to enjoy retirement.
"I wouldn't want to leave this," he says in the small office he inhabits in a low-slung, simple building in an industrial area of Stoney Creek.
"It's an interesting place to work," said Beale. "It's too exciting all the time. There's lots of changes and things going on. There's new technology and new products."
What's the biggest change?
"We sold the horse," Beale answers with a big laugh. That horse used to take his grandfather, also James Beale, on service calls. He immigrated to Canada from England in 1908 and launched HBW in 1913.
Jim Beale took over the business from an uncle in the late 1960s.
The company's 100th birthday will be celebrated with a by-invite catered event Sept. 18. The Beales expect about 150 customers, suppliers, past employees and others will be on hand.
There will be plenty of stories to tell. Like the day in the early 1960s, when Jim Beale was supposed to go along on a tug that was to tow a dismantled ship across Hamilton Harbour to the steel company to be scrapped. He got busy in the office and didn't make it.
The tug tipped over and everyone on board drowned, including an HBW employee.
Or the time a steamship inspector who needed to sign off on a new boiler on a ship got angry when no one could offer him a glass of whiskey.
"We wrote an official report that said the ship wasn't prepared," recalls Beale. "He came back the next day. We had a case of whiskey by then."
Article courtesy of Meredith MacLeod, The Hamilton Spectator.