New building will support 'active learning' at McMaster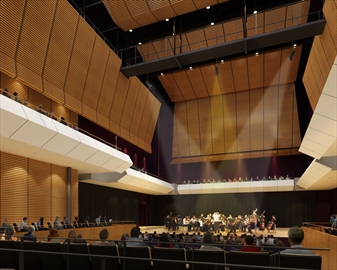 It's been a long time coming. Try 30 years.
As of September 2015, the humanities and social sciences faculty at McMaster University will be home to L.R. Wilson Hall, an active learning hub where technology will mesh with physical space and function as an "active learning" centre.
Social sciences dean Charlotte Yates says she's seen an increase in graduate students by several hundred during her time at the helm and the humanities department desperately needed additional space.
"This is the biggest thing to ever happen to my faculty in 30 years. It's a complete game changer and I couldn't be more thrilled," she said, adding construction is already under way. "We've been working in a very tight space and teaching spaces are maxed out."
Inside the 150,000-square-foot, five-storey building, students will have access to a new 350-seat concert hall, 150-seat multipurpose black box theatre and 400-seat lecture hall. The structure will include a research centre and data lab, a centre for health and aging, an indigenous studies program that will occupy 20,000 square feet, and transgender washrooms on every floor.
It took years of lobbying to the provincial government to make the building a reality. In 2010, as vice-president (education) of the McMaster Students Union, Joe Finkle launched a successful letter-writing campaign, mailing 483 individual letters penned by liberal arts students to local MPP Ted McMeekin.
It paid off. The province announced funding two years ago to the tune of $45 million for McMaster's groundbreaking facility. An additional $10 million was donated by Lynton "Red" Wilson — the retiring chancellor of the university for whom the hall was named — making his contribution the single largest donation.
Maureen O'Shaughnessy, principal and educational facility planner at CS&P Architects, the award-winning firm from Toronto responsible for designing the flagship humanities facility, says instead of the standard classroom setup of chalkboards and desks, there will be "active learning" environments.
"Technology has changed the way we work with each other globally. Now, learning is more like how we do everyday things in life. It's engaging digital learners," she said. "Learning has become more collaborative."
Researchers at Steelcase, a firm that has spent a decade investigating how to build inspiring learning spaces for schools, say the classroom is being reinvented. In new spaces designed to support interactions between students and professors, sofas will replace desks and digital screens will make chalkboards obsolete.
O'Shaughnessy has worked with other universities including Ryerson and University of Guelph. An ongoing project in Windsor has her moving parts of the university to a downtown heritage building. She says building unique learning environments where students work on solving real life issues is where education architecture is headed.
"We are seeing that students stay focused with many different learning spaces and as we move forward, letting students take more control of their learning is much more reflective of real life," she said. "That's where the direction of learning is going,"