Hamilton unveils its new waterfront Pier 7 boardwalk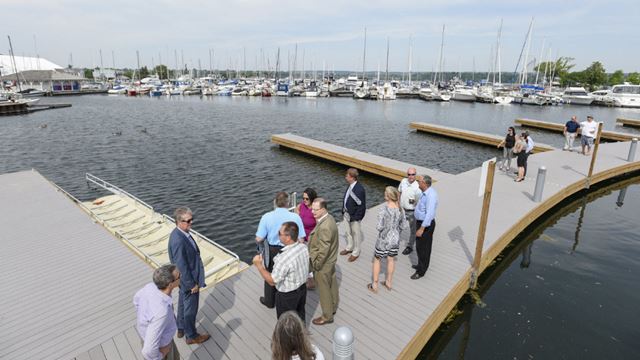 Hamilton has launched its new boardwalk at Pier 7, Phase 1of a massive redevelopment of the West Harbour waterfront.
Hamilton-born residents Catherine Hammond and Donna Stewart both live at the Guise Street Co-op which overlooks the waterfront. Both pleased with they what they saw.
"It's wonderful to see what's happening; a rejuvenation of the North End," said Hammond who also said the waterfront looked much different when she was growing up.
"We never came down here. It was a part of the city nobody wanted to visit or have a part of. It was known as the North End is a bad area. Now, people are fighting to get here and I'm glad to be part of it," she said.
"I was born in the north-end," Stewart told the Spectator at Monday's press event. "I'm enjoying this beautiful structure they've done."
The $3.8-million, 150-metre long, shoreline boardwalk features 12 docks for boaters, 14 new benches and six new lounge chairs for the public. Both the boardwalk and docking areas will be lit.
Visiting boaters can park for three hours from dawn to dusk, however, overnight docking is not allowed.
The project also includes new lighting, electrical and irrigation systems designed to support eight flower and tree beds.
"We're just getting started," said Ward 2 Councillor Jason Farr as he addressed the crowd which flocked to the area to explore the new space.
Mayor Fred Eisenberger agreed and called the project an "add on" to the development that will continue over the next decade.
"It gives residents another opportunity to enjoy the space as well as the boaters that come from far away places to visit … more business for Williams and more activity at the waterfront," he said of the area he hopes to live in once the project is completed.
Eisenberger said the city has put aside about $40 million to help support additional servicing and upgrades in the future.
Redevelopment of Pier 7 and Pier 8 will continue over the next 10 years, with much of the public spaces and infrastructure to be completed by 2018.
The area will morph into a mixed-use space including new trails and parks, a residential and commercial village, a long linear 30-metre wide promenade, all with access to the waterfront.
"From the city standpoint, it's like the front porch or the gateway to the City of Hamilton and downtown and we certainly can't be prouder," said Chris Phillips, senior adviser on the project.
Phase 1 of the project also included a new multi-million dollar floating breakwater structure. The all-steel construction is meant to protect the shoreline and a planned expansion of the marina docks for additional boats. Made off-site it was trucked in, assembled on-land and floated into place.
As part of the announcement the media was given a boat tour of the bay area. Phillips spoke about "enhancements" to Pier's 4 and 5 as part of the redevelopment project which will happen in multiple phases.
The entire project is expected to be completed by 2026. The total price tag will be about $140 million.
Article courtesy of Kelly Noseworthy, The Hamilton Spectator
Ancaster Industrial Park: New steel company to employ 50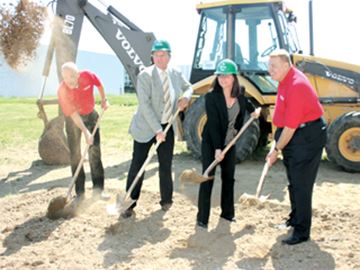 Here's a local steel industry headline that hasn't been seen in awhile: Company invests in Hamilton.
Nucor Corporation, the largest steel producer in the United States, is doing just that, and the news had local politicians gushing with praise.
The company broke ground Friday morning for an expansion to its Vulcraft Canada Inc. plant in Ancaster. The new facility will mean 50 new jobs by the end of this year.
"I'm just delighted that this is happening today. This is a new operation that's coming here because it believes in Hamilton and the people," said Hamilton West-Ancaster-Dundas MP Filomena Tassi. "This is a day to celebrate because it's steel-related.
"This is a great investment that will strengthen the Canadian economy and create jobs for Hamilton."
Nucor's Vulcraft unit makes steel joists (beams that support a floor or ceiling) and decks. It has been selling its products in Canada for years made with American steel, but Nucor president John Ferriola said it's time to start manufacturing in Canada.
"… To really have a commitment to an area and to customers, you have to be located right there," he said in an interview after the formal ceremony. "Now we're here, we're here to stay and we're here to grow."
Ferriola added the site was aided by two important local factors — highway access and a high-quality workforce.
"We have to have a workforce that works hard, has high integrity and understands the value of working as a team and the value of working safely," he added. "We focused on all those issues and found them here."
Unlike another U.S. steelmaker that came to Canada and is now plotting its exit from the country, Nucor plans to stay, said Farriola.
Since 2008, he said, Nucor has invested $6 billion in Canada and the United States.
"We did that during the worst steel cycle of my career because Nucor-Vulcraft Canada is here to stay. We don't want out," he said. "We are not afraid of investment. That's more than any company I know of anywhere. We will invest as much as we need to show a commitment to this country."
Farriola wouldn't reveal the cost of the local investment. He did say, however, as much as half of the steel to be used at the new plant will be sourced in Canada and he hopes to be producing decks by the end of this year and joists by the middle of next year.
As for volume, he would only say, "We will produce as much as our customer will buy from us."
Nucor produces 20 million tons of steel a year, covering the range of products from reinforcing bar at the low end to steel for exposed auto parts at the high end.
Neil Everson, Hamilton's director of economic development, said getting Vulcraft into the Ancaster Industrial Park was not a difficult sell.
"They had their eyes on this part of the country for quite awhile," he said. "I think all the ingredients were here. It kind of sold itself."
Nucor employs 24,000 people in the United States and 3,000 in Canada.
Article courtesy of Steve Arnold, The Hamilton Spectator
Entrepreneurs plan new life for abandoned Hamilton factory
A local developer is bringing a Canadian first to Hamilton.
Joe Accardi will bring a long-abandoned central Hamilton factory back to life as a shared work space, this time for industrial entrepreneurs and small businesses looking for cheaper rent and shared services, such as shipping and receiving.
It's based on an idea Accardi has proven twice in Hamilton with an office space downtown called Co-Motion and another near Gage Park called Platform 302. The new project has been dubbed CoBuild Hamilton.
Accardi's plans for the former Ball Packaging plant on Victoria Avenue North were a centrepiece of a special Monday tour of Hamilton opportunities for Toronto- and Kitchener-area investors.
Ball Packaging abandoned its Hamilton and Burlington plants more than a decade ago. The Hamilton facility once employed 1,000 people.
"We are going to be amenity-rich in here," he told the busload of potential investors. "This is a very unique building for Hamilton."
The CoBuild project is modelled on a similar effort in Denver, Colo.
The vision Accardi laid out for Monday's economic tourists sees dozens of small and emerging employers sharing 100,000 square feet of space in the first phase. Those companies will be able to share services like shipping and receiving, tools, storage space, an in-house forklift truck and driver, board rooms, and a kitchen, all for $7 per square foot.
About a quarter of the space in the first phase has already been taken.
Early tenants include a laser-cutting company and a machinist, with architects and engineers expected. There's also room for medical uses given the proximity to the new children's hospital and cardiac centre at Hamilton General Hospital.
Another building highlighted was the former curling club/skating rink/bus maintenance shed on Hatt Street in Dundas which was given new life as the Shawn and Ed Brewing Company.
Co-owner Ed Madronich said some changes were made to ensure the new use didn't conflict with its neighbours in the business core or nearby high-end condos.
"Hamilton has a boatload of buildings like this," Madronich said. "Getting the community back in here and making use of it again has been great."
One way his company has been able to blend in with its diverse neighbours was with new ideas. For example, rather than venting steam from its brewing kettles to the outside, it is condensed back into water and sent to the city sewer, saving neighbours from what some might say is an offensive odour.
Reviving dormant industrial buildings was only one of several new ideas and companies highlighted during a day-long session designed to change perceptions of Hamilton as a place to invest.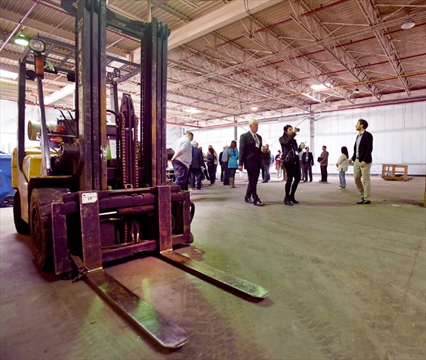 One such company was Cinnos/McMaster Computing Infrastructure Research Centre. It has designed a roll-away modular data server, allowing companies that can't, or won't, use cloud storage a space to warehouse data without having to pay for a large data centre.
Shared work spaces are only a part of a wave of disruptive change expected to sweep through industrial-commercial real estate in coming years.
It's a change Sheila Botting, of Deloitte Real Estate, said the industry is not ready for.
As one example, she noted, it may soon be possible to list houses for sale online, completing the deal using a Google format, cutting out Realtors altogether. That has the potential to do to Realtors what Expedia and similar travel booking sites did to travel agents.
More immediately, she said, new ideas about office space are doing away with the traditional ring of private offices around a central space in favour of more collegial areas for new workers who toil outside the old hierarchy.
"The cubicle farm as we've known it just isn't working anymore," she said.
Article courtesy of Steve Arnold, The Hamilton Spectator
Hamilton creates new vision for waterfront re-development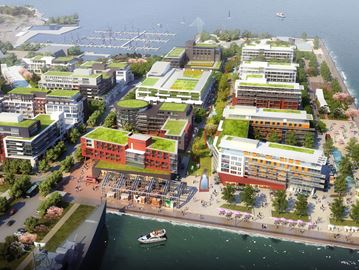 A proposed urban study on Hamilton's waterfront views piers 7 and 8 as a mix of residential, commercial and institutional developments existing alongside parks, plazas and allowing more public access to the waterfront.
The study, released by the city April 27 so it will be discussed at the monthly community meeting April 28 at the Waterfront Banquet Centre starting at 7 p.m., wants Pier 8 to become "a vibrant urban waterfront neighbourhood" to be compatible with Pier 7.
The proposed plan, which will also be discussed at the May 17 planning committee meeting, includes 1,600 residential units; 13,000-square-meters of commercial and institutional space; 30-metre wide waterfront park along the edge of Pier 8; a new "Green Street" to that connects the property from east to west; a mix of building heights; a centralized garage; a water park, plaza space, skate park and playground, all linked by a complete streets design.
"The area's re-development is an incredible opportunity for the City to provide continuous public spaces along the West Harbour," stated the 226-page document.
The document, by consultant Brook McIlroy, stated the "ultimate number of units will be determined through market forces and the detailed designed plan."
Chris Phillips, senior project planner for the city who has been overseeing the waterfront development, said the idea is to create an environment where people can "live, work and play."
Mayor Fred Eisenberger has been supportive of what he calls the "higher order development" for the future of the waterfront.
"I want to live long enough to live at Pier 8," he said.
The city has had visions of a re-developed waterfront since it acquired the lands from the Hamilton Port Authority after a legal battle with the federal government in 2000. In 2014 soon after the city acquired the lands from the HPA when the leases were shortened, Hamilton councillors agreed to invest nearly $40 million over the next four years for sewers, watermains, roads, sidewalks and street lighting. About $13.3 million will be invested directly into piers 5 to 8. City officials have stated there is a potential for the city to recoup about $7.5 million annually in taxes just from the development at Pier 8.
Affordable housing, the document states, is expected to "fit within the building envelopes."
The consultants recommend constructing the development in three phases, starting with 38,000-square- metres of mixed residential space and 4,800-square-metres of commercial space along Guise Street. Phase 2 will have 25,300-square-metres of residential space, 2,340-square-metres of commercial space, and phase 3 will involve 46,700 square metres, 600 square metres of commercial space and 6,800- square-metres of institutional space.
The proposal will still need get a zoning bylaw to implement the new design, plus a public art plan and infrastructure plan that includes energy and storm water systems.
Article courtesy of Kevin Werner, Hamilton Community News
Foodies spend the day eating their way through Hamilton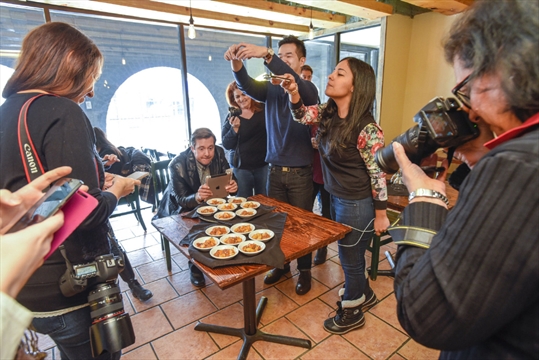 Cameras snapped. Oohh's and aahh's rose from the crowd. It was like a red carpet photo call — one where the star was a mini martini glass filled with raw fish.
In the foodie world, it's what passes for celebrity. Especially when the eatery serving it up is the first of its kind in Canada.
Pokeh Bar, which makes poke (a Hawaiian dish built around rice and fish) is a new vendor at the Hamilton Farmers' Market. It was just one of nearly a dozen stops on a Saturday afternoon food tour organized by economic development and the Hamilton offices of Trip Central.
According to Michael Marini, co-ordinator of marketing for the City of Hamilton, this was the fourth such trip to get GTA-area chefs, restaurateurs and food bloggers excited about eating in Hamilton.
It worked. On Saturday, #HamOntFT started trending on Twitter as a pack of 14, including bloggers, journalists, and Ticat Pete Dyakowski, tweeted the food tour as it moved from NaRoma, to Wild Orchid, to Aberdeen Tavern and beyond.
For Solmaz Khosrowshahian, who blogs at The Curious Creature, it was her fourth time on one of the tours, which visit new restaurants each time.
Khosrowshahian, who lives in Toronto, had spent some time in Hamilton years ago, and had heard about the city's food scene recently. When Marini contacted her for the first food tour, she jumped at the chance. Now, she tells everyone she knows about Hamilton.
"I had never really seen the real Hamilton until I saw it through food," she said.
"It's really cool to see how quickly food can change a community," she said, pointing out the foot traffic drawn by new restaurants including Auntie Boom's, The Cannon Coffee Co., and Except for Kenneth.
She's also amazed by the number of options, in terms of both places to eat and ethnic diversity. What she finds most impressive though, is the authenticity. She said Hamilton chefs have a passion for food that comes across in a way it doesn't in other cities. Here, it's raw. It's uncontrived.
Sharon Mendelaoui agreed.
"We need a market like this in Toronto," said Mendelaoui, who writes for Dream Travel Magazine.
Sure, there's the St. Lawrence Market. But, she said, it doesn't feel like family the way the Hamilton Farmers' Market does.
On top of that, Mendelaoui said she was charmed by the number of distinct villages in the city, the neighbourhoods the tour moved through as they travelled. She said she was thinking about coming back for another day, but even that didn't seem like it would be enough to cover it.
Article courtesy of Amy Kenny, The Hamilton Spectator
Hot Hamilton: Economic growth to outpace national average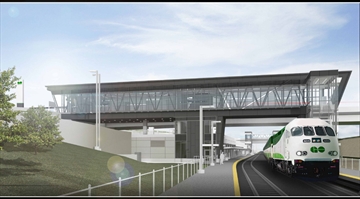 A new Conference Board of Canada study says Hamilton's economic surge will outpace the national average this year, but job growth will remain slow.
The board's latest Metropolitan Outlook Report predicts the Hamilton-Burlington- Grimsby economy will grow about 2.2 per cent this year, outpacing the national growth rate for the second consecutive year.
The growth will be driven chiefly by improvements in the manufacturing and non-residential construction sectors.
Employment, however, will grow by only 2,800 jobs this year after advancing by 3,600 positions last year.
"I would characterize the outlook for Hamilton as generally positive," said Alan Arcand, associate director of municipal studies for the Conference Board. "It's not world-beating, but it's still better than the national average.
"It really seems that some of the factors are turning in Hamilton's favour," he added. "Employment gains will be OK this year and next, but not great," he said. "Growth in jobs is going to be fairly slow this year and next."
Manufacturing growth will be led by companies such as water filtration firm Fibracast, and ArcelorMittal Dofasco — which is looking for 1,000 new employees to replace retiring baby boomers.
Predicted growth for this year will rank Hamilton as the 11th fastest growing metropolitan economy in the country.
To Mayor Fred Eisenberger, that's a good position.
"It's almost in the Top 10 and shows our growth has been consistent over the last few years," he said. "The uptick on the manufacturing side is especially good news because that's assessment we need to take the pressure off our residential taxpayers."
He also liked the prediction that they city's unemployment rate will come in below the national average.
"I think this all affirms the good vibes that people are feeling about Hamilton," he said.
Frank McKeown, executive director of the Burlington Economic Development Corporation, said the study's conclusions match the city's projections.
"This is consistent with our observations for growth that will higher than the national average," he said. "Almost everyone I talk to is looking at a growth environment."
The Conference Board report says even with U.S. Steel moving a quarter of the potential production of its Hamilton plant to the United States, manufacturing output is forecast to grow by 2.4 per cent this year as the lower loonie makes Canadian exports more affordable and American demand rises as the economy south of the border improves.
Adding to that is a refocusing of Canada's economy from western oil and other natural resources back to industry in Ontario.
The other major growth engine for Hamilton, the report concludes, will be non-residential construction, including a new general purpose and engineering centre at McMaster University and the second phase of the James Street North GO station.
Services output growth will remain steady at 2.1 per cent for a third consecutive year.
Article courtesy of Steve Arnold, The Hamilton Spectator
Can small businesses afford to pay employees a living wage? This bakery owner thinks so
Josie Rudderham can't live on $11.25 an hour and she doesn't think her bakery staff should have to, either.
"It's under the poverty line," said Ms. Rudderham, co-owner of the Cake and Loaf bakery in Hamilton. "These are people I have to work with every day and I have to look them in the face."
When Ms. Rudderham and her partner, Nicole Miller, started the bakery five years ago, their goal was to funnel profits into wages so that they could afford to pay more than Ontario's minimum.
"I'm the child of two social workers so I'm a bit of a socialist at heart," she said. "I wanted to provide meaningful employment for people – jobs people could stay at and still have families and still go on vacations and still buy houses."
Rudderham and Miller wanted to pay staff at least $14.95 an hour – the living wage for Hamilton based on calculations set for 2014 by the Ontario Living Wage Network and the Canadian Centre for Policy Alternatives.
The calculation, made every two years, includes groceries, rent, a transit pass, child care and extended health insurance for a family of four when both parents are working and making that wage.
It doesn't include saving for retirement, paying off debt, taking vacations or buying a home. In Ontario, 80 businesses have signed declarations saying they intend to pay employers a living wage.
"It's a fairly frugal calculation," said Tom Cooper, co-ordinator of the Ontario Living Wage Network. "It reflects what people need to earn just to get by."
Ms. Rudderham and Ms. Miller couldn't afford to pay staff that right away, but last October the two "felt we were financially ready."
The bakery increased wages for their 17 staff members to $15 to $18 an hour from $12 to $15. Managers earn more.
There wasn't much of an initial reaction, Ms. Rudderham said. "It wasn't that they rushed out and thanked us or anything," she said. "We said, 'We need you all to help us accomplish this because we have to meet certain sales goals.' "
But staffers with two jobs were able to quit their second jobs and came in less tired, Ms. Rudderham said.
Even though December is the bakery's hardest month with long hours and a lot of stress, "productivity went way up," she said. "It was subtle and people just seemed happier."
The conventional wisdom is that when businesses raise wages, that raises their production costs and then they have to raise prices – and then they get beaten out by their competitors and have to lay off staff, said David A. Green, an economics professor at the University of British Columbia.
But that doesn't seem to be the case, he said. Research shows that after minimum wages are increased, companies do hire less. But that applies only to teen workers, he said. "Once you get past 20-year-olds, the end result is that the employment rate has not really changed."
Surprisingly, research also shows that when the minimum wage goes up, the likelihood of a business laying off a worker in the next year actually goes down.
"We think it comes down to the idea that you can operate a firm in the same industry in very different ways," Prof. Green said. "Places like Costco, Lee Valley Tools and In-N-Out Burger in the U.S. have a reputation of taking care of their employees and intuitively, you think they'll get beaten out by places that don't, like Walmart – but they don't."
If you pay low wages, you save on labour costs day to day, but you get high turnover and employees who have no real reason to make your company succeed, he said.
"If you work at a place where you think there's a future, you have better morale," Prof. Green said.
Becky Reuber, a professor of strategic management at the Rotman School of Management at the University of Toronto, thinks that paying a higher wage gives a small business a better chance of hiring – and keeping – good employees.
She doesn't think a wage hike would guarantee better work from every employee. "If you're doing this to have people become part of the team and stay longer, then you want to make sure you're giving a raise to someone who's good and not someone who's calling in sick all the time or has weak customer skills," she said.
As long as a business has the cash flow to afford it, paying higher wages sounds like a "win-win," Prof. Reuber said.
But it costs more to live in some places and that will raise labour costs for businesses that want to pay living wages there, Prof. Reuber said. In Toronto, the 2015 living wage is $18.52 an hour. In Vancouver, it's $20.68 an hour.
Ms. Rudderham, who hopes to eventually pay staffers $20 an hour, said giving workers more is "fundamentally a matter of priorities."
"There are a lot of businesses where there's a lot of profit being made and it could be distributed to employees," she said.
Article courtesy of Jason Tchir, The Globe & Mail
Hamilton ready for post-Steeltown boom as loonie continues to sink
HAMILTON—For Graeme Smith, cheese is the new steel.
The laid-off steelworker-turned-entrepreneur serves gourmet grilled cheese to former co-workers at the restaurant he opened on gentrifying Ottawa St., in the shadow of Hamilton's steel mills.
When Smith landed a job at Stelco in 2006, a year before it became the now-insolvent U.S. Steel Canada, he believed he landed a lifelong career like his father, who worked at the mill for 38 years.
"But the writing was on the wall," he said.
He was laid off within a year of the new ownership's takeover, and used Ontario's Second Career Program to go to culinary school, where he developed a business plan for his 20-year dream to open "Gorilla Cheese." His concept became Hamilton's first food truck in 2011, and a permanent part of its re-invigorated restaurant scene in November.
His story is emblematic of Hamilton's newfound narrative: the scrappy community that pulled itself up by the bootstraps to prove there is life after Steeltown.
Even as a U.S. recovery and low Canadian dollar breathe new life into the city's manufacturing sector, Hamilton is focused on diversifying the local economy away from its former dependence on heavy manufacturing, the fate of which is largely determined by global cycles beyond its control.
The port city's steel-driven manufacturing base — once the Canadian home to a who's who of industrial leaders from Westinghouse to Procter and Gamble — has shed some 25,000 jobs since 1976, as major employers lost out to new cheap global competitors amid the rise of the Canadian dollar.
"We were in desperate need of diversifying the economy and growing the economic base," said Neil Everson, City of Hamilton economic development director.
The realization came at an auspicious moment — just before the 2008-2009 recession battered the city's manufacturing sector, sending output down 16 per cent in 2009.
City hall believes that this focus on diversification is one of the major reasons Hamilton weathered the recessionary storm as well as it did, and even managed to post lower unemployment rates than the provincial or Canadian averages.
Hamilton has been rated Canada's most diverse city economy by the Conference Board of Canada, which expects it to make strides in economic growth, employment and personal income levels over the next three years.
The city's transformation away from a reliance on one dominant sector can be a lesson for oil-dependent communities that are smarting from a crude downturn, Everson said.
The principle is deceptively simple: "Don't put all your eggs in one basket."
But execution has been less easy. The public sector is the new economic driving force, and the city needs private companies to create more of that growth, Everson said. Hamilton ranked just 67th out of 121 Canadian cities on a Canadian Federation of Independent Business survey of best communities for entrepreneurship.
Steel is still the biggest private-sector employer here. Even if Hamilton's fortunes are less susceptible to the ebb and flow of the commodities market, manufacturing is still a giant piece of its economic puzzle. The sector is expected to drive municipal growth this year, as a low loonie makes Ontario-made goods cheaper and a U.S. recovery spurs demand.
The city's steel manufacturers are part of a rebound in Ontario auto part shipments to the U.S. over the past six months. ArcelorMittal Dofasco plans to hire 1,000 workers over the next three years. U.S. Steel Canada, which is mostly shuttered and has slashed its workforce, has been recalling workers in recent weeks.
National Steel Car, which makes railroad cargo containers, laid off 520 workers just before Christmas when it shut its oil tanker line due to a slowdown in orders. But 300 of those workers have been recalled to work instead on two additional freight lines where orders are picking up, partly thanks to a low dollar. It expects to have all of the workers back by March and even plans to hire.
While the City is encouraged by a rebound in it traditional manufacturing base, it is more excited about the opportunity that the low loonie provides to attract new foreign investment in the sectors it's focused on, including advanced manufacturing, life sciences and technology.
Advanced Hamilton-based manufacturers have succeeded by focusing on knowledge-based, value-added production to give them an advantage over lower-cost competitors.
A multitude of smaller players are in expansion mode, including waste water filter company Fibracast and autoparts maker Stackpole. They employ hundreds rather than thousands of people, but combined they have helped the city to more than make up the jobs lost in heavy industry.
Output from the city's manufacturing sector is expected to increase by two per cent in 2016, thanks in part to the growing food processing business, led by a Maple Leaf Foods super-plant and investments from major agricultural players at the port.
Much of Hamilton's economic diversity relies on the growth of "eds and meds" sectors, a focus that is a popular route to economic development for recovering Rust Belt cities. The research-focused health care industry is now the city's biggest employer, providing some 20,000 jobs, while education is its fastest-growing sector.
The information and cultural industries, which have grown since the city became an affordable destination for artists in the 2000s, is another of the city's fastest growing sectors. The Conference Board projects that a low loonie will make it an even more attractive location for film shoots.
To passersby, Hamilton's economic renaissance has been overshadowed by the factories spewing smoke over the Burlington Skyway, clouding a transformation inside the city that Ontario's economic development minister has touted as a role model for recovery.
But now an increasing number of Toronto developers and families are ready to invest in Hamilton's skyrocketing, but much more affordable, real estate market.
"We were the city that people drove by and see the smoke stacks and went 'Oh, what a dirty city'," said Smith, sitting at a table in his little grilled cheese shop, giving a knowing smile toward the steel mills at the end of the street.
"But people from Hamilton are happy being the little kept secret because we're happy with what we've got here."
Hamilton has more than made up for the loss of manufacturing jobs by adding to the workforce in the knowledge-based sectors it's focused on. Its average unemployment rate was 5.4 per cent in 2015, less than the average in Canada or Ontario, and it's lowest since 1976.
On the lakeshore, the Hamilton Port Authority desperately needs land to meet the growing demand for space from a steadily rising base of agri-business customers that surround steel company lands.
"We've been almost using a shoehorn now to bring in new customers and fitting them all into the footprint we've got," said the port's vice-president Ian Hamilton.
The port has seen about $200 million in investment from agri-companies in the past five years. In addition to a sugar refinery and a new craft brewery, construction is underway for a third grain terminal and a new flour mill.
Attracting agricultural tenants was an intentional strategy by the port to offset some of the losses from shipping steel-related products it was seeing in 2007.
"We recognized we were too dependent, we just didn't recognize we were going to lose that chunk of business, that we were going to be filling this void."
Agriculture hasn't filled the entire 4 million tonne loss from the steel business, but has replaced about half.
Hamilton anticipates demand for shipping cargo to the U.S. will grow further due to the lower dollar. But he believes it will take another half a year to see the real opportunities arise.
Hamilton's port, the busiest on the Canadian side of the Great Lakes, has 130 tenants on long-term leases and just 27 acres of vacant land, compared to 200 acres in 2007. The port has expressed interest in buying at least some of the parcel of adjacent U.S. Steel land.
"That's one of our challenges now with the success is we just don't have the land to meet that demand going forward."
Here's a look at how other Hamiltonians are building the new economy:
Waterloo doesn't own tech, said David Carter, executive director of Hamilton's Innovation Factory. But without a startup incubator of Hamilton's own, the city risked losing a lot of "interesting collisions" — with health care, advanced manufacturing and other burgeoning sectors — to the city an hour away.
The Forge incubator opened its doors in January 2015 and houses about a dozen young companies in various stages of development — from QCard, an app designed to help people with cognitive impairments remember tasks, to Chipsetter, a low-cost microchip machine for companies to make small batch circuit boards.
Hamilton may not have a RIM yet, Carter said, but "it's not hard to see a generation here that in five years will be significant employers."
Nix Sensors Inc. grew from engineering student Matthew Sheridan's house through the incubator into an eight-person team. Sheridan, now CEO, moved the company briefly to Waterloo. He had offers to move into programs in Boston and San Francisco, but decided to return to Hamilton. "There's no shortage of talent here, and definitely no shortage of community support as well."
Erin Dunham was always going to Toronto to eat because Hamilton had few independent restaurants where she wanted to hang out. So she opened one — and then four more. Dunham and partner Matt Kershaw own Other Bird food group, which opened Rapscallion Rogue Eatery, one of Hamilton's hottest restaurants, four years ago. Since then, their team has grown from five to 70 people.
The growth of the creative industries, spurred by an influx of artists into the city since the new millennium, has sparked a grassroots scene that has helped the city's "cool factor" she said. Art Crawl, a decentralized once-a-month art show, spawned the award-winning Supercrawl festival which now attracts more than 130,000 visitors.
"It's all very much spontaneous, it's not being centrally organized but it's all happening," said Rob Zeidler a developer who recently converted a turn-of-the- 20th-century Imperial Cotton factory into an affordable workspace hub that houses 60 artists, filmmakers and fashion designers.
"The art scene has become the symbol of the revitalization of Hamilton."
Hamilton's health sector is the city's biggest employer. It grew by eight per cent over the past five years. McMaster University, Hamilton Health Sciences and St. Joseph's Healthcare Hamilton have won global awards and recognition for research capabilities. The sector attracts more than $200 million in research revenue annually.
The industry's economic impact could be even greater if the group can bridge a gap between innovation, research and commercialization, said Rob MacIsaac, CEO of Hamilton Health Sciences.
The next step is to create more partnerships with the private sector, to spin off private companies to help sell products and services being developed in Hamilton around the world. There are currently about 300 life sciences companies operating within Hamilton, but a relatively small presence of multinational companies.One recent international collaboration will see Germany's Fraunhofer, Europe's largest applied research organization, partner with McMaster University to create the Biomedical Engineering and Advanced Manufacturing research facility, which will focus on regenerative medicine, cell therapies and innovative diagnostics.
Hamilton is one of the hottest markets in the country, fuelled in part by Torontonians moving west because they're priced out of the market in the big city. Home prices in Hamilton rose by nearly 10 per cent in 2015, about the same as in Toronto. But prices are about half as much, with the average hovering around $363,000.
Vanessa Perry and her husband reluctantly moved back to the city where they grew up from Toronto three years ago, when she was pregnant with their first child. But they are converted.
"Hamilton was really starting to make a big change so on our return to Hamilton we started to see a lot more local small businesses opened up, new restaurants, condo conversions and it really just seemed like there was a whole different vibe."
Now, as a real estate agent in Hamilton, Perry serves clients in similar situations. Perry said Hamilton is starting to see an increase in bidding wars and sales of homes for above asking price. Prices in her area near Gage Park have risen nearly $100,000 in the three years they've been there.
ArcelorMittal Dofasco continues to hire and invest in its Hamilton harbour facility, telling a starkly different story from its competitor next door, where U.S. Steel sits mainly idle and on the verge of collapse. "Make no mistake, steel is still a very, very important economic engine in the city of Hamilton," said Sean Donnelly, president and CEO ArcelorMittal Dofasco.
The Canadian division of the global steel giant is a bright spot for the world's largest steelmaker and recently invested $120 million in a new line for advanced high strength steel for the auto and construction industries.
Still, it is the quiet local manufacturing successes like Ancaster-headquartered specialized oil pump maker Stackpole that have stepped in to fill the void left by industrial giants that, unlike Dofasco, have left the city.
The company employs about 700 people in Ancaster and is expanding its powdered metals plant by about one-third to meet current demand and plan for new business it expects to win as North American auto sales heat up. "Stackpole makes things on vehicles that I wouldn't consider to be commodity parts — that you can just buy a lot cheaper overseas. There's a lot of intellectual property involved in what we do," said Paul Bartel, general manager of the Ancaster division.
Article courtesy of Sunny Freeman, The Toronto Star
Food is the new steel at Hamilton's Lake Ontario ports
Amid a rout in global steel markets, the port that serves Canada's steel town has found a new focus: food.
"Agriculture is the new steel," says Ian Hamilton, vice-president with the Hamilton Port Authority, which owns or manages 600 acres of land at the western tip of Lake Ontario.
Mr. Hamilton (yes, that's his name) is overstating things: He knows grain terminals and large crops will never replace the thousands of steel-industry jobs Hamilton has lost.
But there's a new optimism at the port, driven by the construction of a third grain terminal, a new flour mill and the recent arrival of a handful of agri-food companies, including a sugar refinery and two craft breweries.
In the past five years, the number of agri-food companies at the port has grown to about 14 amid more than $200-million of investments.
Elsie Lynch, co-owner of port restaurant Two Cougars and a Cafe, has seen this shift firsthand.
"We used to get business from this side," said Ms. Lynch, waving a hand toward the steel mills, "now we get it from this side." She is pointing at the north end of the port. That's where the food companies are clustered, occupying the piers, sheds and warehouses that used to be home to steel makers and metal recyclers.
"Business is still good," said Ms. Lynch, glancing at a dining room that is three-quarters full late in the morning. Diners wear ball caps and coveralls, and no one seems fussed by the sign at the door that reads No muddy boots.
Since 2009, the amount of grain and fertilizer moving through the Port of Hamilton has more than doubled to 1.7 million tonnes in 2015, making up the volume lost to the steel industry, the port says. Agriculture now accounts for about 18 per cent of the port's volume.
Meanwhile, steel-related shipments – iron ore, coal and coke – account for 60 per cent of volumes, down from 74 per cent in 2009.
The Hamilton waterfront is famous for the blackened lands and smog-belching steel mills that serve the once-mighty Ontario manufacturing sector. Ore and coal still arrive by ship from the mines of eastern Quebec, but Hamilton's steel output has plunged amid slumping global demand and cheaper supplies from China.
Stelco, now known as U.S. Steel Canada, is in bankruptcy protection and has halted steel production. Next door is ArcelorMittal Dofasco, which churns out a yearly 4.5 million tonnes of steel and employs 5,400, even as its parent posts an $8-billion (U.S.) loss amid falling prices.
"We need two things in Hamilton: We need jobs and we need [tax] revenue. It's been very difficult [since Stelco fell into bankruptcy]," said entrepreneur Ron Foxcroft, owner of Fluke Transport, which moved its main operations to the port six years ago. Fluke now rents 400,000 square feet in warehouse space from the port and operates 500 trailers that carry consumer goods – no steel, no auto parts.
Despite the troubles in the steel business, it remains the port's biggest industry and its biggest revenue generator. But agriculture is the port's fastest-growing business and has become the second-largest, measured by cargo tonnage and revenue.
For growers, the rise of a new agri-food hub offers new markets for their crops. "Investments in agriculture, particularly grains, are always something we support and are pleased to see," says Barry Senft, head of Grain Farmers of Ontario, which represents the corn and soybean growers that dominate the farmland in Southwestern Ontario.
McKeil Marine Ltd., which has operated tug boats in the harbour for decades, is among the shipowners adding ships to move grain. The booming agriculture business at the port has helped the company thrive in a tough economic climate, said Blair McKeil, son of the company's founder.
In 2007, the year the failed Stelco was bought by U.S. Steel, the port's leaders took a hard look at its list of tenants, which was dominated by steel makers and related businesses. The port began approaching agricultural companies – grain shippers and fertilizer distributors – and pitching the port's strong points: access to the St. Lawrence Seaway and two major railroads, the nearby system of highways and the U.S. border.
"It's a great location," said Derek Jamieson, president of P&H Milling Group, the Parrish & Heimbecker subsidiary building a $45-million (Canadian) flour mill that will process Western Canadian wheat for Ontario bakeries.
"Once you start to get known as a hub, they come to you," the port's Mr. Hamilton said, seated in a corner office at its waterfront headquarters. "We're squeezing people in now."
On this day, shipping on the seaway is closed for the season and the only ships in sight are the ones tied up at the piers. But on the piers, pile-driving is under way at P&H's flour mill and the concrete silos have begun taking shape at G3 Canada Ltd.'s grain terminal.
Karl Gerrand, chief executive officer of G3, which took control of the former Canada Wheat Board last year, said the Winnipeg-based company picked Hamilton as the place to build a new terminal partly because the rail access will allow the company to buy and ship farmers' crops year round. The terminal, due to be open by next year, gives the company its first footprint in the Southern Ontario crop market, home to the country's biggest growers of corn and soybean. The site also completes the G3's eastern supply chain, which feeds its terminals in Trois-Rivières before reaching overseas buyers.
"Hamilton's really important for us," Mr. Gerrand said by phone.
To make room for more tenants, the port is eyeing the 800 acres owned by U.S. Steel Canada. The land would require a major cleanup after more than a century of steel making, but the port is accustomed to making contaminated land suitable for other uses, said Bruce Wood, the port's chief executive officer.
"It's not a pretty site, but that's what we do," Mr. Wood said.
Article courtesy of Globe & Mail
City staff tout success of Pan Am Playbook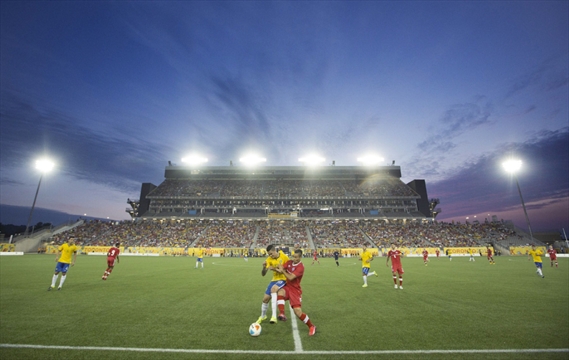 A new Hamilton-Niagara economic development playbook is being credited with turning last summer's Pan Am Games into a bonanza of new investment for the area.
In a report going to the city's general issues committee Wednesday, city staff praise the new Pan Am Investment Playbook for helping to draw five investments and a major sports conference to the Hamilton-Niagara region.
Jennifer Patterson, of the planning and economic development department, said in her report the Playbook was created as a way of ensuring the Pan Am Games were more than a short-term extravaganza.
"The Pan Am Games will create an influx of visitors, athletes and media which, in turn, will drive an increase in spending and an injection of capital into the local economy," she wrote. "Recognizing that these impacts will be relatively short-lived. … The Pan Am Playbook initiative was developed to carry on following the games. Our partnership will continue to promote the corridor as an all-encompassing advantage for countries looking to grow into the Canadian, or even North American market."
To do that, the Playbook prescribed a series of tours, meetings and social events that exposed decision makers from the target countries to the potential of Hamilton and Niagara. Events included tours of the McMaster Innovation Park, Mohawk College, Niagara's wine country, advanced manufacturing facilities and clean technology plants, among others.
An international investment forum was also held in Hamilton.
Patterson explained the Playbook targeted specific Latin American markets for future investment and trade opportunities. These included Mexico, Brazil, Colombia and Chile as well as the United States.
"The July 2015 Pan Am Games … provided significant economic development opportunities to the Hamilton-Niagara Region, from both a short-term and long-term perspective," Patterson wrote. "The Hamilton Niagara Region was pitched as a corridor to highlight the consumption potential, diversity of industry sectors, and geographical advantages pertaining to proximity to United States and the Greater Toronto Area."
The result was a series of "investment-focused events … designed so that the benefits would continue to self-perpetuate with minimal resource expenditure into the future, and that they developed a template format so as to be easily replicated for similar future events."
The events drew about 160 people from Canada, the U.S. and the target markets.
Investments announced during the games include:
•Anaergia announced plans for a 90,000 square foot, $30 million, facility in Hamilton's Red Hill Business Park to manufacture water purification membranes;
•a Sport Analytics Centre of Excellence in the region. The centre was described as an ecosystem including grants, funds and investment, industry champions, sport broadcasting; regional innovation centres and research and development. The centre will be a joint project between the Canada International Trade Services Inc., City of Hamilton, Region of Niagara, Fox 40, Project-1, and McMaster University.
•Waterloo-based Nanolytix will move its operations to the Hamilton-Niagara Corridor;
•Project-1 and SoccerFit will move here from Brazil.
Finally, a major sports analytics knowledge symposium was promised for the region sometime in 2016.
Article courtesy of Steve Arnold, The Hamilton Spectator