Chamber of Commerce: New CEO takes reins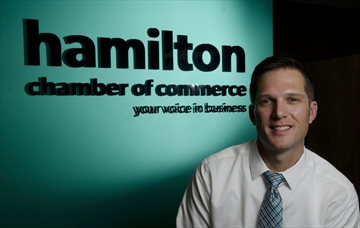 Keanin Loomis has an intense 100 days in front of him.
The newly installed president and CEO of the Hamilton Chamber of Commerce has set aside those three months for "a lot of listening and meeting with various stakeholders" as he readies the business lobby group's new agenda.
"The next 100 days are really about getting ready for September," Loomis said in an interview Monday. "These next three months will determine what the following six to 12 months will look like."
Loomis, 38, a former Washington D.C. lawyer and chief operating officer of Innovation Factory at McMaster Innovation Park, took the reins of the chamber Monday, a month after he was hired to replace David Adames.
During the coming months, Loomis said his goals include filling holes in the chamber staff — a policy director position has been created but never filled and three other jobs are also vacant.
Once his period of listening is finished, Loomis said he's thinking of establishing a series of task forces to work intensively on the five policy priorities the chamber has taken from the most recent Hamilton Economic Summit as keys to future growth: transportation, advanced manufacturing, health sciences, education and the creative industries.
"These are five great priorities I want to continue to push on but I'm not ready yet to be right out there with clear goals," he said. "Over the summer, we'll take the time to put some meat on those bones."
Another key priority, he added, will be to develop the chamber's muscle on public policy questions to ensure the voice of business is heard.
"I want to re-establish the chamber as the thought leader on questions of business policy," he said. We have to show people that there are benefits to being a member."
Part of accomplishing that goal, he added, will require developing some technology tools the business lobby currently doesn't have — things such as a community jobs board, a community calendar, an online business directory and others.
"These are all tools that I think we have to have to make the chamber relevant," he said. "Technology has to be part of all that but we don't have the capability right now."
Article courtesy of  The Hamilton Spectator.