City hopes to cash in on provincial economic development program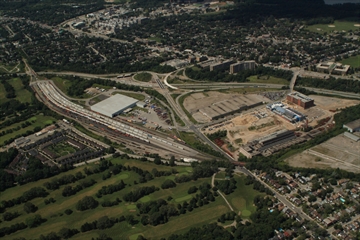 Hamilton will be jumping into the fray to promote key industrial sites as part of a new provincial economic development program.
Gabe De Roche, spokesperson for Eric Hoskins, minister of economic trade, development and employment, said the province launched the Investment Ready: Certified Site program last December in response to competition from several states south of the border.
"One of the ways we can compete is finding ways to identify sites which are shovel-ready," he said.
The idea is to create an inventory of sites throughout the province that have key features, such as a minimum of 10 acres, existing public road access, proper zoning, servicing and utilities and no major constraints on developing the property.
Owners of potential sites must work with the local municipality to apply for inclusion on the list.
In addition, the province is offering a $25,000 incentive to owners of qualified sites as a rebate for up to 50 per cent of costs associated with making the property investment ready. Each municipality can submit two sites for the incentive, but Jennifer Patterson, senior business development consultant for the city's economic development team, said the number of sites to be submitted for inclusion in the province's program could be more than that.
"It's a good tool," said Patterson. "It puts us on a level playing field (with the American states). We want to be in the game along with everyone else."
Mark Stewart, marketing and leasing manager for McMaster Innovation Park, attended the workshop Wednesday.
He said, for MIP, the biggest advantage of the provincial initiative is the cost savings the program will bring to marketing the park's 15 hectares to potential investors. He said he often attends trade shows to attract research-intensive or high-tech firms, and the costs associated with advertising in brochures or travel can be quite high.
The next application deadline for the program is April 15, and Stewart said he intends to apply to be included in the list of potential sites for investment.
"The program looks like it could be a great benefit to land owners as they can leverage the (foreign direct investment) work the province does. If MIP is included in the listings, then we know that as the listing is promoted at events and in advertisements worldwide, MIP is also promoted."
Patterson said the city hopes to partner with agents or owners of at least one, if not more, sites by the deadline.
The provincial program can be accessed at www.ontario.ca/certifiedsite.
Article courtesy of Lisa Marr, The Hamilton Spectator