City staff tout success of Pan Am Playbook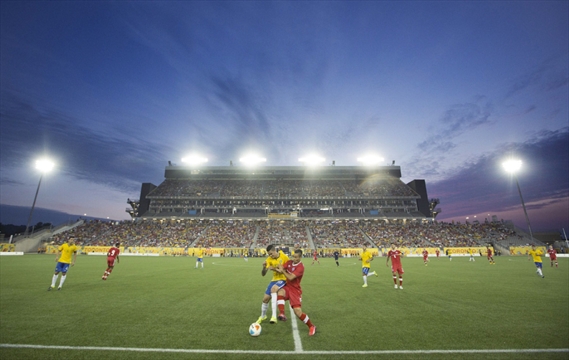 A new Hamilton-Niagara economic development playbook is being credited with turning last summer's Pan Am Games into a bonanza of new investment for the area.
In a report going to the city's general issues committee Wednesday, city staff praise the new Pan Am Investment Playbook for helping to draw five investments and a major sports conference to the Hamilton-Niagara region.
Jennifer Patterson, of the planning and economic development department, said in her report the Playbook was created as a way of ensuring the Pan Am Games were more than a short-term extravaganza.
"The Pan Am Games will create an influx of visitors, athletes and media which, in turn, will drive an increase in spending and an injection of capital into the local economy," she wrote. "Recognizing that these impacts will be relatively short-lived. … The Pan Am Playbook initiative was developed to carry on following the games. Our partnership will continue to promote the corridor as an all-encompassing advantage for countries looking to grow into the Canadian, or even North American market."
To do that, the Playbook prescribed a series of tours, meetings and social events that exposed decision makers from the target countries to the potential of Hamilton and Niagara. Events included tours of the McMaster Innovation Park, Mohawk College, Niagara's wine country, advanced manufacturing facilities and clean technology plants, among others.
An international investment forum was also held in Hamilton.
Patterson explained the Playbook targeted specific Latin American markets for future investment and trade opportunities. These included Mexico, Brazil, Colombia and Chile as well as the United States.
"The July 2015 Pan Am Games … provided significant economic development opportunities to the Hamilton-Niagara Region, from both a short-term and long-term perspective," Patterson wrote. "The Hamilton Niagara Region was pitched as a corridor to highlight the consumption potential, diversity of industry sectors, and geographical advantages pertaining to proximity to United States and the Greater Toronto Area."
The result was a series of "investment-focused events … designed so that the benefits would continue to self-perpetuate with minimal resource expenditure into the future, and that they developed a template format so as to be easily replicated for similar future events."
The events drew about 160 people from Canada, the U.S. and the target markets.
Investments announced during the games include:
•Anaergia announced plans for a 90,000 square foot, $30 million, facility in Hamilton's Red Hill Business Park to manufacture water purification membranes;
•a Sport Analytics Centre of Excellence in the region. The centre was described as an ecosystem including grants, funds and investment, industry champions, sport broadcasting; regional innovation centres and research and development. The centre will be a joint project between the Canada International Trade Services Inc., City of Hamilton, Region of Niagara, Fox 40, Project-1, and McMaster University.
•Waterloo-based Nanolytix will move its operations to the Hamilton-Niagara Corridor;
•Project-1 and SoccerFit will move here from Brazil.
Finally, a major sports analytics knowledge symposium was promised for the region sometime in 2016.
Article courtesy of Steve Arnold, The Hamilton Spectator