City on track to break $1B in building permits again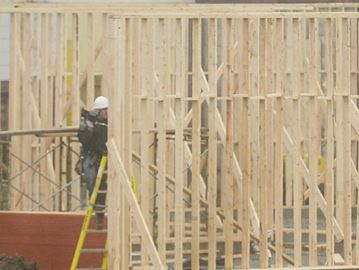 At the halfway mark of the year, the city is on track to break the $1-billion mark in building permit value for the fifth time in six years.
The city has recorded $541 million in construction value via 3,423 building permits through the end of last month.
Hamilton topped the billion-dollar mark in 2010, 2012, 2013 and 2014. The construction value so far this year and the number of permits issued were only eclipsed by results of the first six months of 2012.
"Right now, we are tracking strong," said Neil Everson, director of the city's economic development division.
"It was a cold winter and a slow start to the year, so our numbers were down. But the interest is strong now."
He says there are important projects coming in the near future, too.
Everson says breaking through the billion-dollar mark continues to be an important milestone.
"The first time we hit it, it was such a big deal. It was on the front page then … Now we have the potential to make it five of six years, so we strive for it. We don't know how long it will last."
Almost three-quarters of June's $94.4-million construction value was in the residential sector. The city has made it a priority to boost its non-residential tax assessment.
Comparing three-year averages, the non-residential construction value this year is down 33 per cent, while residential is up 24 per cent. The number of permits is up in all sectors.
Everson says there is growing interest in the manufacturing sector this year, at least partly buoyed by a Canadian dollar that makes exports more competitive.
"I think building permits are a good barometer of what's happening in the economy. We're seeing growth in every sector except institutional but we can't complain about that too much because there has been so much activity there for the last few years."
Article courtesy of Meredith MacLeod, The Hamilton Spectator