Core strength: Downtown Hamilton development on the rise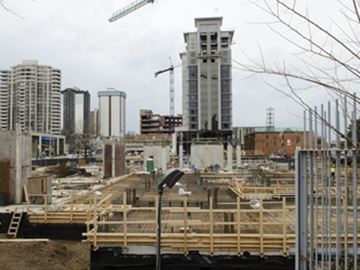 The downtown landscape is undergoing a transformation — and the cranes at the corner of Main and Bay are among the more visible signs of economic growth.
Overall, the city has enjoyed a construction boom since 2010, when building permits topped $1 billion. This year will closely follow those strong permit figures with a year-to-date value of about $670 million (in August).
Twenty-five of the most significant downtown projects this year alone represent a massive expenditure with a total construction value of at least $300 million (many projects are incomplete) — a shift Glen Norton, the city's manager of urban renewal, says is proof there is new life in the city's core.
Norton said bit by bit the city's incentive programs for developers are finding traction: four applications for the Gore building improvement grant program, five for its downtown property improvement grant, nine for façade grants and more for its multi-residential and other assorted loan and grant programs.
"People have to realize if they live in this city, this is the heart," Norton said. "Sure we get 80,000 to 100,000 for Supercrawl, but they have to come back."
Article courtesy of Lisa Marr, The Hamilton Spectator