Creative technology firms betting on Hamilton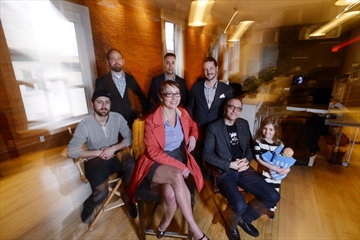 Dale Mugford is placing a big bet on Hamilton and he says there is no other city worth the risk.
Mugford and his B.C.-based partner Duane Storey have left their home offices to move their company, Brave New Code, into its first office.
The company is one of the great success stories of the city's digital media sector, a cluster growing in profile and size in the city.
"It's an online world, but we're hoping to plant a flag in the sand here in Hamilton," said Mugford, who moved here from Mississauga in 2006. He was immediately captivated by the dusty raw space in the newly remodeled Empire Times building on King William Street.
The 2,100-square-foot space was originally slated to be three units.
"I said, 'What if we took the whole thing?' I had this vision of a space that doesn't exist right now in Hamilton. You see them in Toronto or New York or Vancouver, but it's not yet in Hamilton."
Mugford and Storey have sunk about $20,000 in leasehold improvements into their new office, including the construction of a glassed-in boardroom.
The space is more than the five people working at Brave New Code need at the moment, but there are a couple of shared work space tenants lined up and Mugford is looking for two more.
Its plug-in, WPTouch, which provides an easy way to convert websites into content for tablets and phones has been downloaded a staggering six million times since 2008.
The number is impressive, but perhaps more so is the fact that the first iPhone was released only a year before and the iPad arrived in 2010.
"We were ahead of the curve for the mobile explosion. We just knew the iPhone was the future and we were excited by the technology."
It's hard to fully quantify how big the digital media sector – populated by web and mobile developers, gaming companies, animators, graphic designers, and a range of video, photo and sound artists using technology – has grown in the city.
Those companies cover a number of sectors, many are one-person operations and data isn't collected frequently.
But a yearly conference for digital media companies called HDMI has grown from fewer than 100 attendees to 300 and a waiting list in its fourth year.
Jeremy Freiburger, executive director of creative incubator Cobalt Connects and one of HDMI's organizers, says the sector reaches back to some pioneers in the early 1990s, such as 2Gen.net and Fluid Media.
Then the technology-minded found partnerships with art and design talents in the city to merge the power of both sides, illustrated in companies like Factor(e). Those startups have grown and new ones have arrived.
Freiburger says some entrepreneurs found themselves in Hamilton to study, others came because of cheap studio space or proximity to big markets.
"If you can operate here for 25 to 30 per cent less overhead, you can afford to be here and be creative as opposed to just churning out what makes the bucks."
Jacqueline Norton, a City of Hamilton business development consultant covering the creative industries, says affordability is just a part of the lure of Hamilton.
"If we didn't have that creative part, too, they wouldn't be coming. They're coming because there is a vibe and verve that is happening here."
Along with that is a network of organizations supporting innovation or creativity or young professionals, says Carolynn Reid, also a business development consultant for the city. She says there is a sense of cooperation and pulling together in Hamilton that has disappeared in cities with more established tech sectors.
It's also possible to make a mark in a city and a sector finding its way.
"You can be a big star in Hamilton," said Norton. "People like Dale Mugford or Kevin Browne, you can become very noteworthy and become lightning rods for things to happen."
The city doesn't track numbers in the digital media sector, but Reid and Norton says they hear stories about new companies all the time. They point to a directory on Software Hamilton's website as the best source of information.
"There are a ton of companies I've never heard of there," said Norton.
There are also some well-known local successes in the digital realm, including Weever Apps and Mabel's Labels.
The aforementioned Kevin Browne is the founder of Software Hamilton and widely credited as the godfather of the local technology scene. He has set up a directory listing the city's digital media firms. There are almost 180 so far and more added almost every day.
He admits it's no scientific endeavour.
"Basically, as I come across a company, I add it to the directory."
Browne includes jobs listings. There were 11 jobs in 2011, 44 in 2012, 120 in 2013 and 50 so far this year. Browne attributes some of that growth to more widespread knowledge of the directory. But existing firms are adding staff and more companies are finding their way to Hamilton, too, he says, especially in web and mobile design.
"There are definitely people here now because they love the downtown. They love being above coffee shops or art galleries. But they are also coming to business parks. Having a range of spaces is key."
Cobalt Connects has established a directory of Hamilton creative companies, both to track its size, but also to help players find each other to collaborate. There are more than 400 companies listed so far and Freiburger says that's growing by 15 to 20 a month.
"It's so great to see people I've never heard of, who have been around here as long as I have."
Jamie Lawson, co-owner of PolyStudio, says the growth of Hamilton's economy – especially in the arts and technology – is fuelling his branding and web design in two ways. First, there are more companies to work with and second, existing businesses are getting bigger.
"Smaller businesses are seeing sustainability and success. They want to upgrade their vision and presentation and up their game."
Lawson, a Burlington native, says the infusion of new blood creates a sense of excitement and possibility.
Matthew Hollingshead chose to move back to his hometown a few years ago to launch Hifyre, a digital marketing agency that specializes in building websites and mobile apps for a range of clients, including Mattel, Glaxo Smith Kline, Puma and World Vision. The firm has grown to seven employees.
"Our revenues are doubling every year, so we're growing quickly. We are trying to grow along with the revenue."
Hollingshead, 38, was one of the principals behind Factor(e) and said when it was launched it was harder to convince young talent or even clients about the merits of Hamilton.
"It's definitely different now. People used to say, 'Oh, Hamilton," he says, his voice dripping with derision.
"Now they say, 'Oh, Hamilton," in a voice bouncing with enthusiasm.
"I love the vibe that's here now."
Article courtesy of Meredith MacLeod, The Hamilton Spectator