Dragons fired up over company's success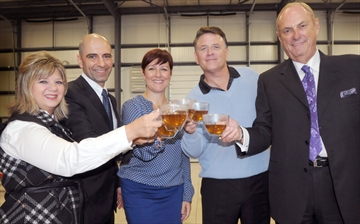 Millionaire investor Jim Treliving knows a good deal and the Dragon's Den veteran says his investment in a Hamilton couple's tea company was the best he's made during his eight years on the show.
Treliving and fellow Dragon David Chilton were on hand Friday to cut the red ribbon on the new headquarters of Steeped Tea, in the Ancaster business park.
CBC camera crews were on hand to film an update segment for the show, as guests sipped toffee caramel black tea and French toast oolong.
Though the Dragons are fiery on TV, Chilton and Treliving were positively cuddly as they praised Steeped Tea founders Tonia and Hatem Jahshan.
"This has been an incredible success," said Chilton, author of the Wealthy Barber, who joined the show in its seventh season.
"I wish they were all this good. The growth rate they've seen is borderline bizarre, they are making good decisions and they are as hard-working a couple as I've seen."
Chilton was immediately impressed with the couple and their direct sales business model when they pitched in April 2012, asking for $250,000 to expand into the United States.
But he expected to see some red flags as he scoped out their numbers. He found none, even after secretly enlisting his daughter to sign up as a sales consultant.
"I wanted to see how they trained their consultants, how quickly they responded to her questions.
"I also wanted product samples," said Chilton, who was reassured when those around him loved the tea.
Treliving, a former RCMP officer who built a fortune through the Boston Pizza chain, says he makes his investment decisions based on the people behind the business. He says the Jahshans had both passion and a solid grasp of their business opportunities.
"My investment was easy to make. They understood where they were going. They just needed help to get to that level."
Expansion to the U.S. is difficult, says Treliving. The market is different, consumers are different, the landscape is more litigious.
"A lot of Canadian companies have gone down there and had to come back in 10 years."
Steeped Tea started in the Jahshans' Mountain basement seven years ago after they tasted loose leaf tea on a trip to Nova Scotia. Tonia had sales experience and was immediately taken with the idea of selling through home parties, similar to Tupperware or the Pampered Chef.
Sales grew quickly as the ranks of consultants grew from a handful to hundreds and then thousands. Hatem, an engineer who holds an MBA, manages the numbers and logistics, while Tonia looks after personnel, recruiting consultants and coming up with new tea blends.
The company landed 27th in Canada on Profit magazine's list of the fastest growing companies earlier this year, with revenue growth of 1,877 per cent over five years.
Steeped Tea now employs 42 and sends its 65 (and growing) blends of tea to 3,000 sales consultants across Canada, from their newly-christened 20,000 square feet of warehouse space.
The company was in a nearby 8,000-square-foot space for just 18 months, before outgrowing it.
Over the years, the inventory has grown from loose tea to tea pots, cups, infusers, a line of baking mixes, jams and chutneys, even soaps.
When the Jahshans, parents to three young children, walked in to face the Dragons, their company was already in the midst of 300 per cent growth. Hatem says they were primarily looking for the advice that would guide a southern expansion.
Since the Dragons came on board, the growth rate has more than doubled.
"I was a tad skeptical about going to the U.S. and so was Jim," said Chilton. "But I was wrong. They figured it all out."
Steeped Tea launched in the U.S. in April and has about 200 consultants there now. Tonia says there will easily be 5,000 a year from now.
Hamilton is a great place to locate for a company growing into the U.S., said Treliving.
"Why wouldn't you want to be in Hamilton? It's a great city and a great location."
Though he didn't name names, he pointed out that coffee giant Tim Hortons got its start in Hamilton, too.
"If we can do as well as that, we'll be happy," said Treliving, before Tonia piped in with: "We will."
Article courtesy of Meredith MacLeod, The Hamilton Spectator