Drink up to Hamilton's newest craft brewery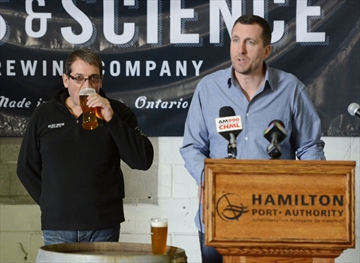 Hamilton's newest brewery will feature a brew house and retail and gallery space.
Nickel Brook Brewing of Burlington and Collective Arts Brewing of Toronto are partnering to take over 50,000 square feet of Hamilton Port Authority space to launch Arts & Science Brewing Company.
The plan was unveiled Wednesday with some beer sampling and Southern Smoketruck barbecue.
To accommodate the new brewery, which will likely start operations by the end of the year, the port authority will tear down the western portion of the former Lakeport brewery to create a new entrance, a glassed wall and green space.
It's estimated the brewery will employ about 50 people, which will grow with production.
Article courtesy of Meredith MacLeod, The Hamilton Spectator.