Once empty former Siemens plant in Hamilton now buzzing again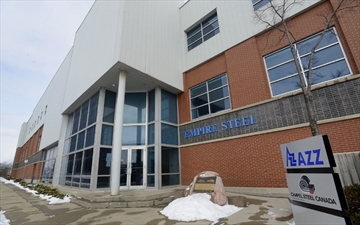 There were five reasons to celebrate the new uses of the former Siemens building on Milton Avenue Wednesday morning: Empire Steel, Chapel Steel, AZZ, Alstrom and Triple Crown Enterprises.
Because five new advanced manufacturing/industrial businesses — even when they're smaller — is better than one big one, said Norm Schleehan, manager of the city's economic development office.
"It's much easier to manage — either having them get established or close down. This is sustainable."
Sherif Khalifa, president of Empire Steel, which owns the building, said it's more than just having four tenants share the space, it's about the pleasant surprise of discovering how much they can support each other.
"We may have five companies here but we really have developed this one big unit," he said.
Ron Golden, plant manager of AZZ, an industrial controls enclosure manufacturer, said the Texas-based company was lured to Ontario initially to better serve clients here, particularly in the power generation sector, but the building's assets — location, overhead cranes, rail line and power — motivated them to relocated the plant from St. Catharines.
"There was just nothing else like this anywhere," he said.
AZZ was attracted to the space because one of its main businesses is building small houses for control systems — all the wiring and controls — needed to operate a solar panel field or wind turbine system that often are operated in open, rural spaces. AZZ will often build for contractors then assist with installation.
In an ironic twist, on Wednesday the company had a large unit ready to ship to Siemens Electric.
Golden said the great thing about the space and the city is the possibility to grow and be in close contact with customers and businesses.
"We have 30 staff now but we're only at 20 per cent capacity. We are getting ready to ramp up," he said.
Syd Hamber at Colliers International, said overhead cranes and rail service on the doorstep are increasingly in demand.
"Rail is coming back and coming back big. If I had 10 more spaces like this, maybe at 100,000 square feet each, we'd have no problem getting rid of them," said Hamber. "People have been saying the industrial sector is dead, they have no idea. It's alive and well."
In fact, the model Empire Steel has carved out for itself — filling up a giant industrial building and subleasing the rest of the space to like-minded companies — may provide a model for the future.
Khalifa said the company is hoping to build a 70,000-square-foot new industrial building at the foot of Milton Avenue this year and eventually fill the office building around the corner on Myler Street across from the main building.
There are about 100 people working out of the former Siemens plant, which once employed about 550.
"This magnificent building has had a tremendous impact on the city," he said. "Now Empire Steel's tenants have added value to (Empire), the community and to the city of Hamilton."
Article courtesy of Lisa Grace Marr, The Hamilton Spectator