Entrepreneurs plan new life for abandoned Hamilton factory
A local developer is bringing a Canadian first to Hamilton.
Joe Accardi will bring a long-abandoned central Hamilton factory back to life as a shared work space, this time for industrial entrepreneurs and small businesses looking for cheaper rent and shared services, such as shipping and receiving.
It's based on an idea Accardi has proven twice in Hamilton with an office space downtown called Co-Motion and another near Gage Park called Platform 302. The new project has been dubbed CoBuild Hamilton.
Accardi's plans for the former Ball Packaging plant on Victoria Avenue North were a centrepiece of a special Monday tour of Hamilton opportunities for Toronto- and Kitchener-area investors.
Ball Packaging abandoned its Hamilton and Burlington plants more than a decade ago. The Hamilton facility once employed 1,000 people.
"We are going to be amenity-rich in here," he told the busload of potential investors. "This is a very unique building for Hamilton."
The CoBuild project is modelled on a similar effort in Denver, Colo.
The vision Accardi laid out for Monday's economic tourists sees dozens of small and emerging employers sharing 100,000 square feet of space in the first phase. Those companies will be able to share services like shipping and receiving, tools, storage space, an in-house forklift truck and driver, board rooms, and a kitchen, all for $7 per square foot.
About a quarter of the space in the first phase has already been taken.
Early tenants include a laser-cutting company and a machinist, with architects and engineers expected. There's also room for medical uses given the proximity to the new children's hospital and cardiac centre at Hamilton General Hospital.
Another building highlighted was the former curling club/skating rink/bus maintenance shed on Hatt Street in Dundas which was given new life as the Shawn and Ed Brewing Company.
Co-owner Ed Madronich said some changes were made to ensure the new use didn't conflict with its neighbours in the business core or nearby high-end condos.
"Hamilton has a boatload of buildings like this," Madronich said. "Getting the community back in here and making use of it again has been great."
One way his company has been able to blend in with its diverse neighbours was with new ideas. For example, rather than venting steam from its brewing kettles to the outside, it is condensed back into water and sent to the city sewer, saving neighbours from what some might say is an offensive odour.
Reviving dormant industrial buildings was only one of several new ideas and companies highlighted during a day-long session designed to change perceptions of Hamilton as a place to invest.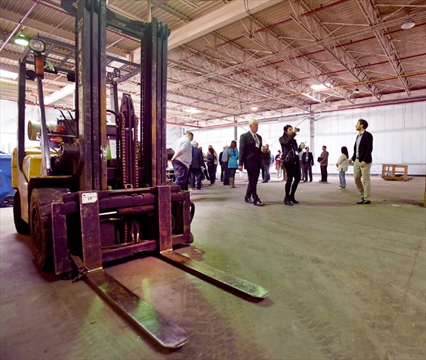 One such company was Cinnos/McMaster Computing Infrastructure Research Centre. It has designed a roll-away modular data server, allowing companies that can't, or won't, use cloud storage a space to warehouse data without having to pay for a large data centre.
Shared work spaces are only a part of a wave of disruptive change expected to sweep through industrial-commercial real estate in coming years.
It's a change Sheila Botting, of Deloitte Real Estate, said the industry is not ready for.
As one example, she noted, it may soon be possible to list houses for sale online, completing the deal using a Google format, cutting out Realtors altogether. That has the potential to do to Realtors what Expedia and similar travel booking sites did to travel agents.
More immediately, she said, new ideas about office space are doing away with the traditional ring of private offices around a central space in favour of more collegial areas for new workers who toil outside the old hierarchy.
"The cubicle farm as we've known it just isn't working anymore," she said.
Article courtesy of Steve Arnold, The Hamilton Spectator