New Hamilton brewery combines roll 'n' roll and beer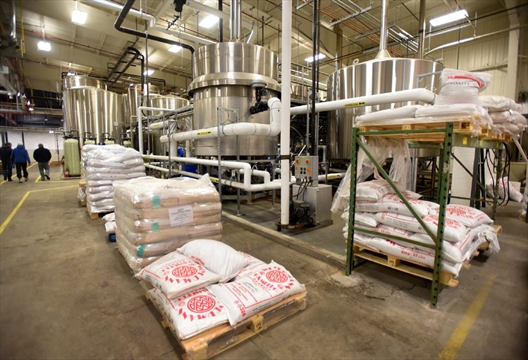 Beer and rock 'n' roll. They are a natural match, both chemically and commercially.
Neil Young knew that when he satirically wrote "This Note's For You," Jim Morrison of The Doors knew it when he sang "Roadhouse Blues" ("I woke up this morning and I got myself a be-yah"), Steve Winwood knew it when he reworked the old English folksong "John Barleycorn Must Die" for his band Traffic, and … well, I'm sure you can come up with plenty of other examples (John Lee Hooker, anyone?).
The folks at Hamilton's Collective Arts Brewing have figured out this connection as well. As a matter of fact, they're opening their new craft brewery on Burlington Street East to the public on Saturday with a frothy helping of beer and rock 'n' roll.
It's called the Bash in the Brewery. Twitter hashtag: #BEERISTHENEWSTEEL.
From noon to 4 p.m., a free open house will feature guided tours and tasting stations ($2 for half pours and $4 for full pours), as well as live music by Sarah Burton, Bravestation and the Knads resonating among the beer vats and bottling machines.
At 7 p.m., the real party gets underway, moving into the brewery's 10,000 square-foot event space where three live bands — Hamilton's WTCHS, Ottawa's Hollerado and Toronto's Zeus — will perform from a stage specially built for the occasion, complete with a light show that will bounce off the beer tanks towering behind it.
"This is a rock show in a brewery," says Dane Pedersen, events manager for Collective Arts Brewing. "We're not going to hide the fact that there's a brewery."
The Bash will be the start of something new on Burlington Street — a hip craft brewery with its own event for concerts and parties. It can fit 1,000 people, probably more.
A parking lot and a large outdoor patio area are in their final stages of completion (if the parking lot isn't ready Saturday, try the Eastwood Park lot west of the brewery at Ferguson).
"We've already had our first wedding booked for next summer," says Matt Johnston, a Hamilton native who co-founded the brewery with Bob Russell a couple of years ago in Toronto before moving it to their hometown. "We just want to add to the life of the city. Eventually we want this space used all the time. Hamilton needs more mid-sized event spaces."
From its inception, Collective Arts wanted its brand to be affiliated with music and the arts. The bottled versions of its products feature labels designed by musical acts, mostly independents, and artists from around the world. So far the brewery has promoted 334 acts, mostly Canadian. As well, each label contains an app that, when held up to a drinker's smartphone, will direct it to an artist's website.
The recent hiring of Pedersen as "events manager," demonstrates the brewery's interest in the city's cultural scene. Pedersen, who also run's the brewery's small retail outlet, is the former owner of the Loose Canon Gallery on James Street North and was one of the key players in organizing the early Art Crawls. In more recent years, Pedersen has been co-coordinator of Supercrawl and a member of its board of directors.
"My job is to promote connections with events that are happening within the city," Pedersen says.
Collective Arts and its partner, the Burlington-based Nickel Brook brewery, took over the old Lakeport site after Labatt shut it down in 2010, taking with it all the plant's equipment and leaving 143 people unemployed.
Johnston said Collective Arts and Nickel Brook have invested more than $5 million in the plant which currently employs more than 40 people. Much of the brewery's equipment was purchased and shipped here from a now-defunct Sleeman plant in Dartmouth, N.S.
Collective Arts Brewmaster Ryan Morrow estimates the plant, which began operations this summer, is currently producing 20,000 litres of beer a day for area pubs and liquor stores. They hope to push that to 10 million litres a year.
"We haven't really hit our full stride," says Morrow. "We're getting there gradually."
Collective Arts' best known labels are Rhyme & Reason Extra Pale Ale and Saint of Circumstance Blonde Ale which are available in provincial liquor stores. Those brands and others can also be purchased directly from the brewery store fresh in "growler" (1.69 litre) and "squealer" (one litre) refillable bottles.
The Burlington Street brewery site, between Ferguson and Wellington, is owned by the Hamilton Port Authority, but has a long history of beer, starting with the original Peller brewery in the mid-40s, followed by labels that included Henninger, Amstel, President's Choice, Laker, Steeler and Lakeport.
Article courtesy of Graham Rockingham, The Hamilton Spectator