Hamilton creates new vision for waterfront re-development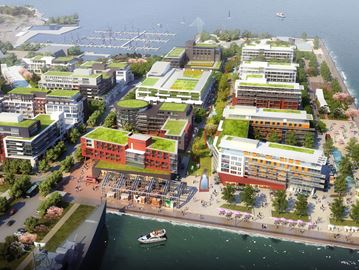 A proposed urban study on Hamilton's waterfront views piers 7 and 8 as a mix of residential, commercial and institutional developments existing alongside parks, plazas and allowing more public access to the waterfront.
The study, released by the city April 27 so it will be discussed at the monthly community meeting April 28 at the Waterfront Banquet Centre starting at 7 p.m., wants Pier 8 to become "a vibrant urban waterfront neighbourhood" to be compatible with Pier 7.
The proposed plan, which will also be discussed at the May 17 planning committee meeting, includes 1,600 residential units; 13,000-square-meters of commercial and institutional space; 30-metre wide waterfront park along the edge of Pier 8; a new "Green Street" to that connects the property from east to west; a mix of building heights; a centralized garage; a water park, plaza space, skate park and playground, all linked by a complete streets design.
"The area's re-development is an incredible opportunity for the City to provide continuous public spaces along the West Harbour," stated the 226-page document.
The document, by consultant Brook McIlroy, stated the "ultimate number of units will be determined through market forces and the detailed designed plan."
Chris Phillips, senior project planner for the city who has been overseeing the waterfront development, said the idea is to create an environment where people can "live, work and play."
Mayor Fred Eisenberger has been supportive of what he calls the "higher order development" for the future of the waterfront.
"I want to live long enough to live at Pier 8," he said.
The city has had visions of a re-developed waterfront since it acquired the lands from the Hamilton Port Authority after a legal battle with the federal government in 2000. In 2014 soon after the city acquired the lands from the HPA when the leases were shortened, Hamilton councillors agreed to invest nearly $40 million over the next four years for sewers, watermains, roads, sidewalks and street lighting. About $13.3 million will be invested directly into piers 5 to 8. City officials have stated there is a potential for the city to recoup about $7.5 million annually in taxes just from the development at Pier 8.
Affordable housing, the document states, is expected to "fit within the building envelopes."
The consultants recommend constructing the development in three phases, starting with 38,000-square- metres of mixed residential space and 4,800-square-metres of commercial space along Guise Street. Phase 2 will have 25,300-square-metres of residential space, 2,340-square-metres of commercial space, and phase 3 will involve 46,700 square metres, 600 square metres of commercial space and 6,800- square-metres of institutional space.
The proposal will still need get a zoning bylaw to implement the new design, plus a public art plan and infrastructure plan that includes energy and storm water systems.
Article courtesy of Kevin Werner, Hamilton Community News