Hamilton Port Authority gains $100 million new investment in 2015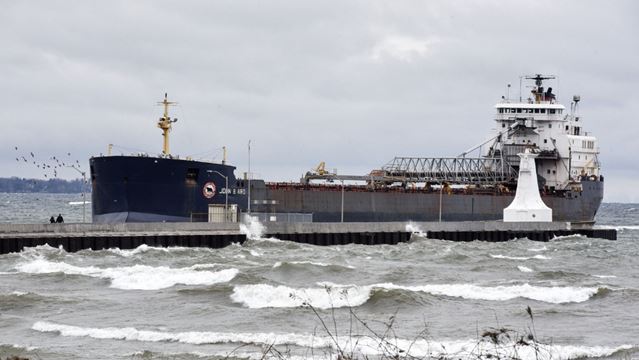 More than $100 million in new investment poured into the Port of Hamilton this year.
That money brought a new grain terminal, a new local brewery and the first new flour mill to be built in Ontario in 75 years into the Hamilton Port Authority.
The investments continue a growing trend of agricultural products shipped through Hamilton as steel industry shipments continue to stagnate.
"On the agricultural side we've been very successful in creating a hub right here," said HPA vice-president Ian Hamilton. "For this year we've brought in just north of $100 million in new investment."
The new Hamilton investments include a $45-million flour mill by the milling division of grain-handling giant Parrish and Heimbecker Limited at the foot of Wellington Street North; a $50-million grain terminal by Winnipeg-based G3 Global Grain Group at Pier 26 off Eastport Drive and the $10-million Arts and Science Brewery at the former Lakeport plant on Burlington Street near Wellington.
While final cargo figures for the year won't be available for a few weeks, Hamilton said he anticipates overall volume will drop by one million tonnes, most of it because of declining shipments of iron ore and other steel industry raw materials.
"What's down is raw materials for the steel industry, but almost every other category of cargo is up," he said. "For the last seven years we've been working very hard to invest in the right things and now it's showing results."
Steel and its raw materials used to account for more than 80 per cent of the cargo volume through Hamilton, while agricultural cargo totalled about eight per cent. Steel and its components have now shrunk to just over 67 per cent while grains and other farm cargo account for almost 20 per cent of the volume.
In 2014, agri-food tonnage passed the two million tonne mark in Hamilton. Construction material has also been a growing sector as infrastructure projects have moved ahead.
Stephen Brooks, president of the Ottawa-based Marine Chamber of Commerce, said the trend in Hamilton is reflected across the national system.
"Our overall volume this year will be down slightly from last year, but the losses are all in coal and iron ore, things that are impacted by the global economy," he said. "Outside of those things it was a very good year for us.
"We're especially encouraged to see the strong movement of construction materials continue," he added.
To the end of November the Seaway reported 31.5 million tonnes of cargo moved on the waterway. That's down about 10 per cent from 2014, but a final surge of vessels rushed into the system in December to move grain from Thunder Bay and deliver industrial raw materials as companies stocked up for the winter.
The number of ships in the system at the start of December was higher than the five-year average, the Seaway said in a news release.
"The 2015 shipping season has mirrored North American and global economic trends," Seaway president Terence Bowles said in the release. "Domestic and cross-border transport of cement, stone, gypsum, aluminum and machinery continues full throttle in response to heightened construction activity and a strong automotive sector."
For 2016, Hamilton and Brooks see a bright outlook as the economies of Canada and the United States improve.
"I think we'll continue to see Seaway shipping as a leading indicator of the rest of the binational economies," Brooks said.
Adding to the outlook for 2016 are the anticipated benefits of investments in new ships by major companies such as St. Catharines-based Algoma Central Corporation, Hamilton's McKeil Marine and Port Dover's Lower Lakes Towing.
"The investments we've seen in recent weeks are testaments that there is still plenty of opportunity in Great Lakes-Seaway shipping," Bowles said in the release.
Hamilton said the local authority has developed strongly in recent years by marketing a combination of ease of access to the largest markets in North America with a solid inventory of industrial land that can be brought to use without long and expensive rezoning applications.
"The problem is we're virtually out of available land now," he said. "We're in a good position for more development, but we have to answer this land problem."
One strong prospect for solving that problem is the chance U.S. Steel Canada will sell some of its bayfront industrial property next year as it continues to struggle to restructure its finances while under court-supervised creditor protection.
The Hamilton Port Authority was a bidder for some of that land during a sales process U.S.S.C. conducted and then abandoned this year. A new process is expected to be carried out in 2016.
Article courtesy of Steve Arnold, The Hamilton Spectator