Horizon offering brownfield cash for developments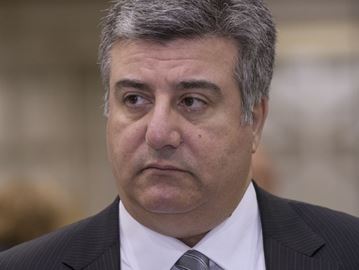 STONEY CREEK Horizon Utilities is offering incentives of up to $250,000 to buyers of old industrial properties in an innovative program it says is the first of its kind in the country.
Max Cananzi, president and CEO of Horizon Utilities, said the move benefits the utility because it may help find new, large industrial customers where the infrastructure already exists.
"This is a smart growth-inspired policy," said Cananzi. "This is sustainability in action. There are many social and economic benefits to infill development. It's also good for utilities to get more use out of its existing asset base of lines and that takes pressure off rates."
And for the city, it will help to make the development of brownfields and other industrial properties more attractive.
Neil Everson, the city's director of economic development, said until now, the city has worked on its own to stimulate redevelopment of older buildings. It has programs such as ERASE, which provides grants and tax breaks to property owners or buyers for cleaning up and returning brownfields to productive use. So far, the city has handed out 32 grants.
He said the Horizon program from "a purely selfish perspective" excites him because it's one more reason for companies to locate in infill spaces in Hamilton.
"This a definite way to capitalize on what we already have (in building inventory). For a developer, anything that can speed up the process of getting going is valuable and that's all based on infrastructure."
Everson said the announcement also comes at a time when his department has been charged by council with revising the city's brownfield strategies and develop a secondary plan for developing the bayfront lands.
"I believe brownfield development just got a bit easier."
The Horizon program works like this: Until now a buyer of an existing industrial building was required to pay a system "enhancement" cost. Those costs are now waived.
For example, if a customer requires up to 2,800 KW of power, an old rate of $250,000 in enhancement costs is now zero. However, the customer is required to estimate electricity requirements and make a refundable deposit based on that estimate.
The cost reduction is greatest where Horizon already has distribution lines to the building at the street and capacity at the nearest transformer station. There also must be no direct or expansion costs to the utility beyond reconnecting the lines and installing new meters.
Horizon's announcement took place at the echoing empty former Tiercon building on South Service Road in Stoney Creek — an ideal backdrop. The building is less than 10 years old and is equipped with 14,000 amps of power and a $26-million price tag.
Doug Finlay, the Nai Park Capital broker hired to sell the building, said the incentive is a definite plus when it comes to marketing such spaces.
"It's a lot of money, no matter who the buyer is. Horizon and the city, for that matter, are very economic-development minded," he said. "This makes this building truly plug and play."
In addition to the financial incentives, Horizon Utilities has also taken the extraordinary step of creating what it calls its smart growth database of about 150 properties in Hamilton of at least 5,000 square feet. The database includes information regarding existing infrastructure to the building, the capacity of the closest transformer as well as all of the building's electrical equipment assets and the electrical requirements of that equipment.
It has created a separate database in St. Catharines where it also has customers.
Cananzi said the utility plans to share the database with the city's economic development office as well as real estate brokers and developers.
The utility was hailed by city and provincial officials as an example of best practices in private-public partnerships.
"The challenge for an older city like Hamilton is how to rebuild its industrial tax base," said Glen Murray, provincial minister of infrastructure and trade.
Article courtesy of Lisa Marr, The Hamilton Spectator