Let's be local, mobile, social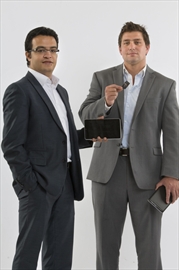 The best reward is immediate.
Drew Thachuk and Mo Shahin have taken this truism to heart in the launch of their new tech startup AdvanTag.
AdvanTag is a loyalty rewards system that uses software loaded onto tablets. Consumers swipe with an Apple or Android app or a key tag at a cash register or at an event (such as a ball game) to give them an option to either Tweet or post a Like on the company's Facebook page. That, in turn, could give the customer a variety of options: spin a wheel or scratch a coupon on their touch device or computer, or open up a different kind of surprise gift or discount.
"Every company wants to be local, mobile and social," said Shahin, one of the co-founders. "We've taken loyalty programs and made them digital."
It's only been six weeks since the pair launched their business in the incubation centre at McMaster Innovation Park, but it's been a whirlwind of meetings with customers, potential customers, staff and advertising firms.
Thachuk said while the technology works well for large companies, he's appealing initially to small- to medium-sized businesses in Hamilton and the GTA because of the low cost and ease of the sophisticated marketing technology.
It's $250 for a tablet for customers to swipe and the rewards offered by the company can range from quirky items such as naming a sandwich after a frequent customer to a money-back discount. AdvanTag's staff takes care of managing the software on a subscription basis, removing the need for extra staff.
The big return for AdvanTag stores comes from those customers using social networks to promote that business.
"It leverages people's own social networks to create feedback and traffic to an event or product," said Thachuk. "There's a big gap in access to this kind of technology between, say, a Starbucks chain to a small coffee shop."
The pair met at the first Startup Weekend hosted by Shahin's tech company Soft Mills and Innovation Factory. Shahin is a graduate of McMaster's masters program in engineering, entrepreneurship and innovation. Thachuk is a graduate of Mohawk College and Davenport University.
It has a staff of nine with an office in Dubai. That foreign connection resulted after AdvanTag finished top 10 at an MIT business-plan competition with more than 4,500 participants in Dubai, United Arab Emirates, last year. It was there that AdvanTag received seed funding from angel investors as well as landing Du — the second-largest phone carrier in Dubai — as a customer. This week, AdvanTag was invited to attend one of the largest technology conferences in the world in Dublin, Ireland, at the end of October.
It's early days yet in Canada but so far AdvanTag has picked up three customers with five locations in Burlington and Hamilton.
In an effort to find more local customers, AdvanTag has an instant reward offer for Hamilton Business readers: the first 10 people to contact Thachuk (dthachuk@advantag.me) will receive a discount on a package.
Article courtesy of Meredith MacLeod, The Hamilton Spectator. – See more at: http://investbak.2genbox.net/hamilton-tops-corporate-construction/#sthash.YDSOy0bf.dpuf