Pan Am Games were a fantastic showcase for Hamilton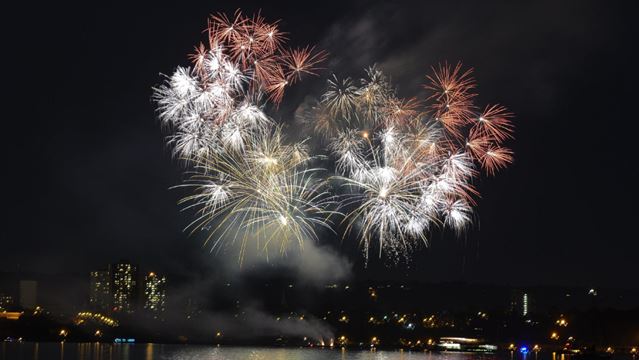 The end of Pan Am in Hamilton, at least, met the pre-Games hype.
A capacity crowd roared during a hard-fought 1-0 gold medal soccer win at the city's $145-million stadium. The highway drive to Hamilton was doable, if not enjoyable. Hamilton native and basketball gold medallist Kia Nurse was flag-bearer for a Canadian Pan Am team that pulled in a record 217 medals.
And thousands of people were expected to flood the waterfront at Pier 4 Park for a fireworks display synchronized to music from a live orchestra Sunday evening.
"I thought, overall, it was just a fantastic showcase for Hamilton," said Mayor Fred Eisenberger.
It wasn't always so Pan-tastic.
Over two weeks, the QEW occasionally morphed into a commuter trap. Some games drew only a few thousand fans — not unexpected, but striking in a 22,500-seat stadium.
Pan Am shuttles for soccer spectators were so efficient, many out-of-towners saw little of Hamilton other than the stadium and GO Station. Stadium rules didn't allow fans out between games, hurting businesses at city-sponsored satellite events.
Anecdotally, it appears attendance at everything from stadium soccer to the downtown beer tent improved gradually between July 10 and 26 — but we don't really know.
Other than the medal count, hard Pan Am numbers are hard to come by, even for the stadium and GO Train. For now, it's about impressions:
The stadium
Take it from a guy who spends a lot of time in soccer venues: Hamilton's stadium is "awesome," said Nicolás Romay, who covered Pan Am soccer for Mexico's Claro Sports. "All the facilities we needed, they are here. The people, I thought, first-rate."
Romay said he enjoyed being able to see so much of Hamilton — the escarpment, the waterfront — from his perch atop the stadium. That was nice, since he and most international media types didn't stay here — they were bused in daily from Toronto.
Stadium food remains a work in progress. Some spectators waited 30 minutes for grub during the first soccer weekend despite game attendance of less than 5,000. Crowds grew over time, but wait times were up and down. To be fair, the not-quite-complete stadium still doesn't have working beer taps. Over to you, city and Hamilton Tiger-Cats.
The traffic
Hamilton set up 68 cameras on major streets leading to the stadium and prepared to make remote signal adjustments on the fly but for the most part, changes weren't needed. The province's much-maligned Pan Am HOV plan, which guaranteed athlete and official movement in three-rider minimum carpool lanes, got mixed reviews from commuters.
But when collisions bunched up on the QEW Saturday, soccer fans lost — even when their team won. Wayne Thomas spent most of the bronze medal men's final on the highway. He made it to Hamilton's stadium late with the score knotted at 1-1 but was then denied entry due to what appeared to be a mixup.
Venue manager Kelly Smith said the gates remained open into extra time, but Thomas said he was twice prevented from entering, forcing him to peer through the gate to see his team, Brazil, pull ahead 2-1 near the end of regular time.
He eventually got the green light, just before the game ended.
"You know, this is the first time I've ever specifically come to Hamilton," he said with a laugh. "I should probably at least go in and see the stadium."
The festivals
Specific Pan Am venue rules that forbade re-entry were tough to swallow at the stadium, where most tickets were for two matches spread over several hours. The rules hurt food trucks and vendors at Gore Park and Ottawa Street events expecting soccer fan spillover.
"Shuttle shot visitors thru the city to be locked in the stadium and shuttled out at the end. So much for showcasing #HamOnt," Tweeted food truck operator Gorilla Cheese.
Flyer handouts at both the stadium and GO Station helped, suggested Tim Potocic, lead organizer on the waterfront Pan Am weekend finale, peering at numerous soccer jerseys in the crowd Sunday.
"Personally, I think locally we did everything we could, everything that was under our control, to encourage people to come out and enjoy really first-rate cultural and entertainment events."
North-ender Mike Kleinhuis, who kept the soccer fun rolling Sunday by kicking the ball around with his son at Pier 4 Park, gave local organizers high marks for "focusing on local talent," pointing to Terra Lightfoot and Alfie Smith at the waterfront as examples. "These are people we love, people we're proud of, so I thought it was great for the city."
The business case
Perhaps stadium soccer in a residential neighbourhood with shuttles ready to whisk fans away postgame was never going to be a bonanza for local bars and restaurants.
A trickle of fans tried exploring Barton and King streets after medal games on the weekend, however.
"We were not going to leave until we found a place to have a drink," said Fenton Alphonse, who with a friend ended up at the Prince Edward Tavern on Barton, more notable for diehard CFL than footie fans.
"It did take us a while," admitted the Mississauga resident and first-time Hamilton visitor. "It was this or Tim Hortons, and, you know, they only serve coffee."
Impromptu flag and T-shirt sales were brisk and while spontaneous bacon-on-a-stick sales were kiboshed quickly, everyone and his uncle had a parking space for sale.
Eisenberger said the biggest business coup was the city's courting of international executives. Those visitors toured the core, the waterfront and available real estate.
A bilateral trade forum with Niagara served up an announcement of a new "centre of excellence for sports analytics," and the mayor said he hopes more relationships will develop over time.
"We're one of very few communities that actually made such an economic development effort, and it is paying off," he said.
Article courtesy of Matthew Van Dongen, The Hamilton Spectator.