Starter Company initiative gives young entrepreneurs a head start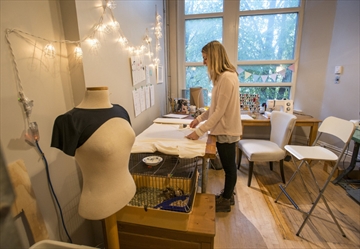 Natasha Gatto stopped into City Hall's small business enterprise centre a few months ago to get some information about how to start her business.
On Tuesday, she was one of several young entrepreneurs celebrated at the official launch of Starter Company — a key part of the province's new youth jobs strategy aimed at helping entrepreneurs between the ages of 18 and 29 run a full-time business with training, mentorship and, in Gatto's case, a $5,000 grant.
"Even if I didn't get the cash, the help with how to write a business plan and where to take my business with accounting and legal help would be worth it," she said.
Gatto, 25, started her lingerie and bra-making business, Gattina Designs, about a year ago, eventually opening a studio in the Empire Times building. She sells her fashions on Etsy.com — a well-known artisans' website — and to local customers.
She got her start with Beverly Johnson at Bra-makers Supply on Ottawa Street, taking classes as a teenager. Eventually, she graduated from George Brown College's sewing and drafting course and then moved back to Hamilton to follow her dream.
The Starter Company grant enabled her to invest in new equipment and a marketing campaign to sell her spring and summer 2015 lines to wholesale clients. Barely able to keep up with orders with only herself and an intern on staff, she plans to hire a full-time seamstress.
"It's really cool that the city has programs like this," she said.
Rob Belchior, an SBEC business adviser, said about 41 young people have accessed Starter Company since it launched in April, many receiving training and mentorship. Four other young entrepreneurs have received the starter company grant: Stephen Cameron of Cameron's Water; Konstantin Beryaltsev of Board Game Central; Geordie Manchester of Manchester Workmanship and Applied Craft; and Renata Taravski, a naturopathic practitioner in Binbrook.
Provincewide, Starter Company has had nearly 500 participants.
Manchester's niche restoration business is focused on helping heritage homeowners with renovation projects using old-fashioned techniques. He received education and training through the University of Waterloo's architecture program and then the Willowbank School for Restoration Arts in Niagara.
Since Manchester started his business in the spring, he's hired three other full-time staff and two part-time workers. There are many heritage homes to work on in Hamilton, making it a great place to hang a shingle.
Going through Starter Company also gave him a slight edge, he said.
"If you have gone through this whole process, that means someone has checked you out to see if you're crazy. You really can't put a dollar figure on that."
Article courtesy of Lisa Marr, The Hamilton Spectator.