New state-of-the-art plant gearing up for 2014 opening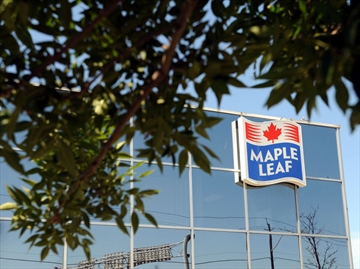 Maple Leaf is marching ahead with its plan to get a small army of workers in place for its new multimillion-dollar meat processing plant at the Red Hill Business Park expected to be fully operational by 2014.
When the project was announced in the fall of 2011, Maple Leaf indicated it would need about 670 workers. The move was part of a national restructuring effort to consolidate its operations. It would close three plants — one in Kitchener, one in Toronto and another on Brockley Drive in Stoney Creek with about 175 workers — and build a new facility in Hamilton.
At the time, the move was estimated to eliminate about 1,550 jobs across the country, mostly in southern Ontario as Maple Leaf sought to improve efficiencies and modernize.
Workers at the Brockley Drive plant are members of UFCW Local 175 — another 30 are salaried staff. Employees' salaries range from $15 to $22 an hour.
Luc Lacelle, union spokesperson, said the Local 175 members will be moving directly over to the new plant once it's operational — something the union solidified in its last collective agreement.
Dave Bauer, a spokesperson for the company, said the goal for the company is to fill as many positions as possible in Hamilton with internal candidates, including from Kitchener or Toronto.
However, the new plant also represents state-of-the-art technology in food production, something that will require staff with matching cutting-edge skills, so Maple Leaf has started a hiring spree in Hamilton, looking for electricians, millwrights and other skilled workers as well as managers and operators.
"It's going really well," said Bauer.
"There's a very positive vibe in Hamilton. We're excited to be participating in the local economy."
The first wave of workers will start at the plant in November and will gradually move in over the next few months as the plant goes online.
Bauer said the Canada Bread plant down the road has hired about 300 full-time staff and 30 to 50 seasonal staff, bringing Maple Leaf's total workforce in Hamilton at the end of 2014 to about 1,000 workers.
Maple Leaf is also closing its two distribution centres, one in Kitchener, where it had 90 staff and one in Burlington, where it had 30 staff. It built a new distribution centre in Puslinch that would require about 90 people.
Bauer said that plant will be managed by DB Schenker in an agreement with Maple Leaf. He said while the company did hire former Maple Leaf employees, he was unsure how many made the transition.
Article courtesy of Lisa Marr, The Hamilton Spectator
The Hamilton Spectator